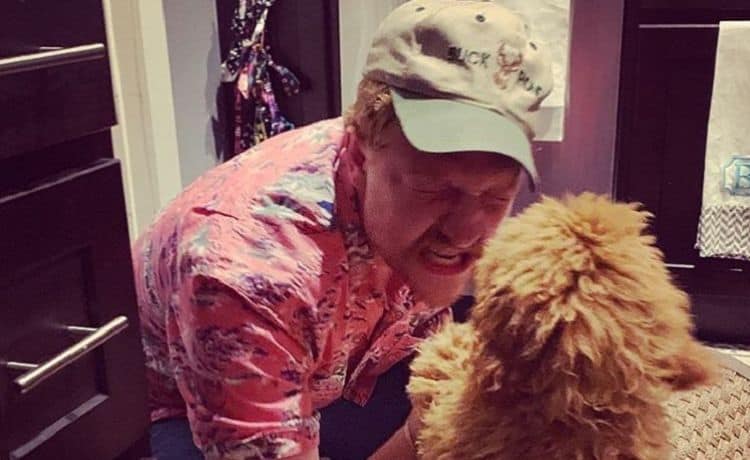 Tyler Childers is a new name that has broken into the ring of American country music. The star blends a mixture of traditional country, bluegrass, and folk music to produce an exciting brand of new country music. Tyler made a breakthrough barely two years ago in 2017 and is already turning heads. He released his debut album "Purgatory" in August 2017 which went on to kick off his career with a bang, bagging multiple awards and rocking the airwaves. More interesting is the fact that within the two years in the limelight, the young man has been able to set up his label, "Hickman Holler Records." His accomplishments are a show of ambition and a clear message to the world that Tyler Childers is not a passing cloud but is here to stay. Here are a few facts about the new sensation in town that you probably did not know.
1. His personal life
According to his Wikipedia profile, Tyler Childers was born on the 21st of June, 1991 in Lawrence, Kentucky. His dad worked in a coal plant while his mother works as a nurse. He had loved music from way back when he was a little child. He learned how to play the guitar when he was about 13 years and was even part of his church's choir. There are no records of his siblings or other relatives.
2. His relationship status
Tyler Childers is currently married to Senora May who also happens to be a renowned singer and songwriter from Kentucky. They have been together for the last two years, but there are no records of any children.
3. His education
Tyler was not really into education, but as society dictates, he had to attend school. He attended Paintsville High school and successfully graduated in the year 2009. Tyler attempted to further his studies by first joining Western Kentucky University but dropped out after one semester. He, later on, joined Bluegrass Community Technical College but did not last for long, he left after several semesters. He opted to take up odd jobs as he tried to pursue his music career.
4. Tyler's albums
Tyler Childers' first album was called "Bottles $ Bibles" and was released back in 2011. It, however, did not hit the airwaves as expected. He had to wait for six years to earn his moment. He can only fit the description of a lucky man because his second album, namely "Purgatory" took the airwaves by storm. The album catapulted Tyler to the pinnacle of country music on his official debut. The producers of the magical album were David Ferguson and Sturgill Simpson who also happened to be part of the star's band playing the guitar. The album band had the following characters; Miles Miller beat the drums, Stuart Duncan was on the fiddle while Russ Paul was on other musical instruments. It was released on the 4th of August 2017. The album appeared on the first position on the Billboard Heatseekers albums category and number four on the Folk albums chart. Moreover, it also appeared 17th on the country music chart. It is worth noting that these achievements are not a mean feat for a debut album. Tyler Childers also has a third album called "Country Squire" that was released on the 2nd of August 2019. The producers of his first album also produced this one and is expected to do well. His two latest albums were released under his label, Hickman Holler Records.
5. His first album was recorded in a friend's backyard
Tyler Childers has worked hard to reach his current level. His first album, "Bottles $ Bibles" was recorded in the backyard of his friend's home as revealed by Rolling Stone . Tyler is an epitome of hard work and dedication, and he claims to use his music as a voice for the Appalachia people.
6. His music style
Tyler Childers has a unique music style. He draws inspiration from his home town, Kentucky, where coal mining is the order of the day. He seeks to address his people's poverty and social-economic stagnation. His songs are like narratives, and the star compares his music writing to storytelling. A number of his songs stress on the effects of coal mining perhaps also paying tribute to the work of his father in a coal plant.
7. Awards
The country music star just broke into the limelight and has started winning awards and getting nominations. Back in 2018, the artist earned a nomination for the American Music Honors & Awards. He went on to bag the Emerging Artist of the year award. It is just the beginning; the star is expected to win more in the future.
8. His social media presence
After his breakthrough with the Purgatory Album, Tyler Childers has earned massive support from country music fans as evidenced by his social media profiles. The star boasts of about 153k followers on his Facebook account, 249K on Instagram and 62.2k others on his Twitter account. These statistics are a clear indication of his popularity amongst his fans. He flaunts pictures and videos of his concerts and performances in these platforms.
9. His popularity
As witnessed on his social media accounts, Tyler Childers is a viral star. In two years, he has been able to rally thousands of fans through his brand of music. According to Famous Birthdays, the star's popularity is comparatively at 40424 with other artists. Furthermore, in the class of other artists with whom he hails from Kentucky, the star appears 27th, which is quite impressive for a guy with only three albums to his name.
10. His net worth
Tyler Childers draws all his earning from the sale of his music and performing in concerts. Currently, he is doing just fine financially, and according to Celebstrendsnow.com, his net worth is estimated to be between $100k and $1million as of earlier this year. However, this figure is said to have increased significantly over the past few months to over $1 million. There are, however, no records of his annual salary.