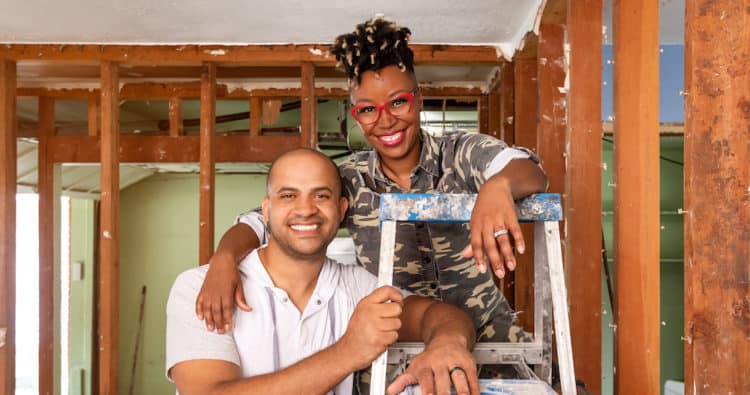 Every time viewers think HGTV couldn't possibly come up with a new idea for a home renovation show, the network proves them wrong. One of the latest shows to join HGTV's roster is the series we didn't know we needed. Two Steps Home is hosted by dynamic duo Jon Pierre and Mary Tjon-Joe-Pin who combine their real estate and design expertise to help their clients sell their current home and buy another one. Anyone who has ever been through the process of selling their home knows just how stressful it can be, but Jon and Mary help make the process seamless. Their new show won't just keep you entertained, it might teach you something new, too. Here are 10 things you didn't know about Two Steps Home.
1. The Clients' New Homes Will Need Some Work
Jon and Mary's goal is to get each of their clients into their dream home after their current house sells. In order to make this happen though, the clients will have to be flexible. The home purchased on the show will need some renovations. Fortunately, this is Mary's specialty.
2. Season One Will Be Somewhat Short
Are you the kind of viewer who likes to know how many episodes are in a season before deciding how invested you want to get? If so, I'm here to let you know that two Steps Home will consist of just eight episodes. This will probably be a bit of a bummer for people who like to binge-watch series with lots of episodes.
3. Jon And Mary Will Help A Wide Range Of Clients
Two Steps Home isn't the kind of show that focuses on working with a specific type of person. Throughout the season, Jon and Mary will work with a diverse group of homeowners. Their ability to meet all of their clients' needs is a true testament to how good they are at their jobs.
4. The Series Shows How To Get Things Done On A Budget
When most people think of a house that needs renovations, they're a little intimated because renovations can mean a lot of money. However, on Two Steps Home, Mary is all about getting these renovation projects done in ways that are budget conscious. Viewers may even learn some affordable ways to get their own home projects done.
5. The Show Takes Place In Houston
Even though Two Steps Home features a wide range of people, one thing they all have in common is that they live in the Houston area. This is also where Jon and Mary are based. Since Houston is one of the biggest cities in the United States, the real estate market can be especially competitive.
6. The Show Isn't Jon And Mary's First Time On HGTV
If Jon and Mary's faces look familiar to you, it could be because you've seen them on your screen before. They both began their journey with HGTV in 2019 when they appeared on the series Going for Sold. If you love them on that show, you'll really love getting to see more of them on Two Steps Home.
7. There Hasn't Been A Renewal Announcement
As of now, Two Steps Home hasn't been renewed for a second season. That doesn't mean that the announcement is coming through. Viewers are just going to have to sit tight and see what the network decides to do. From what we can tell, though, the show is off to a strong start.
8. Jon And Mary Work To Give Each Home A Personalized Touch
One of the coolest things about home renovations is that it gives homeowners the chance to really make the space their own. That's something that Mary will be focused on as she works with each client. She is sure to make sure each home has a personal touch that will make it even more comfortable for her clients.
9. There Is An Emotional Element To The Show
Buying and selling a home can be very exciting, but there are lots of other emotions that come with the process. For many clients featured on the show, leaving their old home goodbye will be a sad and difficult process. Through it all, Mary and Jon do a good job of remaining compassionate.
10. Homeowners Cover Their Own Costs
Mary and Jo may do all the heavy lifting, but they don't cover the expenses. Based on a casting call for the show, it looks like all of the renovations will be complete with the homeowner's existing budget. It's unclear if people who participate in the show are given any sort of gift by the network.
Tell us what's wrong with this post? How could we improve it? :)
Let us improve this post!