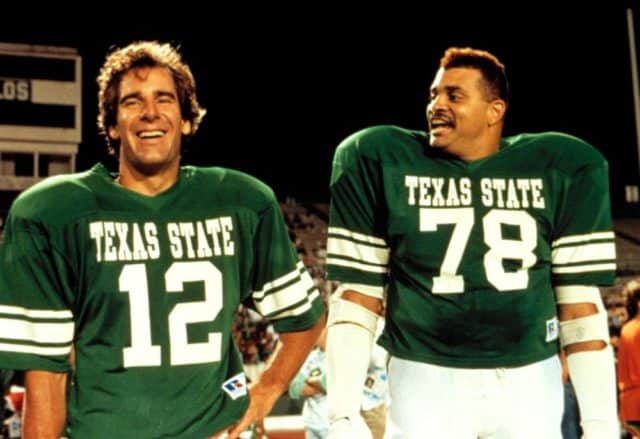 Scott Bakula is one of those actors that kind of fades off and then comes around again when you least expect it. He's had a mediocre career really and only had a few films you could call over the top successes. But despite that he remains the type that you like to see in a movie even if it's a small role. Bakula has stuck to TV for the most part lately since he has a very strong role on NCIS: New Orleans. He's even in good with Mr. NCIS himself, Leroy Jethro Gibbs. As far as movies go however he's always been more of a player that people do like to see but won't lament if he's not around. That might sound mean but the truth of it is that he's a very forgettable actor until he pops up again and people remember just how great he is.
Here are some of the best moments in his movie career.
5. American Beauty – Jim Olmeyer
Bakula plays a gay man that decides, along with his partner, to welcome the newcomer to the neighborhood. What they don't realize is that their new neighbor, the father at least, is extremely homophobic and in some ways a very closeted and possibly bi-curious individual. Don't bother telling him that however, he would only need to hear the word "gay" and he'd shut everything else out.
4. Major League: Back to the Minors – Gus Cantrell
The major league seemed to have it easy by comparison to this bunch. Gus is the unfortunate manager of a minor league team that couldn't win a ballgame even if they were being spotted ten or more points. It's a definite underdog story that seems to be just what Bakula likes to play, especially considering that his team starts looking pretty good near the end.
3. Luminarias – Joseph
The plot and premise are pretty easy to understand. Four friends are attempting to find love in Los Angeles and Joseph becomes a man that is seen as a prime opportunity considering that he is handsome and quite suave. The movie isn't one of his best but the role he plays is definitely catered to Bakula's style so it seems to work just fine.
2. Necessary Roughness – Paul Blake
The down on his luck type of guy is definitely one of Bakula's best roles. This time however he's recruited for a college football team, despite his advanced age, in the hopes that he can bring it back from the brink. Unfortunately he's going to have to rely on his team to help him out, and they're not much to look at either. Thankfully when they begin to trust each other and come together as a team they discover that they're a lot stronger as a cohesive unit.
1. Lord of Illusions – Harry D'Amour
Harry is the natural born skeptic. He realizes the necessity of protection in some way, shape, and form, but otherwise he is highly doubtful that real magic exists. When he discovers that it does he's made aware that he's already jumped head first down the metaphorical rabbit hole and is about to discover that the world he knew is just a cover for something very different and exceedingly dangerous.
Scott Bakula is a great actor, and is always welcome in most movies.
Save