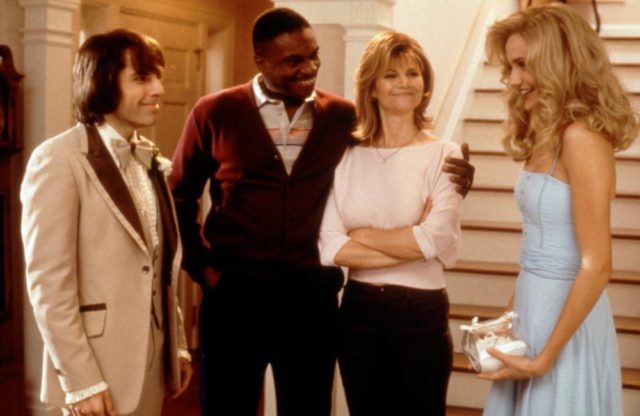 Guys dread this moment and women can't seem to wait. Meeting the parents is such a monumental step in a relationship that some guys tend to avoid it like the plague. In the movies though it's that one defining moment in that should almost be punctuated by the Jaws theme. Because let's face it the chances of the parents ever liking you or thinking that you're good enough for their child are next to nil, at least right away. For fathers and daughters the chances usually start below zero and grudgingly work their way up throughout the years.
So let's see which 'meet the parents' scenes were worthy of being noticed.
5. There's Something About Mary
Franks and beans! Okay, ouch, that really hurt just thinking about, and about how poor of an impression this would be for anyone to make on their date's family. At least they got a good laugh out of it I guess. Too bad Ted wasn't able to laugh along. Really though, how in the world could you possibly get your anatomy so twisted? Even not watching it seems like that this would be something that might be virtually impossible unless the right kind of circumstances presented themselves.
4. Guess Who?
This seems more about individual differences than skin color, but of course there has to be an issue with interracial couples in film. In real life the occurrence is far more accepted but some people still feel the need to bat an eye or two at such pairings. Sometimes the old school thinking needs to take a back seat and let people just feel the way they want to about each other. Thankfully in the tradition of comedies everything sorted itself out eventually in the film.
3. Shrek 2
Neither Shrek nor the king really have any solid footing to stand on. The king and queen did put Fiona up in an abandoned, dragon-guarded tower as bait for any johnnie-come-knightly that was looking for a princess to call his own. And Shrek has always been adamant about not changing, so really he can't talk either. Eventually both men finally realized that it wasn't really up to them to decide the how and why of Fiona's happiness. She just wanted an ogre that was willing to change for her.
2. Animal House
This was just too comical to pass up. The actual scene isn't in the clip, but Larry finally meeting the parents of his less than legal age girlfriend was kind of comical. Despite the fact that she is so obviously underage, which is not the funny part, Larry finds himself in hot water as the father, who happens to be the mayor, starts chasing him down the street.
1. Meet the Parents
Was there every any doubt that this would make the top of the list? Sure the second one was even funnier, but this was ground zero for Gaylord and Pam, and her father. Jack didn't like Greg/Gaylord from the get go, and things only got worse as time went on. But when they finally came to the realization that Greg was there for Pam and was sincere, Jack finally eased up a bit, which in truth was just enough to give Greg a chance.
It's not the first thing a guy thinks of when meeting a woman. In fact a lot of guys know it's going to be necessary, but a lot of them also don't relish the idea of meeting the parents.
Save