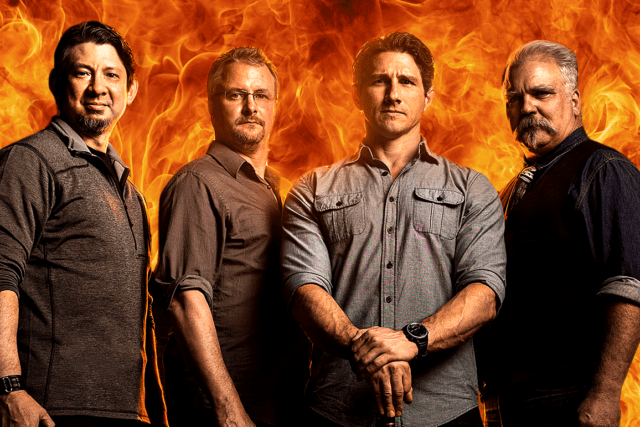 The bladesmiths of Forged in Fire are superb men. They arrive at The Forge, in New York, ready to forge extraordinary weapons. They compete in the show armed with skills they need to create deadly weapons; which are also inspiring works of art. Each episode offers the chance for the winner to be awarded $10,000 in prize money.
The show embraces the ideals of The American Bladesmith Society's rules and guidelines. Those who would be bladesmiths must pass a set of pre-determined tests which measure their ability to make knives which perform at a remarkable level and which "exhibit fit, finish and design which is among the world's best".
The first season included eight episodes with cast comprised of top bladesmiths and expert judges:
Wil Willis, a decorated, para-rescue Air Force specialist and former Army Ranger
David Baker, an expert weapons historian and period weapons replicator
J. Neilsen, a Master Smith, expert in knives and swords, and American Bladesmith Society member
Doug Marcaida, a specialist in Kali martial arts, edged-weapons expert, and instructor of weapon awareness and use for law enforcement, security organizations and the military
Competitors in The Forge have diverse levels of experience as bladesmiths. Some have extravagant home forges built for sustaining their passionate hobbies and professional endeavors. Not all home forges have the same level of sophistication or equipment. Some of the best do the majority of their work by hand; with minimal tools, while others have thousands of dollars of equipment. But all value expertise and artistic aesthetics in their own work, and that of others.
In the Season 1, Episode 3, Ryu Lim rose to the top of the challengers. He won the competition with his version of a Viking battle ax. His win was all the more surprising because Ryu's home forge is made almost entirely of makeshift tools and equipment he made himself. One piece of equipment required cooling with a hair drier which Ryu held by hand. He even hewed the handle on his ax by hand, and his battle axe was one fierce killing weapon. It's Ryu's spirit of stubborn determination to craft the best possible weapon, regardless of the difficulty, that is prized by the highly skilled men who come to The Forge as challengers.
Five weapons stood out from the eight styles forged in Season 1. Here's what happened:
One. Episode 4. "Katar"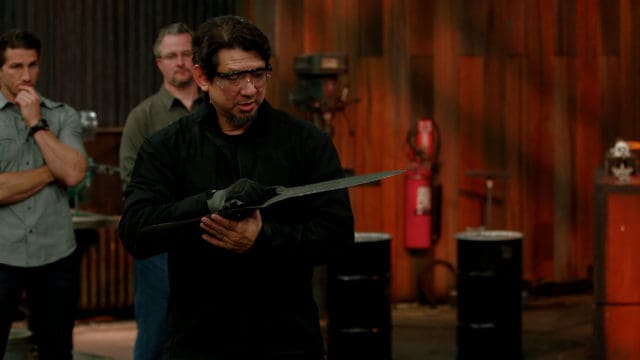 David Goldberg, a full-time bladesmith with 20 years of experience, won this challenge. He drew on his extensive training in and knowledge of Japanese philosophy. He believes in the Japanese of "Ichiban", which means "the very best" and "first quality". Throughout the challenge, he used his ability to focus on the task at hand, and was complimented on his first forging effort when Doug Marcaida noted that his blade exemplified the practice of putting forth the best effort to result in the highest achievement possible.
Goldberg's weapon featured a beautiful blade with swirls in the metal, and a handsome hilt. It cut cleanly through two pieces of metal, and successfully passed every test required as Marcaida used it to disembowel and efficiently execute the required kill cuts.
Two. Episode 5: "Crusader Sword"
This episode featured Peter Swarz-Burt and David Roeder in the final combat. They were tasked with forging a Crusader sword, typical of the Middle Ages, and intended primarily for use from horseback. The sword has a very long, 28 to 31-inch blade with double edges and a hilt.
Peter, with 22 years of experience, and a full-time blacksmith, forged a heavy sword which easily passed Marcaida's kill test. Dave forged 51/060 steel and created a walnut handle with deerskin hide. Maracaida described it as having "beautiful thrusting capability".
The two blades were tested by a rider on horseback with the horse at full gallop. A ballistic dummy clothed in Medieval garb and cloth armor was the target for both swords, which ultimately proved that they were both sharp for thrusting, and cutting. Both weapons were tested for strength in a mechanical device. Ultimately, Peter's sword won the competition due to its superior performance and artistic construction.
Three. Episode 6: "The Elizabethan Rapier"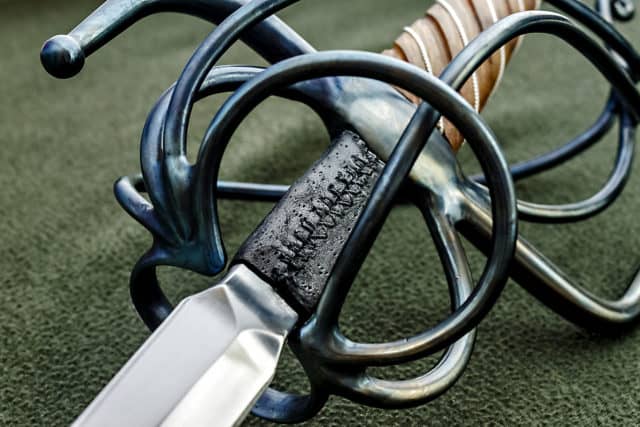 Guy Harris, produced the finest Elizabethan Rapier of this episode. The Elizabethan Rapier, is considered one of the most elegant weapons ever designed primarily for social dueling rather than warfare. The two finalists, including Peter Martin who took second place, battled to create this classic weapon in their home forges. Guy decided from the beginning that he had sufficient experience using historical elements while retaining weapon functionality to create a Spanish variant on the rapier. The difficulty for both was to produce a strong and stiff sword which would also be flexible enough to not break. Guy's rapier was a stunning weapon and did extremely well in the battery of tests. The panel of judges awarded him the win.
Four. Episode 7: "The Roman Gladius"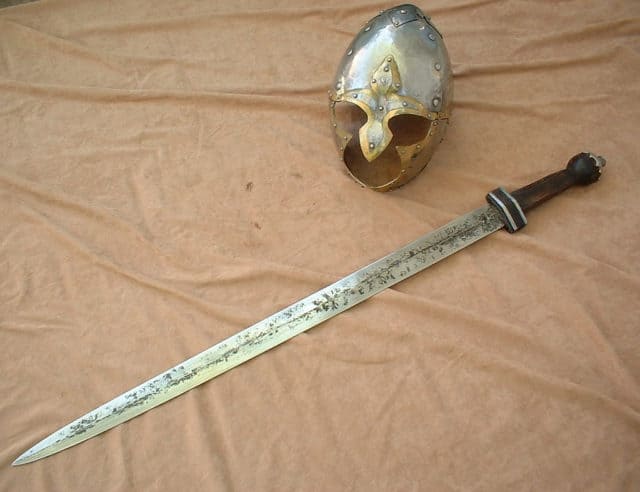 The Roman Gladius was the primary weapon of the Roman legionnaire. For more than 1,000 years, it was the weapon which dominated on Roman battle fields. The two finalists, Jamie Lundall and Mareko Maumasi were charged with created their own version of the blade. Jamie, a full-time bladesmith with 15 years of experience, set out to produce the most beautiful blade possible, featuring Damascus steel. He hand-carved the hilt, and engraved it with the words "Fortune favors the bold" in Latin. He used olive wood as part of the handle components, which added a historic authentic quality to his sword. Mareko, a full-time bladesmith with 5 years-experience, created a stunning sword with strong lines and sturdy, geometric handle. He incorporated 675 layers of steel during the forging process.
Both forged weapons were tested on ballistic dummies dressed in Roman gladiator garb and helmets. Both weapons passed the cut and kill tests. Ultimately, Jamie's weapon proved to be the better of the two, and he won the competition. David Baker told Jamie that his Roman Gladius was one of the most beautifully forged he had ever seen.
Five. Episode 8: "The Moro Kris"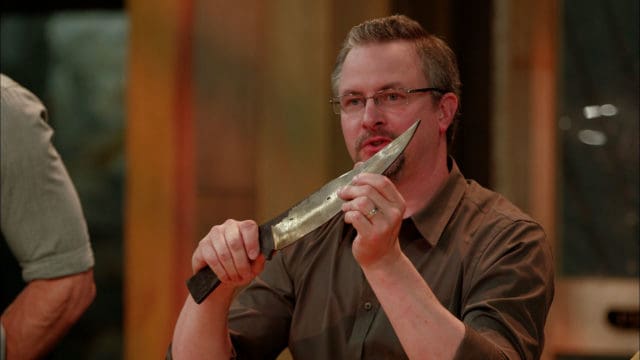 The Moro Kris is a formidable weapon designed primarily for slicing and chopping. The ancient, double-edged sword originated in the Philippines, but was and continues to be used widely throughout South East Asia. The blade is wavy, and used for slashing more easily in battle.
Mace Vitale and Murray Carter battled in the final leg of this episode, with each creating astonishingly beautiful weapons. Murray constructed a multi-piece handle without drilling to keep it strong. Though he has made more than 22,000 blades, he had never tackled a Moro Kris before. He chose to adorn his blade with an overlay of blue steel. During the testing process, Maraida discovered that Murray's blade had a slight drag, phenomenal balance due to its thrust design, a flawless handle design and "could kill".
Mace focused throughout his work on "harnessing the spirit of the tiger" in his sword. He added strips and a tiger tooth, filed handsome edges on his blade, created a stunning handle, and forged his Moro Kris entirely by hand. He developed a beautiful blade design using 23 layers of steel all forged by hand. Mace's blade ultimately won the competition.