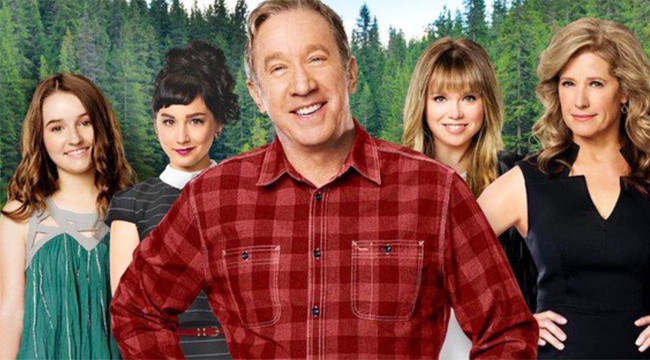 Last Man Standing is canceling for good this time around, and it's a sad tale to hear, but it's a natural ending this time since the show is coming to an agreed-upon conclusion that won't be as likely anger fans at this point since the ninth season will be a chance to close things up and finally move on. Despite the fact that it's just shy of a decade, the show has managed to entertain a wide assortment of people that happen to love Tim Allen and the rest of the cast since they've made the Baxter family one that shows the complexities of a modern-day family in a very interesting way. Mike Baxter is the kind of guy that's not too far removed from Tim 'The Tool-Man' Taylor from Home Improvement, but is still a bit older and wiser than his Allen-inspired counterpart. As the Outdoor Man, Baxter embraced both nature and technology to bring his point of view and lifestyle to a wide number of people as within his home he became a part of a team more than the whole show that he was at work. In a home that's pretty well dominated by women though it's hard not to see the wisdom in playing your part since being out-voted and outdone by the rest of the family is pretty easy when your point of view is more or less different than everyone else's.
But the whole family aspect of the Baxter clan has been a lot of fun to watch since between his work and his home life, Mike has a lot of stuff to balance, and yet he normally does this far better than Tim Taylor ever did since once again, he's older and he's wiser. It is kind of funny that with Home Improvement he had all boys and in this show he has all girls, which would include his son in law if the character were ever asked. There's been no shortage of jokes that are used as digs at the character of Ryan, played primarily by Jordan Masterson, since his personality was shaped to be the type of individual that someone like Mike, an avid hunter and very conservative-thinking person, would see as fun to torment. It's fair to say that Mike was pretty unique in his family since the only daughter that really followed his every footstep, up to a certain point, was his youngest daughter Eve, who is played by Kaitlyn Dever. His other two daughters, Mandy and Kristen, definitely took traits of his character to heart but went their own way since Kristen became pregnant and had Boyd, who was raised by his mother and grandparents for a good part of the early seasons, and Mandy was kind of the ditz of the family who only later on discovered that she had a talent she hadn't used yet, which was designing her own clothing line.
The show has been such a fan favorite for so long that imagining that it might be gone for good eventually is hard to fathom for some folks since it's been a mainstay on TV for a while. But even Tim Allen agrees that it's time for the show to head on down the road and for the Baxter family to bid a fond farewell to the fans and move on. It's kind of tough when a show has been this popular for so long and has to take that final bown and exit, but it's also pretty normal since it's bound to happen sooner or later given that not every show can last forever. There are of course some that stand as an exception since Law & Order and several others have been around for so long that it's hard to remember what they were like when they first started. But one has to wonder just what will be next in line for the cast since all of them have had some experience in other shows and movies and it's been seen that LMS did manage to bring back a few individuals from Home Improvement from time to time, all of whom have either gone on to continue their career or have stepped away from acting for a while. How this will affect the careers of those involved is pretty simple, it will free them up for other projects and possibly to pursue other interests and hobbies as some of them might want. But in the long run they'll like find other series or movies to star in and things will continue.
The loss of a TV show isn't the end of the world after all, and thankfully LMS isn't being canceled for some controversial reason. It's just that time to say goodbye, and as much as fans are going to miss it, the show has had it's time in the sun, and it's time to be heading on.