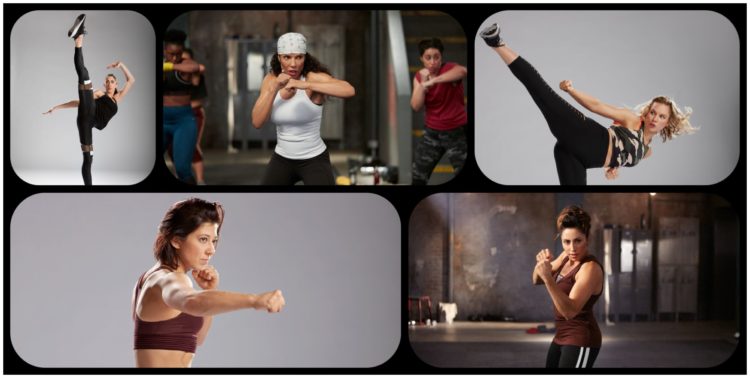 Stunt people in show business are hands down some of the toughest and most skilled individuals in the world since not only do they have to act at times, but they also have to be able to perform in ways that actors simply can't at times and they condition themselves to take hits that might break other people. For stunt women, breaking into the business at one point was extremely difficult as it was entirely male-dominated for a long time, meaning men would put on wigs if they were the right body shape and take on women's roles. With the advent of the female stunt person however things have changed in a big way as more and more women have taken on the dangerous but easily respected roles as they've performed an amazing number of stunts and high-risk maneuvers, proving that women can be inordinately tough when it comes to doing what they can to make a movie or show that much better. It is a dangerous profession to be certain, and people have unfortunately lost their lives when things have gone horribly wrong, but to date, stunt women have been able to improve whatever project they've been a part of in a big way.
Here are some of the best stunt women in the field today.
5. Ingrid Kleinig
Ingrid has doubled for Margot Robbie and for Brie Larson on Suicide Squad and Captain Marvel respectively so one can imagine that she's able to control her body in ways that is nothing short of impressive given the feats that Harley Quinn and Carol Danvers have shown on screen. Based out of LA, she's been a part of the stunt community for a while and is capable of holding her breath underwater for upwards of five minutes and more. On top of that she can also handle a big rig and was one of the drivers in Mad Max: Fury Road, making her easily one of the toughest and most capable on this list.
4. Renae Moneymaker
Renae has done quite a bit in her career and is one of the most in-demand stunt women in the business today since she's done a lot of work for the MCU, as she's doubled for Evangeline Lilly, Michelle Pfeiffer, Chloe Bennett, and Brie Larson. That alone is enough to think that she's one of the more skilled stunt people on set, but she's also worked on movies such as X-Men: Days of Future Past, and The Wolverine, meaning she's a highly-skilled individual that knows how to move and how to suggest how to run a scene and what is possible versus what might appear to be kind of silly.
3. Caitlin Dechelle
It's not just anyone that manages to get Jackie Chan's attention. By the age of 9 Caitlin was competing in martial arts competitions and by the age of 23 she'd been able to see a good part of the world while traveling. It's not hard to think that she would one day be able to put her skills to good use in order to make a good living. But with Jackie Chan taking her on as one of his selected stunt people that's a major up for anyone when it comes to their career, as Jackie Chan is one of the masters when it comes to stunt work. If nothing else, that one feather in her cap is enough to consider her one of the best.
2. Jahnel Curfman
Stunt people are, in this day and age, expected to be highly skilled and have a wide range of abilities depending on what they're trying to do. Jahnel was at one time a competitive gymnast and dancer, so one can easily assume that she's not just strong of body and has extraordinary discipline, but is able to move her body in ways that might feel painful just to look at for the average person. But the qualities that make her such a powerful and capable individual are what have rocketed her into the spotlight when it comes to stunts, and as a result she's been seen as one of the most sought after individuals in the world.
1. Zoe Bell
Even if you don't know her by name it's likely that you've seen Zoe a few times, especially if you're a Tarantino fan since she's been in Death Proof, The Hateful Eight, and Once Upon A Time in Hollywood. She's been an actress as well as a stunt person and throughout the years her reputation has continued to rise thanks to her level of skill and commitment to her profession. While you might not get to see her pull a lot of stunts as herself, there are a few that are worth watching since it proves that she's just as good as people claim, if not better.
Don't discount a stunt woman, they're pretty dang tough.