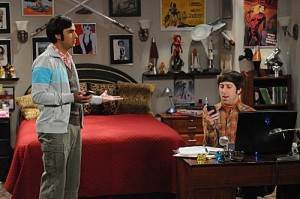 It's taken five seasons of Leonard living under the demands and restraints of the infamous roommate agreement, but in last night's episode of The Big Bang Theory he finally decided that enough was enough. Leonard invoked a clause that would strip the agreement down to its bare essentials as well as remove his friendship with Sheldon. An idea that Sheldon thought wise years ago when the agreement was written up, but now it was something that was harder to live with than he expected as no one is willing to take up Leonard's former duties. As for the other story of the episode, Howard is preparing to go into space with his NASA crew, but finds that he too would like a '˜cool astronaut nickname'. He'll soon realize he would have been better off without one when his attempts to sway his teammates into picking one that he wants for himself instead of coming up with one on their own ultimately backfire.
Leonard having had his fill of all the obligations Sheldon requires him to perform under their agreement was of course a long time in the making. There's hardly anything that Sheldon wishes to do on his own from his list of daily errands such as going to the dentist or to the good train shop. Leonard even admits later on that he doesn't mind driving Sheldon around to do these things, but what he needs is a little appreciation for it. I don't think anyone can see a world where Sheldon constantly verbally thanks Leonard for everything so coming up with the faux holiday, Leonard's Day was a nice way for Sheldon to at least show that the appreciation is there even if he doesn't want to constantly express it.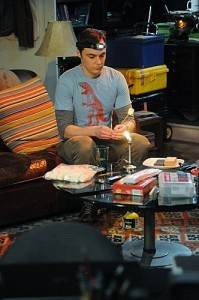 But before they come to an agreement to basically go back to things as they were, we get the chance to see Sheldon's attempts to woo Leonard back into his friendship. It's pretty clear that Sheldon values Leonard as a friend but his own principles and way of viewing the world make it difficult to show it. So he tries to logically present to Leonard the perks of being his friend again during a sudden blackout at their apartment building. This includes using the temptations of his emergency glow sticks, viewing the complete series of Red Dwarf on DVD thanks to a generator for their entertainment system, as well as freshly melted S'mores. It wouldn't shock anyone that Penny is the one who winds up convincing Leonard to be full friends with Sheldon again–she's always had a bit of a soft spot for him likely because she can realize he's a pretty lonely guy without a best friend around. It also shouldn't surprise anyone that it was clearly Sheldon who caused the blackout in order to try and have the perfect circumstances to get Leonard back.
Over with soon to be astronaut Howard Wolowitz, Raj attempts to help his friend convince Howard's crew as to what they should pick for his nickname. They attempt to have Elton John's song, '˜Rocket Man'as Howard's ringtone in hopes that one of his fellow astronauts will hear it and be inspired to start calling Howard '˜Rocket Man'. Unfortunately for all involved, when Howard gets the chance to video conference one of his team leaders it's his mother's shouting which wins over rocket man and Howard '˜Fruit Loops'Wolowitz is born. Hopefully that's not the kind of nickname that will go down in history when the crew goes on their expedition into space in a few months. He really should have just stuck with Raj's suggestion of Howard '˜Crash'Wolowitz.