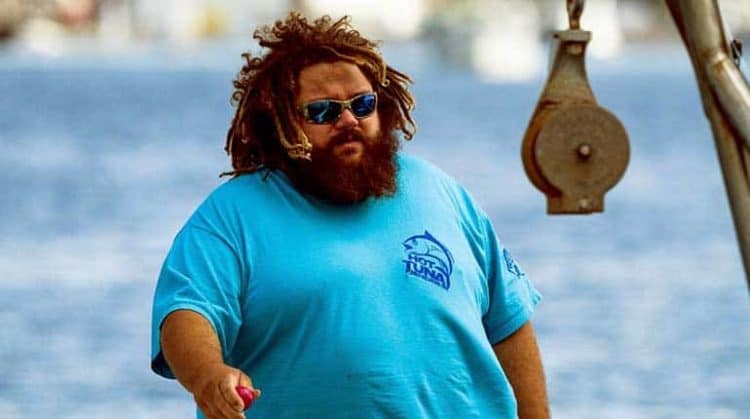 If you love tuna just as much as you love reality TV –and who doesn't?– you've probably been a fan of Wicked Tuna since day one. The show, which follows several commercial fishermen based in Gloucester, MA, gives viewers a unique peak into the world of commercial fishing. Since season three, Captain T.J. Ott and his boat Hot Tuna have added an extra layer of intrigue to the show. With his unique look and relaxed personality, T.J. Ott has become well-liked by viewers. He and his crew have proven to be top of the line fishermen and bold competitors who bring the heat every season. Continue reading for 10 things you didn't know about T.J. Ott.
1. He Comes From A Fishing Family
T.J. didn't fall into fishing by accident. Instead, it almost seems like he was born to do it. His father and grandfather are also fishermen and they introduced him to the fishing world when he was just a kid. In fact, the boat that T.J. is the captain of, the Hot Tuna, was actually his family's boat.
2. He Enjoys Having Cameras On The Boat
T.J. never planned on becoming a reality TV star, but as we all know, life has an interesting way of working things out. With that being said, however, getting used to constantly being filmed on his boat took some getting used to. Now he's at the point where he genuinely enjoys having cameras around. He told Hollywood Soapbox, "I've been fortunate where a lot of my camera guys have become good friends, who I've stayed in touch with. We're out on the sea sometimes four, five days with these guys. You've got to be kind of a unit, a family. I enjoy it. I enjoy showing the world what we do."
3. He Doesn't Let The Competition On The Show Consume Him
Each season, all of the boats on Wicked Tuna compete to see who can catch the most fish. As you can imagine, the competition can get pretty fierce and for some captains, it becomes the focal point. While T.J. want to win just as much as anyone else, he says he is always careful not to left the competition consume him.
4. He's a Dog Lover
T.J. is the true definition of a dog person. He has three pet Rottweilers and he loves spending as much time with them as possible. In fact, the dogs could also be considered members of the Hot Tuna crew. They spend a lot of time with him out at sea and they've gotten pretty used to hanging out on the boat.
5. He Sells Merchandise
Since being on the show, T.J. Ott has become more than just a local fisherman. He has officially reached celebrity status in many people's eyes. If you're a fan of T.J. Ott and Hot Tuna, you can rep that proudly. Ott sells Hot Tuna merchandise which includes items like t-shirts, hats, and hoodies.
6. He's All About His Family
Fishing may be one of his top priorities, but nothing comes before Ott's family. He has a very close relationship with his family and is a proud husband who married Kristina Doellman in 2016. However, he does like to keep his personal life out of the spotlight as much as possible. With that being said, it's unclear if the couple has had any children together.
7. He Became A Captain At 20
T.J. Ott has been in the fishing world for over two decades. He became the captain of the Hot Tuna when he was just 20-years-old. Even though commercial fishing isn't your typical line of work, it's given the opportunity for Ott to have a career where he can be successful while doing something he loves.
8. Catching Fish Still Gives Him An Adrenaline Rush
No matter how much fish T.J. catches, the feeling of excitement that comes with a catch has never gone away. When describing how he feels when he catches a fish, T.J. said, "the adrenaline starts going, and basically you want to catch it. You're doing everything in your power to stay focused and make sure you don't make any foolish mistake to contribute to the loss."
9. He Fell In Love With Fishing As A Child
T.J. fell in love with fishing from the moment he started. He says, "once I saw these fish and how strong they were, it was almost like the mountain, the absolute mecca of fishing. That's really when I got completely hooked." While he makes his money fishing commercially, he also adds that he loves all sorts of fishing.
10. Gloucester Is His Favorite Place To Fish
Over the years, T.J. has gotten the chance to fish in lots of different places, but he says there's something about Gloucester that he loves the most. He particularly enjoys fishing in George's Bank, which is located off the coast of Cape Code, MA. When tuna season is over, he also loves fishing in Key West, FL.