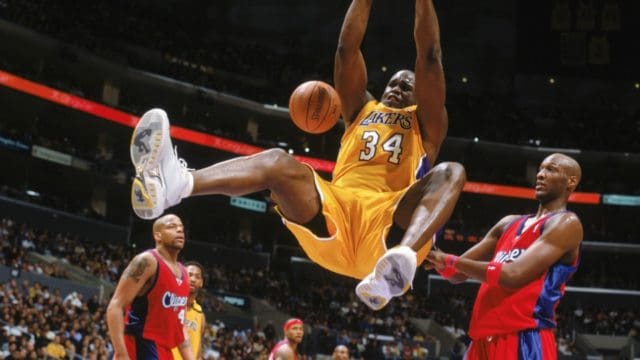 Yesterday the Lakers honored Shaquille O'Neal with a 1,900 lb statue of one of his signature dunk poses outside the Staples Center. But before the statue was unveiled the NBA put a Lakers highlight reel on their twitter account. The thing about Shaq now is that he's such a lovable bigger than life character that we rarely look back and appreciate his dominance as a player. While Shaq's joking around and poking fun at guy's like JaVale McGee and making us laugh with Shaqtin' a fool, it's all for good reason.
He makes fun of current NBA players and their lack of intensity because look how he was. While Kobe Bryant's trashed O'Neal's work ethic in the past saying he could have been so much more, you can't deny that when Shaq was on the court, he was all business and put in max effort. He was one of the greatest centers to ever play the game. No one with his size ever had better agility, quickness, or power all in one player. Every single time the man dunked it was as if he was shaking the entire arena.
Human evolution is inevitable, and I can't sit here and say we'll never see a Shaquille O'Neal type again. In fact we may very well see a guy his size who in addition to his power has a sweet outside game. But one thing is for sure. This highlight film shows just how special a player Shaq was in the NBA.
Before the @Lakers unveil #TheBigStatue tonight… we look back at @SHAQ's DOMINANT tenure in LA, #NBAMixtape style! pic.twitter.com/1jwGpNx2EQ

— NBA (@NBA) March 24, 2017