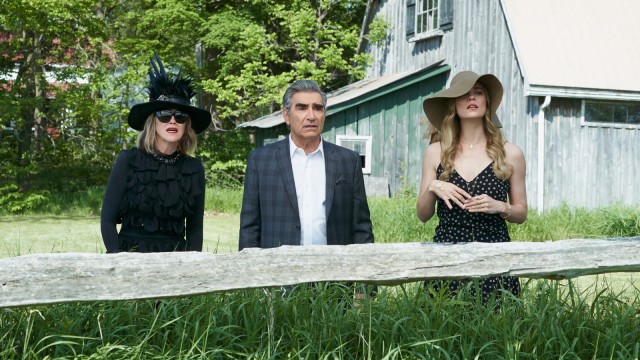 Schitt's Creek might be television's best kept secret in America, the spiritual successor to Arrested Development we neither earned or deserved from this little Canadian comedic gem. Perhaps the greatest example of the show's comedic mastery and dramatic potential was "Town for Sale", the show's stellar first season finale – so it's with raised expectations that Schitt's returns with in 2016, fresh on the heels of a season three renewal, before an episode even debuts on American shores. Tasked with the tall order of untangling the many cliff hangers of "Town for Sale", "Finding David" and "Family Dinner" take surprisingly subdued approaches to what's essentially an hour of the show hitting the reset button.
Thankfully, Schitt's has plenty of comedy to fill the spaces where narrative contortion replaces some of the show's deeper character explorations, which really came to light in the later episodes of season one (particularly around David's character, by far the show's most distinct, enigmatic personality). There are certainly moments in both episodes where the show pauses to poke at deeper ideas within its characters, but there's a noticeably different rhythm to the season premiere – and it's not a bad rhythm, but doesn't quite dig into some of the ideas it teased in the season finale in satisfying ways.
I'm perfectly willing to give Creek plenty of time to bring those ideas back to light; even as it walks backward from Stevie's attraction to David ("Over it!"), there's still plenty to be explored between their dynamic, that just doesn't have room to develop while the show's re-establishing the typical status quo. The same goes for Alexis: although the situation with Mutt remains "complicated and sexy", she spends an entire episode pushing herself through breaking up with Ted, who is left to cry on Johnny's shoulder in a signature scene of awkward Eugene Levy comedy.
If there's a real distinction to be made between how the show treats Alexis and David's stories in these first two episodes comes down to the writing: episode one is more observational comedy, relying on the hilarious imagery and implied horror of David's three days alone in Amish land, while his family concerns themselves with just about everything but finding their son ("He probably sold my bag for moisturizer" Moira thinks at one point). And that works, though it doesn't quite dig into the issues David was dealing with when he left: his scene with Stevie in the season finale (where he talks about not wanting to lose the only friend he has) is kind of left unspoken in these two episodes, a weight that hangs a lot more in the shadows than Alexis, who spends both of these episodes contorting her face in eighty different directions to squirm out of Mutt and Ted's manly grips.
Alexis is the real MVP of these two episodes, from the moment she's seen pushing a bed backwards with her calves, to when she breaks up with Ted while he's trying to give a bunny a blood test. Her inability to assert herself is on full display, and it comes through so beautifully with Annie Murphy's physical performance: "Family Dinner" is a real character highlight, offering the first moments of the season where Schitt's Creek is able to move out of the entanglements of "Town for Sale", and begin constructing its foundation for season two. She even provides an avenue for other characters to find their footing, existentially speaking: Moira's admission of losing her "proficiency at anything" since living the privileged life helps establish a certain tenor for the season to follow, as a resigned family finds themselves tasked with making a home out of a place they're stuck in for the foreseeable future.
What way to do that without a little bit of settling in, like cooking a home dinner or finding some new career opportunities? For all I've gushed about the emotional range Schitt's Creek is capable of, it's versatility as a comedy vehicle is on full display in both episodes. The aforementioned events allow Creek to live in its most comfortable state as a comedy, a master class in awkward, ironic comedy that finds its way to meaningful places. "Finding David" might deliver the funniest images (David yelling to Alexis about what's going on with Mutt was hilarious), but the comedy of "Family Dinner" is so much more satisfying because of where it finds ways to use different types of comedy to drive home subtle observations about the Rose family constituents.
Although these first two episodes don't offer a ton of clues to where this season is heading, I'm excited to see what Schitt's Creek has to offer in the next 11 episodes. After the show's initial hour-long premiere in 2015, I was a bit hard-pressed to see how far the show's central conceit could go: but as both of these episodes reveal in critical moments, Schitt's has ideas up its sleeve, and it the drab, rural setting around it bursts to life when the show takes those carefully measured internal explorations. Come for the comedy and stay for the comedy on Schitt's Creek – but always be prepared to be surprised, and impressed.
Tell us what's wrong with this post? How could we improve it? :)
Let us improve this post!