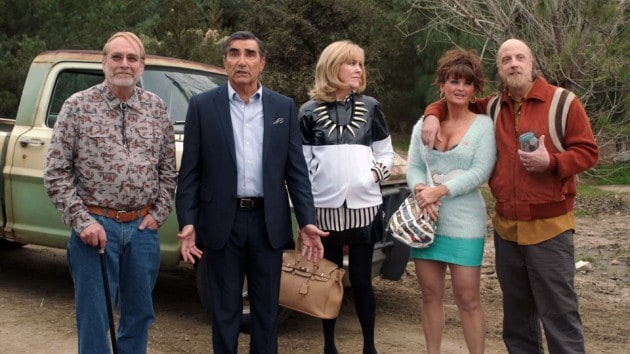 Created by Eugene Levy and his son Daniel, the Canadian import Schitt's Creek is the first foray into original programming for Pop Network (formerly known as TV Guide Network) – though unlike most networks, Pop isn't entering the ring with some prestige period drama, but a single-camera comedy on a tiny scale, focused on a rich family uprooted to a backwards rural town they bought on a whim in the 1990's. A series that is going to feel familiar to any Arrested Development fan, Schitt's Creek is a show of surprisingly subtle wit – and though it lacks a certain pathos in its first two episodes, marks a promising start for this acerbic comedy from the north.
"Our Cup Runneth Over" gets the series off to a rough start; once the Rose family is shipped off to Schitt's Creek when the IRS rips through their family business, "Our Cup" spends a little too much time focused on the weaker aspect of Schitt's comedy. As much as I enjoy Chris Elliott in various projects, ignorant and arrogant town mayor Roland Schitt (say it out loud) is the one aspect of the show that just doesn't work – and he's front and center early on, as the show begins to fill in the world around our fish out of water family, which include the family matriarch (played wonderfully by Catherine O'Hara), and the two self-righteous children, Danny (Daniel Levy) and Alexis (Annie Murphy).
In fact, on a larger scale, it's the males of the show that Schitt's Creek struggles to fill in; both Danny and Johnny (Eugene Levy) feel like placeholders for slightly more intricate characters, played fairly broadly as the effeminate, ignorant son and the eager-to-please, upper-crust father. Thankfully, the ladies of Schitt's are more than up to the task; and as great as O'Hara and Murphy are in their roles, Emily Hampshire steals the show in the first two episodes as Stevie Budd, the only employee of the hotel that the Rose family is inhabiting while they try and sell a town the US government determined had absolutely no monetary value. Her character, to make an Arrested Development comparison, is equal parts Ann and Maeby, a wonderful creation of sarcasm that shines through many of the pilot's lived-in world and stories, all of which are quite familiar to anyone who has watched a fish-out-of-water comedy.
With all these intriguing comedic pieces in play, all that remains for Schitt's Creek to do is surround them with interesting stories and character arcs, something neither the first or second episode really seems interested in doing. In the short term, this isn't a problem – but characters like these can only be interesting to watch if they're going places and trying things, no matter how awfully they'll fail if treated realistically. There's really no emotional foundation in either episode, which gives the proceedings a certain lack of tension that would really benefit the subtle brand of improv comedy the show employs; if Schitt's Creek can find something beyond selling the island to build stories with, there's a lot of promise on display in these first two episodes.
A possible intriguing direction is the professional failures of O' Hara's Moira, a former TV star known for smacking co-stars in the face on-camera (and possibly off, given her penchant for obsessing over her wigs and general standoff-ish nature). There's a dark underbelly to Schitt's comedy, something the first two episodes gloss over as it fleshes out the various members of the family, like monologues about Danny's art gallery or Alexis's obsession over her rich ex (which unfortunately, drags down a lot of her moments in the first two episodes).
The point is that ultimately, Schitt's Creek's two opening episodes aren't quite the outrageous, loud pilots one might expect from a new comedy; surprisingly measured and well-acted, there's a great foundation laid out in the first two episodes for the season as a whole to build upon. The first two episodes themselves don't do a great job picking up these threads and turning them into something meaningful, but there's still plenty of time; for an opening salvo, the first two half hours of Schitt's Creek present a world I'm interested in revisiting, at least in the short term.
[Photo via Pop Network]