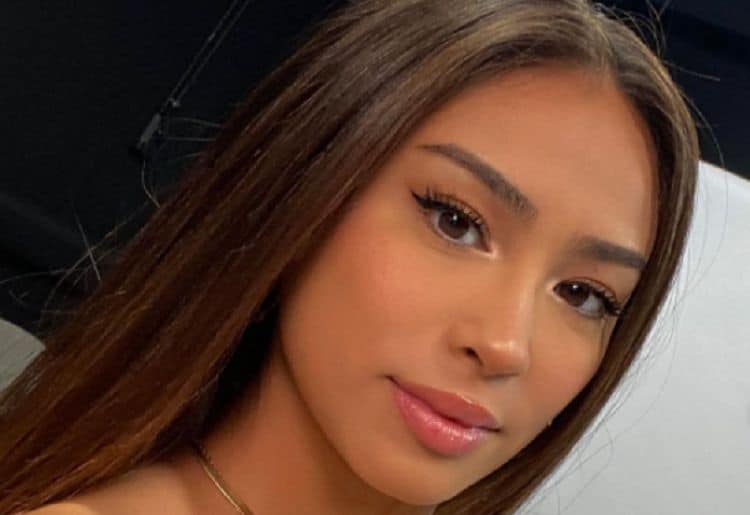 When season one of The Circle was released in 2020 it quickly became a huge hit. Now, after waiting over a year, the second season has officially been released on Netflix and Savannah Palacio is one of the show's new contestants. With her good looks and bubbly personality, many would assume that Savannah would be well-liked among the rest of the cast. However, if you watched season one you know that things on The Circle are very rarely what you expect them to be. If you want to see how things turned out for Savannah, you'll have to turn in yourself, but for now, just know that she's loving being a reality TV star. Keep reading for 10 things you didn't know about Savannah Palacio.
1. She Comes From A Diverse Background
Savannah was born and raised in California and she is half Mexican and half Filipina. She proudly reps both countries in her Instagram bio. She comes from a large family where she has three siblings. Savannah and her siblings were raised primarily by their mother as their father spent some time in prison. For the most part, however, Savannah is a pretty private person so she hasn't shared much information regarding her personal life and/or her family.
2. She Is Really Popular On TikTok
Even before being cast on The Circle, Savannah had a large social media following. On TikTok, she currently has nearly 613,000 followers and her content has more than 12 million likes. Now that she's on TV, however, there's a very good chance her following will grow.
3. She Is Passionate About Autism Awareness
Giving back to others is something that Savannah takes very seriously and autism awareness is a cause that is close to her heart. According to her LinkedIn profile, she has been volunteering with Autism Speaks for the last several years. The description on her profile states: "I raise funds year round for Autism Speaks as well as volunteer at the annual Autism Speaks Walk in Pasadena, CA."
4. She Studied Journalism
Savannah doesn't just have a pretty face, she also has the brains to back it up. Savannah has a bachelor's degree in journalism from California State University, Northridge. She currently works as a public relations officer for a company based in Washington D.C.
5. She Is A Brand Ambassador
Being popular online is about more than just people knowing who you are. Thanks to her large social media following, Savannah has gotten the chance to partner with companies to help market their products. She is currently a brand ambassador for Curlology and Love Philosophy. The partnerships will likely start pouring in even more frequently now that Savannah has been on TV.
6. She Is Passionate About Health And Wellness
Savannah loves to keep herself looking and feeling good, and she's very passionate about taking care of herself mentally and physically. From skincare, to exercise, to finding time to relax, Savannah is serious about self-care. She also likes to spread wellness-related information and awareness to others.
7. She Was In A Music Video
The Circle may be the first time that Savannah has been on a TV show, but it's not the first time she's been in front of a camera. In 2019, she was in the music video for the song "Body Ain't Me" by Pink $weats. The video currently has more than 3 million views on YouTube.
8. She Has Been In Beauty Pageants
Savannah's beautiful face is one of the first things that people notice about her, and its gotten her some pretty cool opportunities over the years. She has competed in several beauty pageants and was second runner up in the 2015 Miss California Teen USA pageant. She was also first runner up in the Miss Teen Beverly Hills pageant the year before.
9. She Doesn't Mind Being A Role Model
Lots of people with large followings don't like having the responsibility of being role models, but Savannah doesn't feel that way. According to The Cinemaholic, she said, "There are a lot of negative stigmas that come with [having a large following], but having that type of outreach trumps any type of negativity that anybody could ever say about [it]…I want to be a good example…because if you have this type of influence why would you choose to not use it for good?"
10. She Loves Nature
There's nothing quite like being out in nature, and this is something Savannah knows first-hand. When Savannah isn't busy with work, one of her favorite things to do is spend time enjoying the beauty of the outdoors. She loves doing things like going hiking and kayaking.