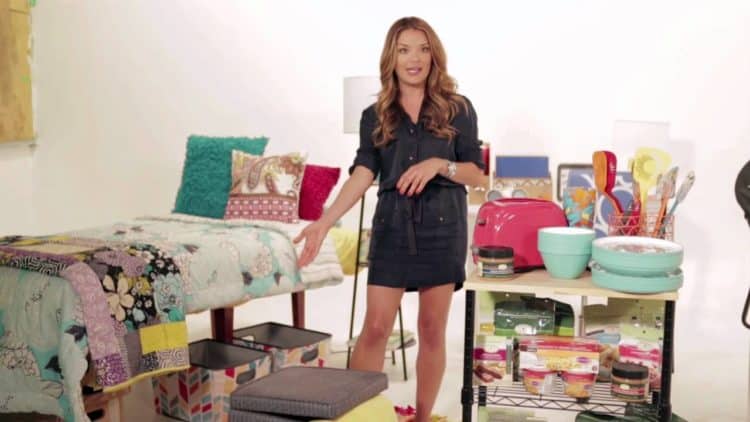 If you're a fan of interior design shows, you've probably heard of Sabrina Soto. At her start, Sabrina was a force on HGTV as the designer for multiple shows. But she didn't stop there. She was one of the first designers to turn her HGTV stardom into a full-fledged brand. She's also became a media personality, with segments and hosting jobs on a variety of shows. Today, home design and media are just the tip of the ice-berg with Sabrina. Now, as more of a lifestyle guru, fans can go to her for advice and motivation about a lot of areas in life, including organization, cooking, and self-care. She's opened up her life on social media as well, allowing fans a glimpse into her world. For new fans, it can be a little overwhelming. With so much content available, it's hard to know where to dive in. If you're a new fan, get started with this list of ten things you didn't know about Sabrina Soto:
1. She's Cuban-American
Sabrina is actually the first member of her family to be born in America. Her parents immigrated from Cuba and settled in Miami, Florida, where Soto was born. Although she wasn't born in Cuba, it's obvious that her roots have inspired her. She brings a touch of Latin influence to her signature, eclectic style. You can see it most often in her color schemes and pattern choices.
2. She's learned a lot from her mother
With her talent, it should come as no surprise that home design runs in Sabrina's blood. When she was young, her mother actually ran her own home decor business. The business offered both home decorating and staging services. Sabrina started helping out as soon as she was able, allowing her to learn the basics of interior design. Although she has her own business now, Sabrina still credits those earlier experiences with her mother for her skills.
3. She has a daughter
Sabrina is currently a single mother to her daughter Olivia Gray. She shares a lot of details about mothering on her social media, including plenty of adorable photos with Olivia.
4. She got her start on TV
Sabrina got her start on television long before she became an HGTV star. She hosted interviews, and has even played an extra on a few different television shows. Of course, she eventually landed at HGTV, and hasn't looked back since. But those earlier experiences have clearly helped her become the great show host that she is today.
5. She's the queen of home shows
Fans know that Sabrina was the queen of HGTV shows. She had several shows, such as The High Low Project, where she showcased her skills by creating accessible, attractive designs. She's also done work on other networks. On ABC, she's hosted their annual show, The Great Christmas Light Fight. She is also currently working on the TLC reboots of Trading Spaces and While You Were Out.
6. She doesn't just design houses
Sabrina does a lot more than design homes. She's actually a licensed realtor, which allows her to buy and sell homes in addition to designing their interiors. And she has plenty of other interests as well. One such interest is food. As a bit of a foodie, Sabrina shares plenty of recipes and food tips on her social media and blog. You can also check out her opinions about her other passion, beauty. She regularly offers advice about which beauty products to use.
7. She likes to keep things organized
Sabrina likes to make things functional, even as she makes them look expensive and attractive. Organization has been a passion of hers from an early age, which is obvious in her work. Although she does have eclectic tastes, she balances those with clean, minimalist touches. She also offers a lot of organization advice on her blog. Her tips are great for learning how to organize your workspace for greater productivity.
8. She has her own podcast
For anyone who wants to see a more personal side of Sabrina, check out her podcast, Redesigning Life. She produces the episodes, which include a wide range of topics. As the name suggests, the focus is on motivational messages that can inspire you to get more out of life. One great thing about the podcast is that it offers an opportunity for Sabrina to be more candid. During the series, she opens up about much more than home design, allowing her fans a glimpse at her values. For example, in her recent episodes, she approaches the subject of relationships. Although it's very personal, she offers advice about how to deal with break-ups. This kind of candid access to her opinions about life is a worthwhile listen for any fan.
9. She cares about the environment
Sabrina isn't shy about being eco-friendly. In addition to her realtor's license, she's also LEED accredited. Leadership in Environmental and Energy Design, or LEED, focuses on green buildings. They encourage sustainable building practices, which limit the amount of waste, materials, and energy needed for construction and maintenance. She also promotes positive environmental changes on her social media. One recent green trend she's brought up is solar water heating. With solar water heating, you're using solar power to heat the water in your home, rather than electricity or gas. Sabrina has solar panels set up on her own home, and uses them in place of a traditional water heater.
10. You can get her style at Target
If you're a fan of Sabrina's, don't forget that about her collaboration with Target! As with many popular designers, Sabrina partnered up with Target to produce a line of home items done in her signature style. The overall designs for the home decor products were fairly modern, with plenty of traditional, Latin flair. There was also a line a furniture to complement. Most people probably remember her for her bedding collection though. The bedding had gorgeous, colorful designs, and had a good range of options. There were plenty of budget styles available, but there were also items made with quality materials. There was something for everyone, so be sure to check it out.
Tell us what's wrong with this post? How could we improve it? :)
Let us improve this post!