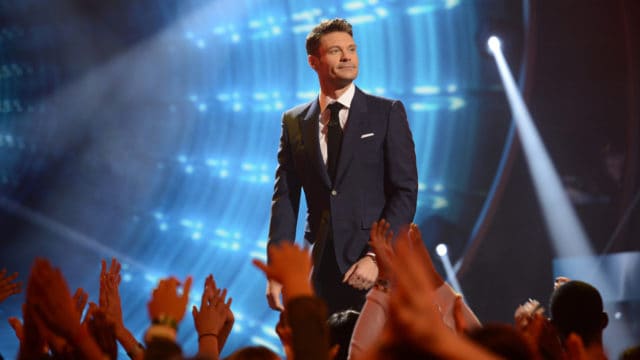 Some thought it was controversial for Ryan Seacrest to appear on the Red Carpet for pre-Oscar interviews with celebrities Sunday, March 4. Accusations that Seacrest sexually harassed his former stylist working for E! surfaced after a two month investigation revealed no basis for the claim. Seacrest denied the claims and the case has been put to rest, but should Seacrest have co-hosted E!'s Red Carpet coverage of the Oscar ceremony? The "American Idol" and "Live With Kelly and Ryan" host's appearance was not without controversy.
Here's what happened.
Allegations and Investigation
Last week Variety Magazine published an article about former E! stylist, Suzi Hardy's claims that Ryan Seacrest sexually harassed her for seven years before she told E! in 2013 and was fired. E! conducted a third party investigation that found the claims baseless. Seacrest made a public statement before the Variety article came out vehemently denying Hardy's claims. Seacrest also stated that Hardy had demanded he pay her millions of dollars to back off her allegations.
#Me Too and Times Up Thoughts
E!'s decision to have Ryan Seacrest host the Red Carpet Oscar show was controversial. When stars including Casey Affleck, Jeremy Piven and James Franco suffered backlash for appearing at awards ceremonies after facing sexual harassment allegations, why didn't Seacrest? Seacrest is a regular E! presence on the Red Carpet, so E! felt compelled to let the host continue his job of interviewing celebrities. Apparently the allegations were found to be untrue. Seacrest is considered one of Hollywood's most uncontroversial people.
In the week leading up to the Oscars, several people voiced their opinion on whether or not Seacrest should host the show or not. "Scandal" star Bellamy Young said that Ryan Seacrest should "step aside" from hosting duties but retracted her statement when she learned that he had been exonerated of the charges. Jennifer Lawrence was asked what she thought on "The Howard Stern Show" and said she didn't know, that Seacrest had not been found guilty of the allegations, and that it was not for her to say. The #Me Too Movement founder Tarana Burke commented only that if accusations stand, there shouldn't even be a decision to make.
E!'s Response
E! has been under fire for gender inequality recently and wanted to avoid being politically incorrect. However, it's E! and they wanted to use Seacrest as host because that is what he does. In November E! came under criticism when longtime entertainment news hostess Catt Sandler quit after learning her male counterpart was paid much more than her. E! also suffered criticism after it was learned a producer who aired a segment that included Eva Longaria commenting on the Catt Sandler news was fired from the station.
In preparation for any backlash by having Seacrest host the Oscar pre-show, E! inserted a 30 second delay. The station anticipated some awkward moments for the host during celebrity interviews and wanted to prevent them. E! stands by its claim that the delay was standard procedure.
An Awkward Moment
For Seacrest, the Red Carpet was business as usual. He tried not to allow the allegations against him to affect his performance as an interviewer and continued to focus the attention on the celebrities, what they were nominated for, and who they were wearing. Certainly, Seacrest expected to have some awkward moments.
Most notable was the actresses who avoided Seacrest on the Red Carpet. None of the female Best Actress nominees were interviewed by Seacrest. Toward the end of the Red Carpet show, E! switched the focus off Seacrest and on to co-host Giuliana Rancic as the bigger stars began to arrive. There were some actresses that chose not to avoid Seacrest. Of course Seacrest's "Live" co-host Kelly Ripa came to support him with her husband Mark Consuelos. Ripa told Seacrest he was "doing a great job". Others who didn't avoid the host included Allison Janney, Mary J. Blige, Tiffany Haddish and Taraji P. Henson.
Speaking of Taraji P. Henson, "The Empire" star was responsible for the most controversial Ryan Seacrest moment of the night. During her interview with Seacrest, Henson said: "You know what? The universe has a way of taking care of good people." and stroked Seacrest's chin while smirking. Was this the most subtle dig ever? Twitter users immediately speculated that it was especially when Henson's comment during her next interview with ABC's Wendi McLendon-Covey. She told Covey: "I'm great now that I'm in your company". Who knows if Henson was making a dig at Seacrest or not. She hasn't said. Aside from this awkward moment, it is clear that Seacrest is a professional and handled himself gracefully on the Red Carpet.