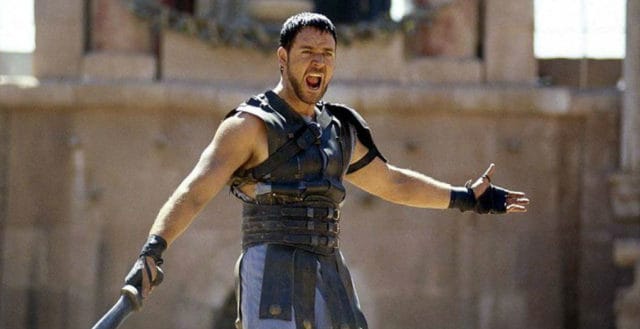 Most people have had or know someone who's had at least one yard sale, garage sale, or maybe even an estate sale, but when you're a celebrity, you get rid of your things a different way, with an international auction. There are many reasons why people have stuff they either need or want to get rid of, children grow up, needing to downsize, and divorces, to name a few.
Russell Crowe is one of these celebrities who had some things he'd like to get rid of after going through a divorce and he's got some awesome stuff he's auctioning off. Usually, auctions given by the rich and famous are done in private and are only made public when it's absolutely necessary. However, Crowe and soon-to-be ex-wife Danielle Spencer, who is also in acting, are not your usual rich and famous actors. The two have been separated now for over five years and they are going out in style.
The public auction, which has been given the moniker "The Art of Divorce", will take place at Sotheby's Australia. The auction catalog features Crowe on the front, toasting with a cocktail, and looking very much like he's ready to sell you something. Which, he is. Russell Crowe will have a "Divorce Auction" with loads of movie mementos.
Crowe, who was born in New Zealand, but now lives in Australia, is the star of movies such as A Beautiful Mind, 3:10 to Yuma, State of Play, and Gladiator, just to name a few; he has a total of fifty-seven credits at this time. Much of what he's clearing out for the auction is memorabilia from his long and distinguished acting career. In fact, Crowe will be selling more than two hundred items all together on April 7 at Sotheby's in Sydney. The seventh is actually his fifty-fourth birthday, and oddly enough, also his wedding anniversary. The items will be available to the public for exhibit prior to the auction.
Sotheby's listing says of the collection that it's representative of highly personal items collecting over many years, including those he shared with Spencer. The collection is made up of some of the country's (Australia) most famous historic, contemporary, and modern artists, sporting memorabilia, watches, musical instruments, movie memorabilia, and furniture.
A fully-functional Roman chariot replica, weapons, and armor from Gladiator are among the items up for auction. In addition, there's plenty of movie memorabilia from others as well, such as British naval dress blues, neo-Nazi jackboots, and a satin boxer's robe. Imagine owning a piece of movie memorabilia not only used by Crowe, but owned by him as well! Furthermore, the auction will also have jewelry and watches, paintings, guitars, motorbikes and cars. Yes, cars!
Crowe says that their divorce, while being separated for the last five years, will be final around the same time of the auction. He says that they collaborate on how to raise the children, as they've been able to do on other things, and it was just natural that they also work together on the auction. He says that he thinks Spencer feels the same way as he does, that it's time to move on and create space for the future.
Just out of curiosity, if you'd like to know what the most expensive item is going to be up for sell, it's an 1890 violin, which was used in Master and Commander. Hold on to your hat; this violin is expected to go for close to three million dollars. Crowe says he is just being practical, getting rid of what is probably about three rooms full of stuff which he no longer cares for, wants to keep documented, cleaned, tuned, or insured.