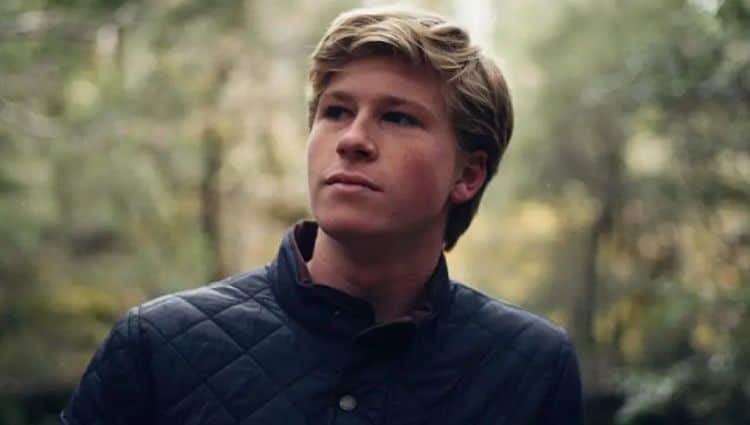 The world knows Robert Irwin because the world mourned the loss of his father when he was only two. The son of the very famous Steve Irwin (the crocodile hunter) was only two when his father tragically lost his life in 2006. Steve Irwin was so beloved across the world, and his sweet family, too. The world was horrified, crushed, and just beside themselves that a stingray injury would take the life of someone so invincible – and that it would take a father from a son who will never remember him. It's been nearly 16 years since the death of everyone's favorite crocodile hunter, and his son is now 17-years-old. The world wants to know more about him.
1. He's Turning 18 in 2021
It's hard to believe he's nearly an adult. He was always just the cute kid that belonged to Australia's most famous family. However, he will turn 18 on December 1, 2021. He's nearly an adult, and we cannot wait to see what he does with his adult life.
2. He's The Reason For Tougher Croc Laws in Australia
When he was just a baby, his father held him in one hand while feeding a saltwater crocodile the body of a dead chicken with the other. Watchers were horrified by how close the tiny boy was to the mouth of a croc, and the Queensland Government then enacted tougher rules regarding crocs, which means that handling changed and children were no longer permitted inside enclosures. The incident was compared to Michael Jackson's dangling of his small son outside a hotel room window.
3. He's Got Dual Citizenship
He's both Australian and American, and that's thanks to both of his families. His mother gave him American citizenship, and his father obviously gave him his Australian citizenship. He grew up mainly in Australia at the zoo where he and his sister were both homeschooled while their parents worked.
4. He's a Movie Star
You didn't know that, did you? That's right; Robert Irwin is a bona fide movie star. He was part of "Free Willy: Escape from Pirate's Cove," back in 2009 when he was only a child. What a cool thing to be able to say, though, right?
5. He's a Ladies Man
It turns out that despite his young age, he's quite the catch. His love life has been the subject of actual headlines lately, and it turns out he's got quite a few young ladies interested in becoming something a little closer than just friends. Is he into any of them? We cannot speak for him, but we imagine that he will know if he's into someone or not.
6. He's Named After His Grandfather
Before his dad rose to fame for being the coolest croc hunter in the world, his grandfather did something very similar. Bob Irwin was a conservationist and a naturalist, and he's named for him. It's very cool to have a namesake situation like that one.
7. He's into Photography
It turns out that the young son of the late Steve Irwin has his own passion. He loves photography, and he is always taking photos of animals and sharing them online. He's quite good, too, and we wonder if he has any dream of making his passion a future?
8. He's Carrying on His Dad's Legacy
At the moment, young Robert Irwin is doing what his dad always did. He's helping to save the world one conservation effort at a time. He's a young person, but his voice is one that everyone hears because of who he is and who his father is. He's hoping he can make a difference, save the animals, and save the planet as a result.
9. He Travels Often
His home base is Australia, but he and his mother and sister travel the world on a regular basis doing what they can for the environment. They speak publicly, they educate, and they help to ensure that the world hears their voices. However, they are always working tirelessly for the Australia Zoo, which his mother took over after the death of his father, and the hospital that they have onsite.
10. He's Very Close to His Family
If there's one thing in the world every family hopes to achieve, it's the closeness that this family has. They might have lost the most integral part of the family 15 years ago, but that doesn't mean they are not still close. He, his mother, his sister, and now his sister's husband and their unborn baby are closer than ever, and they will continue to spend their time focusing on their family first and foremost.