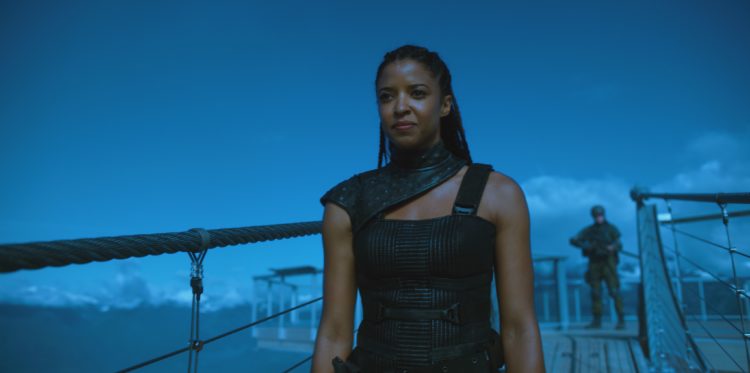 Renee Elise Goldsberry is an American actress, singer, and songwriter that's best known for her role in the Broadway hit Hamilton. She even won a Tony Award in 2016 for her performance and has several other performances to her name. She's been prominent in TV and in film as well and has won other awards during her time in the industry. Her course was decided back in college when she first attended Carnegie Mellon University where she received a Bachelor of Fine Arts in theater in 1993, but she decided to take it further by attending the University of Southern California's Thornton School of Music where she obtained her Master of Music in jazz studies. You can tell this woman has been goal-oriented for a while now and has been pushing to get what she wants. Thankfully she managed to get it and has been a noted star for some time now.
Her early roles helped Renee gain her footing in the industry.
It didn't take long for her to get added on to the Ally McBeal show as a backup singer that accompanied Vonda Shepard's performances. Renee played a total of 43 episodes before the series was cancelled. She even managed to carry the same role to three episodes of the spin-off series, Ally. After that she found herself on the show One Life to Live until about 2007. Following this she played the role of Geneva Pine on The Good Wife, showing up many times during the show's run. She's also made guest appearances in many other shows throughout her career.
Her time in film was not as extensive but it was still every bit as good.
She's been in several films that aren't quite as famous as the shows she's appeared on but have still managed to keep her career moving in the right direction. She's been featured in HBO films as well as regular big screen productions for which she's been praised. If you don't remember seeing her the chances are good that the movies she's in aren't your cup of tea. But she is a great actress and has managed to keep her career alive while having a great time with what she's done so far.
What she really seems to love is the stage.
Renee has been featured as a few very iconic characters on Broadway, Nala from The Lion King being one of them. She's also been in the production Dreamgirls, as well as the always loved Hamilton. While she's done great in other areas this is where she seems to shine the most. Her presence on stage is something that can't be fully described with words since she gets into her parts with such aplomb that simply watching her one can't help but be amazed by her energy and her level of talent.
She's also had a singing and songwriting career that have managed to bolster her throughout the years and has kept her busy as well. She's even been invited to the BET Hip Hop Awards where she was one of two women to rap in the Cypher.
She also had the joy of becoming a mother when she turned 38, and she her husband also adopted a daughter from Africa to round out their family. To be honest she seems like the type of woman that truly enjoys her work and what she does. Her upbeat attitude and diligence when it comes to her work is kind of inspiring since it takes a lot of talent and a lot of hard work to accomplish the things she's done. There's no telling how far she's going to go but right now Renee is definitely one of the greatest talents in her field and has made it very clear that she's the kind of actress that sticks around even if people don't see her all the time. If she's not focusing on one aspect of her life then she'll focus on another. It's a matter of always moving forward and being aware what she can do with what she's been given and what she's earned.
Once celebrities start to rise and assume their place in the industry it's a tentative thing to start with since like anyone they have to find their footing, establish their presence, and then pay their dues as they keep going. Acting is not a simple matter of jumping in and getting to work, it takes time to develop the kind of skills these folks have and to build up the overall confidence that is seen on the faces of so many within the industry. Even then it is never a fully certain thing as actors need to continually stay up on what they're doing, what projects come next, and what will be available as they move forward.
Renee is definitely where she needs to be at this time, right near the top of her field.