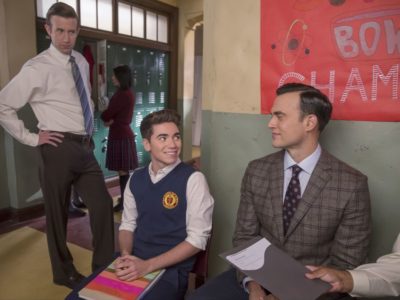 Do you ever want to just say what's really on your mind and not worry about what others think? On The Real O'Neals we get to see verbal justice served to a mean-mean not funny-mean gay teacher, witness a disgruntled teacher's angry goodbye to her students after winning one million dollars in the lottery, and watch Pat O'Neal embrace his desire for smoking meat while shirtless in the backyard. And it feels good because they are doing what we have all wanted to do at some time or another–tell people off, do what we want, and not worry about creating any beef. Well, Pat worries about the beef.
"The Real Mr. Nice Guy" is all about honesty. And honestly, this episode didn't hit the humor mark until Eileen's family dinner with the Catholic Bishop but there were sporadic comical moments which I'll get to in a bit. In the end though, the Bishop blessed us with some wisdom which honestly made us reconcile with our lack of laughs. While the dinner scene and VP Murray's habitual lying delivered the humor we have expected from The Real O'Neals over season two, overall, this episode wasn't one of my favorites.
One of those random comical moments happened before the opening credits when Ms. Dunn who teaches Music Appreciation at St. Barclay's did something we've all fantasized about. After scratching her winning lottery ticket and able to quit her nightmare profession, she flipped her entire class the bird, cursed at them and threw all the items off her desk onto the floor in an act of defiance. In order to capture the honest emotions behind this, ABC simply burred out the obscenities. It felt good to watch Ms. Dunn's outburst go down because we typically lack the courage or the insanity to actually go through such behavior. Another moment was Kenny's modern take on a 'Sound of Music' fantasy with Mr. Peters, the gay replacement teacher for Ms. Dunn. It was rather clever and quite comical to watch Julie Andrews' "Do Re Mi" find a version in today's gay culture.
When Pat stops being Mr. Nice Guy due to some encouragement from Shannon he decides his needs should come first and that includes buying the Pigarater 2000 for smoking the manliest of meats. Add Whitesnake's "Here I Go Again" to the backyard grilling party and the episode is back on the right humor track. Honestly, I think this setup was stolen from 'Old School' in a scene with Frank the Tank and the Red Dragon but we'll take it because it's hysterical.
No longer controlled by his ex-wife, Pat refuses to participate in the Bishop dinner which forces VP Murray to pretend he's Pat and to continue down a path of deception. Everyone goes along with Eileen's lie to make it seem like the O'Neals are one happy, Catholic-abiding family. The banter between the pretend family and the one-liners from VP Murray crescendo into an amazing climax where their den of lies becomes filled with smoke and Carl Orff's "Carmina Burana" plays with surround sound from above. Of course, the smoke is from the real Pat's smoker outside and the ominous music was part of Kenny and Jimmy's Music Appreciation homework. Nonetheless, the scene was well-crafted and pulled from all little hints foreshadowed earlier in the episode. Well done ABC.
Having Mr. Peters join St. Barclay's staff, Kenny thought he'd be able to relate to another gay person or even have a gay role model. He was wrong. Mr. Peters turned out to be a mean-mean gay which is not the same as a funny-mean gay who is very similar to a sassy gay. After Mr. Peters torments Jimmy in class, Kenny finally stands up to the bully teacher and honestly shares how he feels. He belittles Mr. Peters' Broadway background which didn't even include any actual performing. He was a theatre usher. Take that Mr. Peters. Kenny just put you in your place.
In the end, Eileen confesses that VP Murray is her gentlemen friend and Pat on the smoker is her ex-husband when the Bishop escapes to the backyard from some fresh year. It's then when the Bishop replies that no one is perfect and it's how we deal with our imperfections that define us. Honestly, I couldn't have put it better myself. So I didn't. "The Real Mr. Nice Guy" didn't pack the same laughs as many other episodes, but it made a real impact on our approach to honest living. And that's the truth!
(Photo: ABC/Ron Batzdorff)
ABC's The Real O'Neals Tuesdays 9:30/8:30C.
Tell us what's wrong with this post? How could we improve it? :)
Let us improve this post!