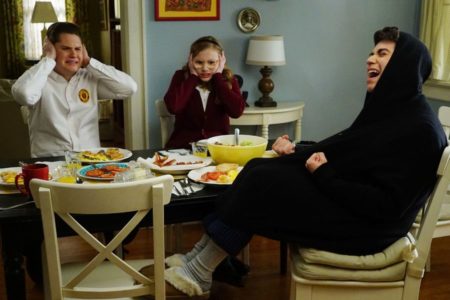 Is it better to have loved and lost than never have loved at all? For Kenny O'Neal, the struggle through sorrow can best be expressed with Roxette's "It Must Have Been Love" and his own 90s music video complete with windblown curtains, church pews, and interpretive modern dance on the floor of an empty warehouse. Oh, don't we miss MTV of the early 90s? For the rest of the O'Neals, Kenny has become a gloomy buzzkill who's turned Roxette's hit into a song of emotional torture.
It's Valentine's Day for the O'Neals and on this episode "The Real Heartbreak" we learn that following your heart even when your head doesn't want to can sometimes be exactly what you need. It's new relationship territory for each member of the family and trusting their hearts end up leading them to their warm and fuzzy place–the way we're all supposed to feel on Valentine's Day. It's also the way I felt after watching this episode.
So it appears that Brenny (that's Kenny and Brett the couple) are officially broken up. Last time we saw Brenny together, Brett said he needed to put their relationship on pause since Kenny wasn't sure if he loved him or not. Kenny's honesty seems to have backfired and now he is left to suffer through singlehood once again. At least he has Roxette.
Eileen doesn't want Kenny moping around the house so she encourages Pat, who is embarking on his first Valentine's as a single man, and Jimmy, who is just single, to let him join their Lonely Hearts happy hour. Reluctant at first, Pat and Jimmy take Kenny with them and end up learning the greatest trick for getting whatever they want from women. It's vulnerability! Sure, they do it through their grieving gay son who they refer to as their sad, gay puppy, but when they show compassion and empathy towards Kenny's pain, the women melt. Pat has two women flirting with him and inviting him down to a jazz club for tapas while Jimmy has the female server bringing him endless appetizers like seafood and meat towers. Like a sad puppy, the ladies in the bar feel for Kenny and trust the men he came there with. Like the bend and snap, it works every time.
Everywhere Kenny looks he's reminded of Brett. To get through the pain, Kenny leaves the bar and goes on a solo date to Rainbow Grind where he sabotages Allison first lesbian date, watches GI Jane at the movie theater, gets kicked out of the movie theater over obnoxious anti-romance outbursts and finally ends up where his relationship began–the school choir room. Pat and Jimmy track him down there through Instagram and in the end, Kenny ends up feeling better. He followed his heart and ended up reaching acceptance which is the final stage for Elizabeth Kübler-Ross' five stages of grief. FYI, that's the place you want to end up along the process. Kenny's pain may have been difficult to experience but it was entertaining for us to watch.
Meanwhile, Eileen's Valentine's Day tradition consists of spending the evening at ValueCo reaping all the benefits of buying in bulk holiday deals. Shunning the commercialized holiday she stocks up on rotisserie chickens and jumbo mayonnaise when suddenly an elderly woman mimics her behavior causing Eileen to have a change of heart. She doesn't want to become that elderly woman in front of her. In Real O'Neal coincidence, VP Murray happens to be at ValueCo since Eileen told him of all the great deals and the two embrace for a passionate kiss and later share a jumbo bottle of merlot on the fake lawn furniture set up.
The Real O'Neals captured the essence of loving and losing as well as recovering and repairing one's heart on the journey of relationships. Pat got hit on, Jimmy ate his fill of appetizers, Eileen learned romance feels good and Kenny started to heal. Seeing each of them made us feel compassion and empathy because we've all be able to relate to them at one stage or another of our own lives. Watching The Real O'Neals should be done with an open heart in order to enjoy the warm and fuzzy place it takes us.
In case "The Real Heartbreak" or this review doesn't make you feel warm and fuzzy, think back to a time you felt love and watch Roxette's "It Must Have Been Love." In advance, you're welcome.
(Photo: ABC/Richard Cartwright)
ABC's The Real O'Neals Tuesdays 9:30/8:30C.
[youtube https://www.youtube.com/watch?v=k2C5TjS2sh4?rel=0&showinfo=0]
Tell us what's wrong with this post? How could we improve it? :)
Let us improve this post!