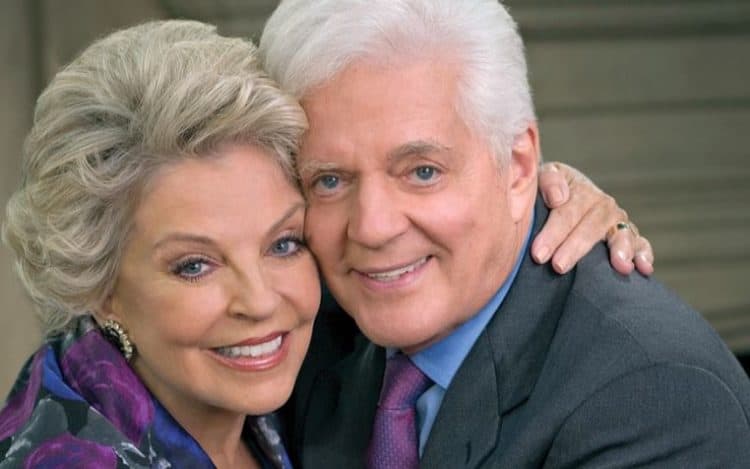 Days of Our Lives fans love a good love story, and that's what we are focusing on this month. After all, this is the month of love. Between Valentine's Day and the fact that we are all so excited about the impending spring season, love is certainly in the air. And that's why we want to celebrate by bringing you just a few of our favorite off-screen loves from Salem. They are happily together, and they also met at work. It's easy to see why these people are some of the greatest of all time when they get to spend their lives together loving one another and focusing on what is good in their lives. They are all committed and all happy, and we love that kind of love.
Kassie and James DePaiva
2>
All right. You caught us. They did not meet on the set of Days. They met on another set, but then they headed this direction, so that totally counts in our book. She's the very awful Eve, who is not doing one little bit of good for anyone who has the unfortunate luck to come across her in Salem. She's horrible to her own sister. She's horrible to the people she knows and loves. She's horrible to her men, her friends, the people she does not consider friends. She is just horrible, and there is nothing we can do about that. But, we do love her in a way that is amazing. She actually met her longtime husband on the set of One Life to Live, where she spent much of her working career. He was on the show, and they felel in love and got married back in 1996. They've been together ever since, and they even had a baby. They both still work in the soap world, but on different shoes. He's off and on General Hospital, and they're getting to spend a lot more time together.
Crystal Chappell and Michael Sabatino
We reached way back for this one just to make it a little bit more exciting for longtime fans. They were both on the show so many years ago, and they've had babies and a long love. They met back in 1990 and they got married in 1997. That's a million years ago in the land of Hollywood, which makes their marriage even more impressive and exciting. What we love about them, too, is that they even left together. They were the couple who played Carly and Lawrence. They were very ugly together because he was a controlling jerk and she thought she could change him. They had the most toxic of toxic relationships on the television, and no one wanted to see them together. Thankfully, they are much better at marriage in real life than they were on television, and they are not that much like their characters. That's probably what helps them the most. Being themselves rather than the weak people they were paid to be a few hours a day.
Susan and Bill Hayes
We decided to say the best for last. And we love them. They are some of the best and the most beautiful people in the world, and they give us all hope. They are also married on television. They met back in 1970 and they've been together ever since. They've been married so long we can't even count that high, and we cannot believe how happy they still seem after all these years together. They are a dream couple to the point that there was no plan from the writers to make anything of their characters with one another. There was just something so special between them, however, that the writers had to do it. They put them together, and it's been almost 50 years since they became a couple. And we love them more than you could ever imagine. They are our poster children for soap opera love and affection — and the often forbidden office romance, don't you think? They defied all the things that they say aren't good about dating someone at work, and they made it work at home, at work, and everywhere in between. That's good news for them.
Tell us what's wrong with this post? How could we improve it? :)
Let us improve this post!