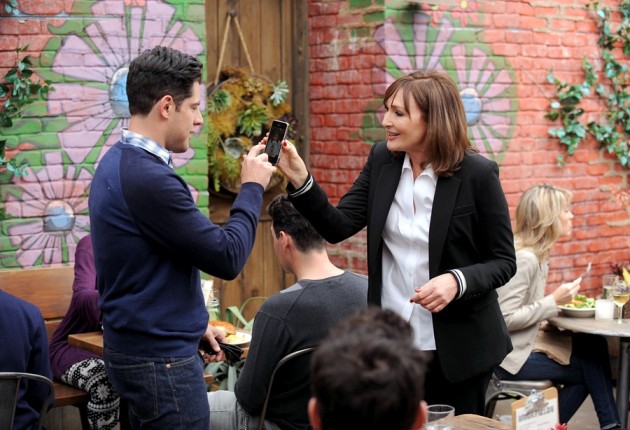 New Girl returned tonight after about a month-long hiatus and introduced us to Schmidt's hilariously overbearing mother, Louise (played by Nora Dunn), This wasn't New Girl at its most thoughtful or emotional, but what "The Right Thing" lacked in substance, it made up for in laughs. There were plenty of one-liners and jokes that held things together quite nicely throughout the episode.
For most of its running time, "The Right Thing" pivots back and forth between Schmidt's attempts to get his long overdue bar mitzvah money from his mom and Jess, Coach, and Cece attending the most awkward funeral ever for Pete, a guy that Jess sexted once, who she quickly discovers had a girlfriend. Despite the fact the two plots seem completely different from another, the idea of "letting go" connects the pair pretty well, making them feel like a whole instead of two separate parts. Even Winston's mission to be friends with Aly (returning guest star Nasim Pedrad) somewhat embodies this theme, as Aly has to let go of her relationship with her past partner, who fell in love with her, in order to move forward and be friends with Winston (although, if I'm being honest, I'm kind of reaching here).
Although most of the jokes and one-liners land throughout "The Right Thing," it's hard for them to really enhance the stories that are being told in this episode of New Girl. The introduction of Schmidt's mother should be a big deal, and it's treated as such at the beginning of the episode, as shown through Max Greenfield's perfectly played panic attack. However, the conflict between mother and son feels undercooked throughout "The Right Thing"; perhaps it's the ridiculous fact that Schmidt still hasn't gotten his bar mitzvah money (it's certainly funny but may be just too extreme, even for someone like Schmidt) or because the issues between them seem too easily resolved.
And all of that brings me to another point. As wonderful as the scene between Cece and Louise at the nail salon is (it shows how well the women would actually get along if Schmidt were to bring Cece home to meet his mother and provides some nice, fun moments as the two of them come close to revealing their identities but never do), the fact that Cece is the one that helps Louise have her breakthrough regarding Schmidt feels a little too neat and tidy. Furthermore, it robs Schmidt and his mother's storyline of a truly emotionally satisfying conclusion. It's not anything he says to her, him claiming his independence or having her reconsider how she raised him, that changes her mind–it's simply the advice of a stranger, and this only mildly works because of how well we know Cece.
However, Louise's presence in tonight's New Girl does help shed light on how Schmidt became the person he is. It's clear that Schmidt's perfectionist attitude was born out of a desire to constantly please his mother, who, as we saw tonight, has the highest of standards (particularly when it comes to "Thank You" notes).
In addition to showing us where many of Schmidt's idiosyncrasies come from, New Girl also does a solid job at showing us that Jess's (along with other people's) idea of "doing the right thing" doesn't necessarily come from so much of a place of selflessness but one of selfishness. Even though Jess tries to frame her attending Pete's funeral as her paying respect to someone who has died, it's actually more about her need to feel important in some way, particularly after her break-up with Ryan, which is still affecting her actions. That's why when Pete's girlfriend discovers Jess's "sext" (loved everyone's reaction to it, by the way) and that she's not who she says she is, it's both a funny and just way to end the story, and hopefully an incident that will allow for Jess to find newer, healthier avenues of showcasing her worth–just as long as none of those ways include Schmidt's mom.
Other thoughts:
– New Girl was renewed for a fifth season earlier today, and I couldn't be happier about that news, as the series remains my favorite comedy on TV.
– All my complaints aside, this was one funny episode of New Girl, but my favorite part had to be the running gag of how skiing together made two people closer, and Jess's response to it: "Who makes these rules?"
– Schmidt and Nick investing in 10 percent of the bar together gives New Girl a good excuse to use that set more, which probably helps with the show's budget costs. Plus, the bar is already such a central spot on the series anyway that it makes sense to have more action take place there.
– I'm really enjoying the dynamic between Winston and Aly, and I hope the New Girl writers resist the urge to try and pair them up at any point during the remainder of this season. They work well together as friends and helped produce one of the funnier scenes of the episode, with Aly interrogating Schmidt about those who attended his bar mitzvah.
– J.J. Watt was a lot of fun in his guest appearance. Loved his awkward finishes to all of his, Coach, and Jess's sports songs.
– Schmidt's childhood sounds like the most awkward, uncomfortable thing ever: "Try learning about the birds and bees from her with a donut and a banana. Neither of which are used for what you think they are."
– "Can I get an alcohol?" We've all been there, Nick.
– ""Buff floors, but at what cost?" Winston asks the deepest, most important questions, you guys.
[Photo via FOX]
Tell us what's wrong with this post? How could we improve it? :)
Let us improve this post!