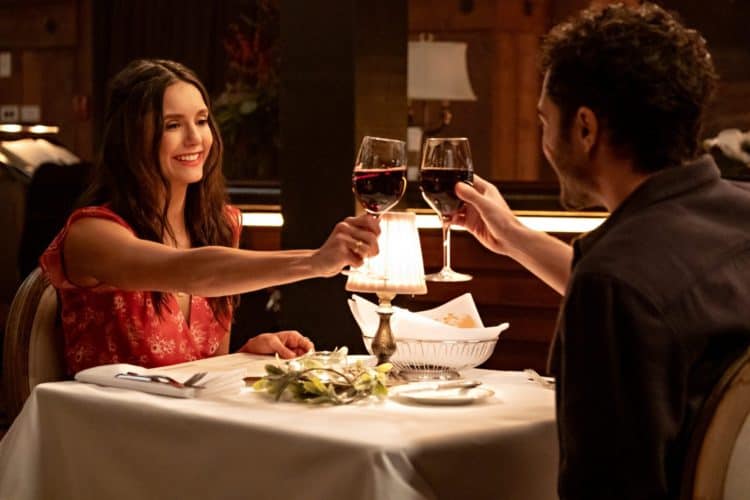 The only thing more exciting than the sweet anticipation of presents and quality time with the fam during the holiday seasons are cheery Christmas movies that keep us in good spirits. Most of us don't expect much holiday-themed films other than a few chuckles and maybe even a dash of romance. These movies help us get into the holiday spirit and they can be enjoyed by the whole family. Love Hard is just one of what seems like dozens of holiday-themed comedies that have been released on Netflix over the last few weeks. Nina Dobrev plays Natalie Bauer a Los Angeles journalist that documents her sad dating life in a column called "Always A Bridesmaid" for a popular lifestyle website. Natalie is anxious to find her soulmate, but she hasn't had much luck in the online dating world, at least not when it comes to the local prospects. Natalie decides to expand outside of her local dating horizons and ends up matching with thirty-year-old Josh Lin on the Her Flirt Alert dating app.
Josh appears to be the perfect guy, which should have been the first red flag. Oh yeah, Josh also happens to be super attractive. After two weeks of late-night phone calls, falling asleep on the phone together, and bonding over the intimate details of their life, Josh hints at Natalie spending Christmas at his parents home in Lake Placid New York. Natalie decides to go out on a leap of faith and surprise Josh by hopping on a plane to New York. She's finally going to get her happy ending and it's going to make a great story for her column. When Natalie gets to New York she finds out that Josh isn't exactly who he says he is. Josh is a short, introverted nerd living in his parents basement. Yes, Natalie has been catfished! Here are five reasons why the movie goes downhill from here:
1. Natalie is way too desperate for love that it's pathetic
Instead of cutting her losses and going back home, Natalie decides to stoop low and get involved in her catfish's shenanigans. Natalie agrees to be Josh's fake girlfriend so that he can make his family happy. In turn, Josh promises to help her win over the real guy in his profile picture which happens to be his best friend, Tag. Natalie seems to be a normal, self-respecting woman. However, she does a major disservice to herself when she decides to let Josh manipulate her into scheming for love.
2. The storyline is unbelievable
It doesn't make sense that Natalie would spend a week sleeping in the same room with the weird basement-bound internet boy that lied about his true identity. The fact that Natalie gets so comfortable in a stranger's home while thousands of miles away is unbelievable. It's also kind of strange that Natalie feels that she has to scheme to catch Tag's attention. After all, Natalie is an attractive girl.
3. Catfishing is downright evil, but you wouldn't think so after watching this film
The writers attempt to soften the blow of Josh's unforgivable betrayal depicting him as a low-self-esteem geek that was bullied during his childhood. Josh is also the "black sheep" of his family compared to his older brother who seems to have everything going for himself. All the Lin family wants is for Josh to finally find a girl and settle down, which is why he resorted to such extreme measures.
4. Natalie never seems to have enough brainpower to learn important lessons on her own
It's pretty disappointing to see that Natalie never seems to learn important lessons on her own. It often takes the men around her to point out the harsh reality of the decisions that she makes. During the film, Josh repeatedly points out her hypocritical acts and helps her to see her superficial dating habits.
5. Natalie claims she wants to find her soulmate, but she certainly doesn't act like it
As much as the heroine seems like she wants true love she goes about it in all the wrong ways. In an effort to win Tag's love, Natalie pretends to be someone she isn't and shapeshifts into the type of woman that believes that he would want. This is no way to build a lasting romance.
6. Josh and Tag appear to be the only two men left on earth
Natalie might be desperate for someone to plant a wet one on her under the mistletoe, but Tag and Josh can't be the only options. The writers make it seem as if Natalie has no choice but to spend her life with one of the two boys. Although there are some sweet moments between the main characters, you'll find yourself cringing through most of the film. Watch at your own risk.
Tell us what's wrong with this post? How could we improve it? :)
Let us improve this post!