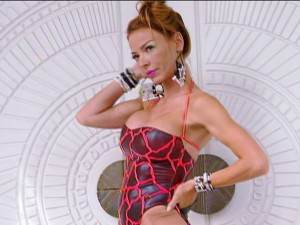 My problems with Ramona have, at times, threatened to tear down the good will I have for Mob Wives. In her first reign of terror season, the newbie has come out swinging, gunning for Drita any time she can get a shot in and trying to convince Renee to join Team Karen. Her aggression may be partially impressive, in terms of how relentless it can be, but mostly, it's annoying; we're nearing the end of season 2 and I feel like we only know one version of Ramona. You know, the loud, pseudo-brawler trying to throw her weight around and while that may be a part of her personality, it makes her very one-note to watch.
Part of why I like Mob Wives is that it shows these women as something other than the mob stereotype, that they've managed to drop the glamour and look at the cold, hard realities of having a connected loved one. They may be very physical and louder than necessary, but you get to see stuff like Renee joking around with her kid, Carla welcoming Joe home, and Drita modeling for the first time in six years. Minus an appearance from her kids a few episodes ago, Ramona has been mostly about, well, getting Drita, which is why tonight's episode of Mob Wives was so necessary. Finally, we got to see Ramona be a mom to her child, as she brought daughter Melina to visit father figure Joe in prison after his recent arrest. Until we get to see who Ramona is, there's no way she's of any value to Mob Wives and showing her nurturing side both made her more sympathetic and drove a point home about the cycle of violence in the mob. These women have been trying to break the cycle and make sure their children don't make the same mistakes they did; watching Ramona see herself in Melina, the pain and the helplessness of being separated from a loved one, was a good way to make Ramona less of a robot programmed to destroy Drita and more, y'know, human.
Mob Wives delved into the family lives of Renee and Carla, as well, but they had more happy moments than Ramona. Both ladies got to experience the other side of the mob experience, as they got to reunite their families and feel complete after years of being adrift. Renee and Junior met AJ's new girlfriend and it was nice for Renee to have something to be happy about. This season has put her through the ringer and if she wants to hem and haw over something, far be it for me to be the one to tell her not to. Plus, she got to cut up with AJ while giving him "the talk", so anything that can bring out the "good" Renee, extremely funny and full of positive energy, is a-okay with me. And how about getting to meet Joe? We've only heard his voice, but once he completed his stint in the halfway house, it was time to come home, an event that made Carla's kids bug out in the best way. This is the type of stuff I love to see on Mob Wives, as no other wives reality show deals with prison stints and the impact that divorce has on children. The show hasn't shied away from the negative side of mob life, from Renee's estrangement from her father to Drita's infidelity discovery about Lee, so it felt nice to see a little light in the episode, a little happiness from JJ and Carmen. They had problems with the thought of a halfway house when Joe got out last season, so you had to be happy for them to have their dad back for good.
It didn't hurt matters that Joe was kinda gorgeous, though, right?
Drita and Big Ang brought even more positivity, with two very funny scenes together that included a spray tan and tales of Ang's thyroid procedure. I love that Drita has been trying to change her environment in order to match her fresh start after breaking up with Lee. And that includes trying to get rid of the drama in her life, particularly toxic people like Karen and Ramona, so it makes sense for her to pal up with Ang more. Ang has been over this fighting from day one and having her hang out with Drita more brings her into the fold more. She has been a major highlight of Mob Wives for me, but too often, Ang had no connection to the main five girls and now it feels a little more cohesive. It doesn't matter if Ang is getting a spray tan, working at the bar, or getting her damn taxes done; she's a ridiculously compelling presence on screen that balances Drita's wound-up hot head demeanor with an infectious laugh and a whole lot of self-deprecation. As much serious material and interpersonal strife as Mob Wives tackles, it can often feel like a negative experience, so having two people who like each other act silly on the show is more than a little necessary.
My main problem with Ramona, aside from her loud mouth, is that I just don't give a damn about her. Thus far this season, she's failed to show other sides of herself away from "tough talking street brawler", so I barely feel like I know who she is and where she's coming from in all the madness. It's like VH1 built her in a lab in between seasons and felt like they had to unleash another threat on Drita, some type of reality show Hunger Games with Ramona as a muttation of the highest order and Drita as our heroine. Drita may be lacking in support right now, with Renee decidedly on Team Karen, but these things can turn around quickly and if Ramona is as big a liar as Drita says, the truth will come out eventually.
Thoughts, Quotes, & Observations:
-"Let's go shoot some f-cking guns."
-"I need a piece of paper so I could draw a face."
-"Shoot her!"
-"Stay away from any girl that smells funny and any guy that has bumps on his dick."
-"Drita's gonna look nice and hot and I'm gonna look like an old douchebag."
-"Jesus Christ better come down now, 'cause there's nothing that can save her."
-I wish they had shown the footage of Karen, Ramona, and Carla doing karaoke at the bar.
–Big Ang's guide to cooking for wise guys.
-Big Ang is Team Drita, for those wondering.
-Drita and Carla talk about the mob and which A-lister looks the part of a mob boss.
–You're welcome.
-Drita and Carrie Keagan on anger management and why she didn't go to the Poconos.
-The Mob Wives all got makeovers for In Touch Weekly.
-Drita and rapper French Montana talk about her appearance in his video for "Everything's a Go".
-Karen on her fashion sense.
-Next week on Mob Wives: Big Ang reveals that she got arrested and Junior leaves Renee.