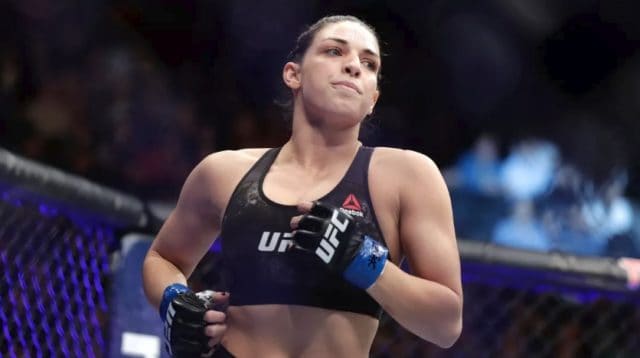 Some have dubbed her the next Ronda Rousey, but the young athlete is blazing her own trail in the world of mixed martial arts. Mackenzie Dern may be new to the MMA spotlight, but she's been kicking butt for a while now, though not professionally. Dern's professional record may be perfect at 6-0, but that's only 6 bouts under her belt. Still, she's been doing this for a while, considering that she's a trained jiu-jitsu fighter. Dern is certainly someone to keep an eye on because she's climbing the ranks and she's doing it fast. Here are five things you didn't know about this up and coming fighter.
Brazilian Jiu-Jitsu
While Dern might be working hard to carve a name for herself in UFC, she's still first and foremost a Brazilian jiu-jitsu fighter. The transition to mixed martial arts is actually made easier with her BJJ training, especially since she's been training in that style since she was five years old. That's something that you can just easily take away. MMA is just another venture for this already experienced fighter.
Fatherly inspiration
Dern's father, Wellington Dias, was also a competitor, and he actually owned the BJJ academy where Dern trained as a young kid. It was Dias who actually coached Dern from the beginning, and he is her biggest supporter to this day. Dern says that her father is her biggest inspiration, and we can understand why. The dedication that both Dern and her father has for each other and their craft is absolutely unparalleled.
Sweet tooth
Being a fighter, Dern has to stick to a strict diet, especially when she's training for a particular competition. However, Dern is not always on training mode, and when she's not training, she's breaking her diet and having some sweets. Dern admits to having a giant sweet tooth, and she claims to love treating herself to candies and pies whenever she can.
Work hard, play hard
Much like an average person, Dern enjoys her downtime. She puts it all in when she's training and competing, and it can get quite rigorous even for a seasoned fighter like herself. However, when she's not training, she likes to make the most of her free time. Dern likes to go on hikes and spend time with her beloved pets. She also likes to travel, particularly to Brazil, where her father is from. She takes advantage of every free moment she gets, especially now that she's quite in demand.
One goal
As accomplished as she already is, Dern is not ready to stop. She's rather ready to conquer the next thing, and the next big thing for Dern is UFC. The only goal she has in mind right now is to become the next UFC Champion. It's easier said than done, of course, but Dern has the right mix of grit and passion to get it done. We'll be keeping an eye on her career as she makes her way to the top. She may not be the next Ronda Rousey that every touts her to be, but by the time she's done with UFC, she'd have her own name carved as one of the best.
Tell us what's wrong with this post? How could we improve it? :)
Let us improve this post!