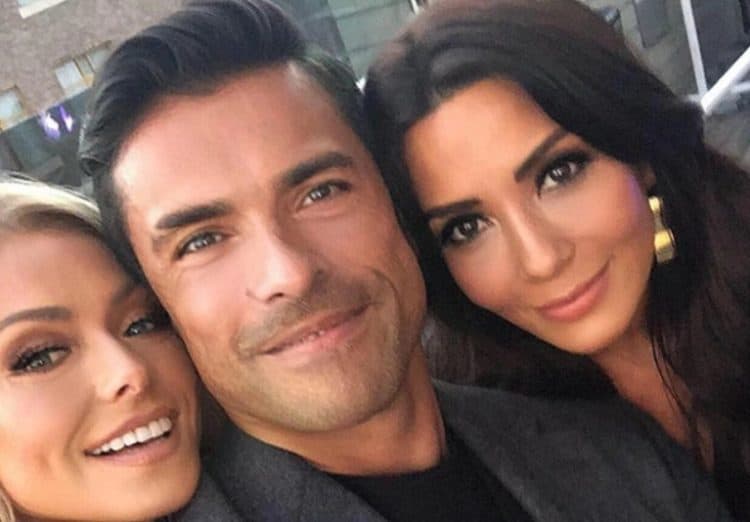 Having famous parents can throw you into the limelight from a very young age. That has certainly been the case for Lola Grace Consuelos. She is the daughter of Kelly Ripa, an actress and talk show host, and actor Mark Consuelos. This means that this young woman is already high-profile before she has even begun her own career. Lola Grace is making waves on social media and has been attending many celebrity-studded, swanky events, thus bringing her to media attention. Although you have probably heard of this young woman, it is likely that there are many things that you do not know about here. Here are 10 interesting facts about Lola Grace Consuelos.
1. She Did an Internship at a Film House
When she was 16, Lola Grace Conseulos and her older brother lived with their father in Los Angeles for a period while he was working in the city. This allowed both Lola and her brother to complete internships at film houses in Los Angeles where they gained more knowledge and experience in how the film industry works. This shows that she intends to work in the entertainment industry in the future, following in her parents' footsteps.
2. She Was the Inspiration Behind Her Parents' Production Company
According to Hollywood Life, Lola and her brothers were the inspiration behind her parents' production company, which is based in SoHo. It is called 'Milojo Productions', which uses the first two letters of their names; Michael, Lola, and Joaquin. This production company was founded more than a decade ago, and it originally focuses on top-of-the-line documentaries. However, they have since partnered with several comedy writers and sold scripted projects to big networks.
3. She Loves Taking Selfies
Like many young women, Lola Grace Consuelos is obsessed with taking selfies. Her mother has said that she takes selfies everywhere she goes and no matter what she is doing. She uploads these onto her social media accounts. Lola has even taught her mother the art of taking amazing selfies. Kelly calls Lola the 'Selfie Queen'.
4. She Calls Ryan Seacrest 'Uncle Ry Ry'
Ryan Seacrest is the co-host of 'Live with Kelly & Ryan' along with Loa's mother Kelly Ripa. This means that he has now become a close family friend. In fact, he is so close to the family that Lola even calls him 'Uncle Ry Ry'. This shows that Lola really sees him as a family member.
5. Lola Grace Consuelos Appeared on 'Live with Kelly & Ryan'
Having a famous mother has opened up opportunities for Lola Grace Consuelos, and she has already appeared on her mother's show 'Live with Kelly & Ryan'. On the episode in which she appeared, she made a tasty side dish with her mom and Ryan Seacrest. She has admitted that appearing on the show has inspired her to pursue a career in entertainment and that she would love to take over from her mom as the host of the show one day. Appearing on the show has given her some invaluable experience that other young women who aspire to fame could only dream about.
6. She Hates Her Mom's Stories
Lola Grace has admitted that she hates the stories her mom tells on her show and during interviews with the media. This is because she claims they are not true, says She Knows. She would rather her mother didn't talk about her at all.
7. She is Building a Social Media Following
Despite her young age and not yet having started a career in entertainment, Lola Grace Consuelos already has a large following on social media. On her Instagram account, she already has more than six thousand followers. She has chosen to set her account to the private setting. Lola has also forbidden her mother from posting photographs of her on her account, but this is a request that Kelly Ripa has chosen to ignore, joking that she only had children so she could expose them on social media.
8. She Thinks Her Parents Are Too Strict
In interviews, Lola has said that she thinks her parents are too strict and that she should have more freedom at her age. Kelly Ripa has responded to this accusation in separate interviews, saying that she doesn't care if her kids think she is too strict. She has explained that she is their parent, not their friend.
9. She is Studying at New York University
The Inquisitr says that Lola Grace Consuelos will become a student of New York University in Fall 2019. She has enrolled at the New York University School of the Arts' Clive Davis Institute o Recorded Music. This is another step in the right direction if she intends to pursue a career in the entertainment industry. Although she already lives in New York City with her family, she is not intending to remain in the family home. Despite the convenient location, she wants to enjoy true student life. She will graduate from New York University in 2023.
10. She Lives a Bicoastal Lifestyle
For many years, Lola Grace's family have lived a bicoastal lifestyle, says People. They split their time between their home in East Side, New York City, and another home in Los Angeles. This is due to Lola Grace's parents' work commitments. Kelly predominantly works from New York, and this is also where the couple's production company is based. On the other hand, Loa's dad Mark Consuelos usually films in Los Angeles. Therefore, the family flits from one location to another. Although this might seem hard work to some people, all the family are used to living like this because they have done it for so long. This will give Lola and her brothers different experiences as Los Angeles and New York City are very different cities.