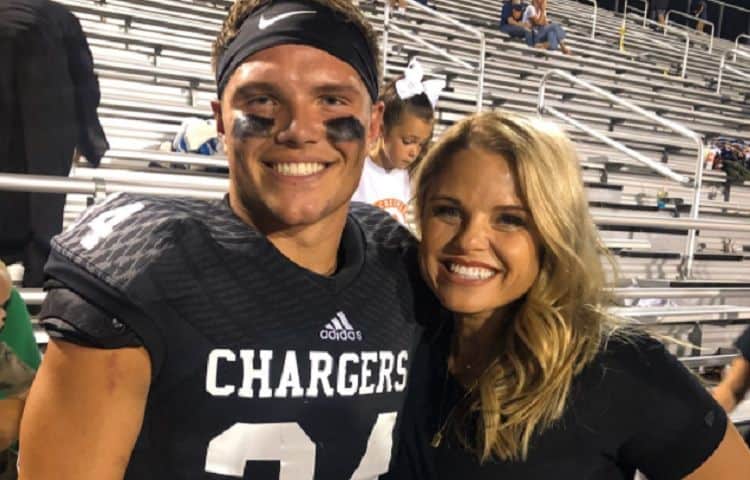 As a child growing up, few things in life are as embarrassing as your mom. It's almost like moms have an overwhelming desire to embarrass their kids in front of their friends and peers. As a mom, we finally realize that one of the most fun aspects of having kids in the first place is embarrassing them every single chance we get. Using cool terms in front of their friends. Singing along to trendy music in the car. Talking to people. Existing. You get the drift. Nothing is less cool to any kid than having a hot mom, or one who still looks good, dresses well and takes care of herself. It's a gift, and it's one that we moms love to share with our kids. New York Jets' star Zach Wilson is no exception to this rule. He has a hot mom, and the world wants to know more about her. We imagine this is not something he loves, but we imagine it is absolutely something she adores. On that note, here's everything we need to know about the NFL player's 'hot' mom, Lisa Wilson.
1. Her Son is 21
When Zach Wilson was chosen second overall during the 2021 NFL Draft, the world noticed that he has a mom who is quite lovely. Her son played quarterback at BYU in Utah, where he was born and raised. He was highly touted going into the draft this season, and his mother could not be more proud of her son.
2. His Mom Became the Most Famous Person of the Draft
When her son was chosen by the Jets as the second overall pick in the 2021 NFL Draft, cameras panned over to Lisa Wilson and her expression. She was over the moon for her son, and that is when the draft changed. No one cared about the draft anymore. Fans online began calling Lisa Wilson the MVP of the draft and welcoming her to New York.
3. She's Active on Social Media
With more than 10,000 followers on her social media page alone, she is a woman who has some serious fans. We have a feeling that her Instagram following is about to grow tremendously, too, as she realizes just how many more fans are going to follow her following the draft. She posts regularly, and much of what she posts is about her family. As a matter of fact, she has gained approximately 9,000 more followers since the draft – so she has 18.8k right now.
4. She Loves Her Son's Girlfriend
Zach Wilson is a man who is not on the market for love. He has a long-term girlfriend by the name of Abbey Gile, and she gets along quite well with his mother. They shared a photo together holding up a jersey for Wilson for the Jets, and they are sweet.
5. She's Married
In March 2021, she and her husband celebrated their 24th wedding anniversary. Her husband is still the love of her life, and she says that he still gives her all the butterflies when he comes into the room when they've been apart for only a few moments. They seem very happy together, and they are clearly a beautiful couple.
6. She Has Six Kids
The most amazing thing about Lisa Wilson is that she is a mom of six. She has six kids, and four of those kids are boys. She and her husband also have two daughters, and we cannot imagine what it was like growing up in a house with four boys.
7. She Loves Fitness
She's a mom who likes to work out and take care of herself, and nothing is more important when you have six kids to keep up with. I only have four kids of my own, and working out is not only my saving grace everyday as it pertains to releasing the stress and attitude that sometimes comes with kids, but also for the sheer energy it gives me to continue to be a mom all day long. Lisa Wilson takes care of herself, and it's so important.
8. She is a Great Chef
Another thing that she likes to pride herself on is her ability to bring together a lovely meal for her family. She enjoys cooking, and it's something she likes to share with her Instagram followers. She's always sharing a new recipe and a new cooking hack.
9. Her Son is Embarrassed
There is nothing quite as uncomfortable for the new NFL star as being asked constantly about his mother in interviews following the draft. It's not exactly fun for a son to hear the entire world call his mom hot and ask about her. He loves her, the support she gives him, and the relationship that they have, but he would not be too upset if the world stopped asking him about his hot mom.
10. Family is Everything
At the end of the day, we imagine Lisa Wilson and her husband are laughing about everything that is going on in her life right now. But, she doesn't care too much because at the end of the day, her family is what is most important to her.
Tell us what's wrong with this post? How could we improve it? :)
Let us improve this post!