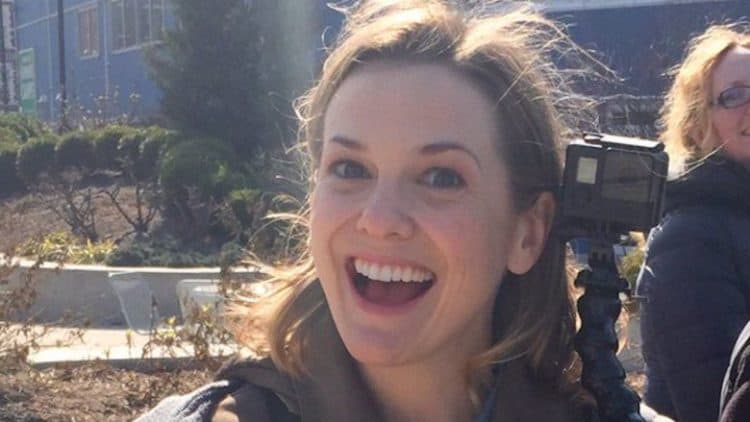 Larisa Oleynik was something of a teen idol back in the 1990s, starring in several of the most popular movies and TV shows of the time. She is best known for playing the title role in The Secret Life Of Alex Mack as well as starring in the movie 10 Things I Hate About You. Here are ten things about her that you may not know.
1. Her Parents Both Worked In The Medical Profession
She was the first person in her family to show an interest in acting, as her parents both worked in medicine. Her father is an anesthesiologist and her mother is a nurse. She spent her childhood living in California, splitting her time between San Francisco and Los Angeles when she was working. However, she now lives in New York City.
2. She Was Raised In The Eastern Orthodox Church
Her father is Ukranian and his ancestry had a big influence on her as she was growing up. According to Wikipedia most people that are members of this religion are based in Eastern Europe. Although it is not one of the most common religions in the US, there are 12 churches in San Francisco which is where Oleynik was raised. Larisa Oleynik was something of a teen idol back in the 1990s, starring in several of the most popular movies and TV shows of the time. She is best known for playing the title role in The Secret Life Of Alex Mack. Here are ten things about her that you may not know.
3. She Appeared Les Miserables When She Was Eight Years Old
When she was only eight years old she answered an advert for auditions for a local performance of Les Miserables. She was awarded the part of a young Cosette and when she started rehearsing she instantly felt as if acting could be something that she is really good at. She felt like when she was at school she didn't get the best grades and she was not that good at sports but that acting could be her thing. Even though she was fairly young when she had this realization, she had not looked back since.
4. Her First TV Role Was In Dr Quinn Medicine Woman
Two years after Les Miserables had finished, she got her first role on TV. She had a guest role in one episode of Dr Quinn Medicine Woman which aired in 1993. In the same year she also had a role in River Of Rage: The Taking Of Maggie Keene, which was a straight to TV movie. She also won the part of Alex Mack in this year and began filming. However, the series did not begin broadcasting until 1994.
5. The Secret Life Of Alex Mack Was One Of The Top Three Watched Shows On Nickelodeon
400 people auditioned for the part of Alex Mack and it was Oleynik that was ultimately successful. Even though the show aired over twenty years ago, it is still the role that she is probably most famous for. The series told the story of Alex Mack, a normal teenage girl who was involved in an accident which led to her developing telekinetic powers. The series is one of the most popular shows that the channel has ever produced. It regularly ranked in the top three most watched shows at a time when there was a lot of competition in the teen genre.
6. Her First Recurring Role After Alex Mack Ended Was In Third Rock From The Sun
When Alex Mack ended she did not have to wait long before she got another recurring role in a TV show. She played Alissa Strudwick from seasons four through six. Her character was a girlfriend of Tommy Solomon, one of the main characters who was played by Joseph Gordon-Levitt. There were rumors that the two were also dating in real life around this time, although this was never confirmed. She played his love interest again when the two both starred in 10 Things I Hate About You.
7. She Attended The Sarah Lawrence College
Despite her success with The Secret Life Of Alex Mack, she still knew that it was important to get an education. She enrolled at the Sarah Lawrence College in New York and told Girls Life Magazine that this was the best decision she ever made. It was the first time she had lived so far away from home and she felt she got value from all the classes she took which has helped to develop her career.
8. Her First Major Movie Role Was In 10 Things I Hate About You
One of her best-known roles away from Alex Mack was as Bianca in the teen movie 10 Things I Hate About You. The film was loosely based on the Shakespeare play The Taming Of The Shrew. The character of Bianca was described as a popular girl at school that can sometimes be very conceited. This was quite a different role for Oleynik, as she had previously only played girl next door type characters that everyone loved.
9. She Has Worked With Rider Strong On Several Occasions
She worked with the actor Rider Strong on her very first job in Les Miserables. He is a few years older than her and he was the one who suggested that she start acting classes and get herself an agent. She followed his advice and has been acting ever since. She later guest starred in three episodes of Boy Meets World in which Strong was one of the main characters. They also both starred in the 2006 TV show Pepper Dennis. The two have remained good friends throughout both their careers and they would both take the opportunity to work together again in the future if it arose.
10. She Has A Net Worth Of $4 Million
According to Celebrity Net Worth she has a net worth of $4 million. This income has come entirely from her acting career. She has been working as an actress for almost thirty years, and while there are other actresses that have earned more over this period, it is certainly an amount that will keep her comfortable for the rest of her life. However, she has no plans to stop working at the moment and has just signed up for a new comedy show called The Healing Powers Of Dude.
Tell us what's wrong with this post? How could we improve it? :)
Let us improve this post!