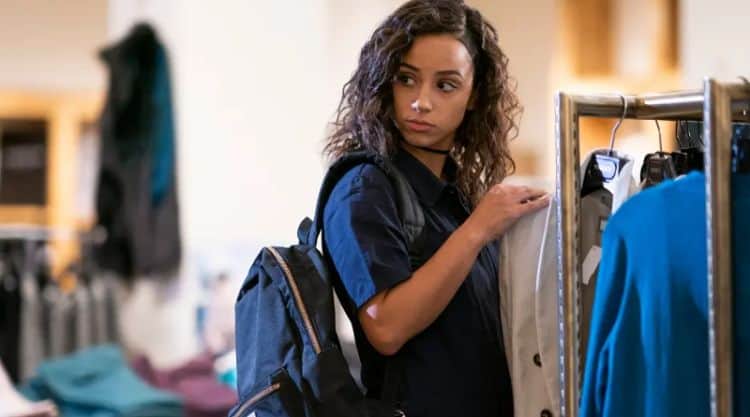 Kiana Madeira may be just 27-years-old, but she's already been in the industry for more than a decade. She made on her screen debut in 2007 when she was a teenager and she has been working hard ever since. In 2011, she earned a starring role in the TV series Really Me which gave her a chance to really flex her acting muscles. In the years since, she has gone on to appear in several popular TV shows including The Flash. She is best-known, however, for her role as Moe Truax in the Netflix series, Trinkets. With the show's second season officially under way, Kiana's fans are excited to see how things play out for her character. Keep reading for 10 things you didn't know about Kiana Madeira.
1. Grease Inspired Her To Become An Actress
Even though Kiana wasn't even thought of when the 1978 movie Grease was released, she still spent a lot of time watching it growing up. The film eventually became her favorite and she credits John Travolta with inspiring her to want to become an actress.
2. She Has A Very Diverse Background
Diversity is one of the things that makes the world a better and more interesting place, and Kiana certainly isn't lacking in that department. She comes from a very diverse ethnic background. She is Portuguese, Black, Irish, First Nations, and Canadian. She is very proud of all of the countries and cultures that have come together to make her who she is.
3. She Loves To Read
Reading is one of Kiana's favorite things to do and it's something she really enjoys when she isn't busy with work. She often shares the books she's reading with her followers on social media. Her latest read was the classic novel, The Color Purple, by Alice Walker.
4. She Has A Boyfriend
Kiana is in a serious relationship with her long time boyfriend and fellow, Lovell Adams-Gray. Gray has also had a successful acting career and has appeared in TV shows like Coroner and DC's Legends of Tomorrow. He also has a role in the upcoming Power spinoff, Power Book II: Ghost.
5. She Loves To Travel
There are lots of people who would love to have the opportunity to travel but are unable to for various reasons. Kiana has been fortunate to have a career that has allowed her to see the world. She has done lots of traveling over the years and has visited places like Malta and Argentina.
6. She's From Toronto
Kiana was born and raised in Toronto and she is extremely proud to be Canadian. Toronto is also home to several other well-known people in the entertainment industry, most notably Drake. Even though her work often forces her to be in different places, she loves spending time in Toronto.
7. She Loves To Go Bike Riding
Most of the time when people think of staying active, things like going to the gym are the first things that come to mind. However, Kiana enjoys staying active in other ways. She loves to go bike riding on her old school style bike and she enjoys going rollerblading.
8. Her Favorite Part Of Acting Is Expressing Raw Emotions
If you ask 10 different actors what they love the most about acting, you'll probably get 10 different answers. Kiana's answer is quite simple: she loves getting the chance to express raw emotions – something that isn't always appropriate in real life scenarios. She also loves the opportunity to learn characters and learn new things about herself in the process.
9. She Will Be Starring In The Fear Street Films
Kiana's TV work is what she is best-known for at the moment, but that will likely change over the next few years. She will be starring in the Fear Street film franchise which is set to debut in 2021. The movies are based on the book series of the same name by R.L. Stine. If you were a fan of Goosebumps growing up, the Fear Street movies will likely be right up your alley.
10. She Has Use Her Platform For The Fight Against Racism
Lots of people in the public eye prefer to stay neutral when it comes to any issues that could possibly be considered controversial. They often fear that picking a side could hurt their careers. However, Kiana isn't taking that approach. She isn't afraid to take a stand on the issues that are important to her. Kiana has been consistent in using her platform to speak out against racism. She has also provided information and resources to help people educate themselves on the topic.