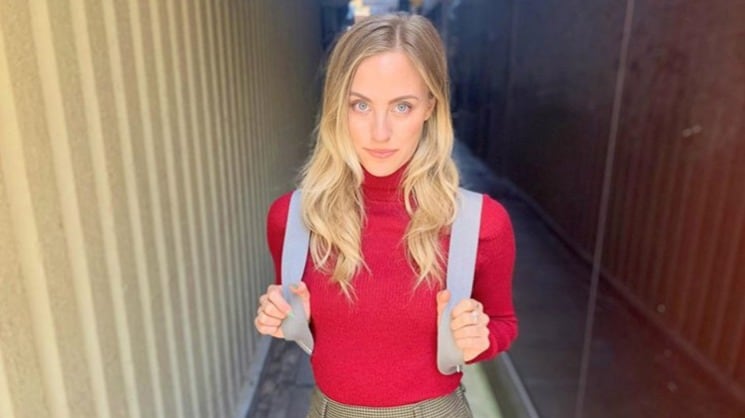 Kendall Long has been in the spotlight thanks to her being cast in "The Bachelor" and "Bachelor in Paradise." However, she was already on television long before that on "Fear Factor," but unfortunately, the episodes she was featured in did not air. She was also a set dresser during the 10th anniversary special of "Keeping Up With The Kardashians." She found love on national television, and her relationship with Joe Amabile has been ongoing for only a year, but they are already talking of children and marriage. Here are the details that you most likely do not know about her.
1. She did something gross on "Fear Factor."
Fans of "Fear Factor" had seen it all until it got canceled due to low ratings. It got revived, but then the challenges became so disgusting that it was canceled. The challenge that saw the show being canceled for the second time was the one that involved contestants drinking donkey semen. The episode never aired, but Kendall would not have minded if it did. She took part in the stunt in a bid to win the prize money.
2. She auditioned for "The Bachelor" because she thought Peter would be the bachelor
Kendall was not an avid fan of "The Bachelor," but when she visited her sister, and they watched "The Bachelorette," one night, Kylie told her that Peter looked cute. The handsome man was all the motivation they needed for Kylie to convince Kendall to audition for the show. Despite Peter not being the bachelor, Kendall still had a good time with Arie, but Becca Kufrin emerged the winner.
3. Fans rooted for her to become "The Bachelorette."
Her weird personality, especially when fans found her obsession with dead animals, made Kendall someone the show's fans would have loved to see on "The Bachelorette." She also told Vulture that she would have loved to be the bachelorette since it presents a chance to find true love. She added that she would not mind the heartache and drama. However, Kendall has since settled with Joe Amabile.
4. She is a pescatarian
For a person who does not have a problem with dead animals, most people expected her to be a hunter, but surprisingly, Kendall does not even enjoy meat except for fish. She revealed that she is a pescatarian, almost becoming a vegetarian. If it were for health reasons, then she has made the right call by sticking to fish and seafood.
5. She loves taxidermy
While most children would go around collecting stones and other "treasures," Kendall collected dead animals and bones. Her parents thought it was a phase, but Kendall's fascination with dead animals has continued to this day. To her, taxidermy is just like collecting sculptures or any other piece of art. Her most prized possessions are a ram's head named Sheba, a badger named Beaver, and Leonidas, a pig inside a jar. Her first collection was a boar's head, and Kendall kept smiling so much that her face hurt, according to Yahoo. She buys secondhand taxidermy pieces with $300 being the most expensive she has ever spent on a piece.
6. She has a podcast
The best thing about being on television is that it opens doors like it has for Kendall Long. When "Bachelor in Paradise" came to an end, she was ready to premiere her podcast, "Down to Date." The podcast invites two strangers on a first date held in a recording studio, and instead of the questions that demand "yes" or "no," Kendall goes deeper in her interviews. As she told Hollywood Life, the aim of the show is to establish in-depth connections with Kendall facilitating the date by pushing both people to divulge more information. The podcast, which you can find on YouTube, Spotify, Google Podcasts, and Apple Podcasts, is produced by Studio71.
7. She recently moved in with her boyfriend
For most couples, the minute they sign a lease together, that means they are headed for the altar. It has been the case with Kendall and Joe, who shared the news about getting a new place in West Hollywood on her Instagram. She added that the next thing would be to buy some furniture for the empty house.
8. She does not expect a diamond ring for her engagement
Kendall admitted she is afraid of commitment, but an engagement would not hurt their relationship. She and Joe do not have a specific timeline for the engagement, but fans were speculating when they spotted Kendall with a diamond ring. However, Kendall clarified that it was a present from her sister, Kylie. She added that she is not into diamonds for her engagement and would prefer something vintage that has preferably been passed down in the family for generations. Joe said that when he does propose to her, it will be a complete surprise.
9. She is a go-getter
Chasing a man might be viewed harshly by those who are conservative, but these are modern times, and women are not holding themselves back. In "Bachelor in paradise," Kendall declared that she loved Joe but was not in love with him. Joe, on the other hand, had fallen in love with Kendall since their second day on the show, but with Kendall's confession about being suffocated by guys, Joe did not disclose his feelings. Kendall even added that she was staying with Joe because she felt she had to, which made Joe angry enough to leave. That was what set the relationship for the couple in motion because Kendall realized she had feelings for Joe hence went searching for him in Chicago to get him back.
10. She has an identical twin sister
It can be a double portion of blessings having to go through labor once to get your two bundles of joy. Of course, then the expenses will also be double but money cannot compare to the thrill of being a parent. Kendall's parents must have been overjoyed to learn that they would be expecting twins. To find out on the day of the birth, the girls were identical twins, it was an experience like no other. Funny thing is they share the names of the Jenner sisters; Kendall and Kylie Jenner.