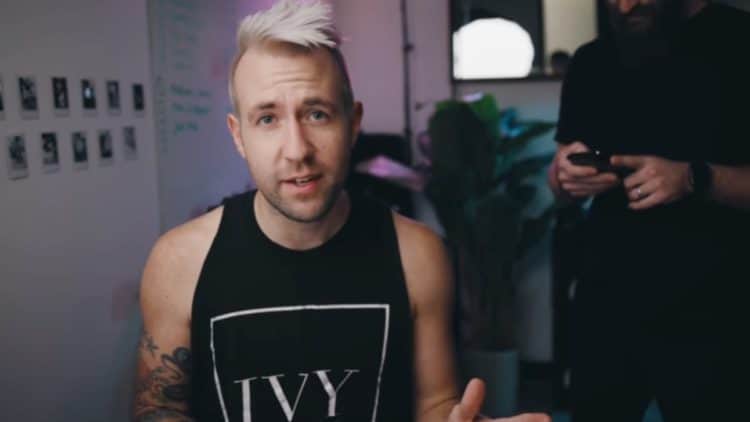 For more than 20 years, Jon Steingard's faith based music has resonated with Christians all over the world. As a member of the Christian punk/pop band, Hawk Nelson, Steingard was able to share his love for music and his love for Christ. Recently, however, Steingard left everyone shocked when he announced that he no longer believes in God. Steingard said that this change has been years in the making and has reached a point where he can no longer keep it to himself. Lots of people are confused by this seemingly sudden change, but Steingard hopes that it will open up a positive dialogue between himself and his followers. Keep reading for 10 things you didn't know about Jon Steingard.
1. He Grew Up In A Very Religious Home
The decision to become a Christian musician isn't one that came out of the blue for Jon. Even before joining Hawk Nelson, Christianity was the focal point of his life. He grew up around Christian music his entire life. Jon was raised in a very religious household where his father was a pastor.
2. Many Of His Followers Have Supported His Announcement
As you can guess, most of Jon's fans are devout Christians, so naturally he feared what they would think of him no longer identifying as such. However, the response to his Instagram post has been overwhelmingly positive. Many people have expressed that they still love and respect Jon and support his decision.
3. He's From Canada
Jon was born and raised in Canada but has lived in the United States for many years. He likes to think of himself as " Canadian by birth – Californian by choice." Not only has living in Los Angeles been beneficial to his career with Hawk Nelson, but it is definitely the perfect place for him to find new opportunities now that he will no longer be making Christian music.
4. He's a Filmmaker
Most people know Jon for his musical contributions, but that isn't the only creative passion he's been pursuing. He is also a filmmaker who has worked on over a dozen projects, mainly commercials and music videos. His filmmaking business is likely where he will be focusing his attention moving forward.
5. Playing With Amy Grant Was A Major Highlight In His Career
As the front man of Hawk Nelson, Jon had a lot of great moments throughout his career. However, the one that stands out to him the most is performing with Amy Grant. He told Behind the Musician, "Playing with Amy Grant was a big highlight for me. Amy asked me to take the lead in singing one of her songs that she had not performed for quite a while, and so was not comfortable in doing it. I was so honored!"
6. He Likes To Write When He Is Busy
Many artists will tell you that they like stillness and silence when they are trying to work on writing a song. However, that's not how things work for Jon. He says, "I write most of my music when my body is busy, but my brain is not. When riding in a plane, or mowing the lawn. Those are times when I am doing something mindless. My body has to be in a certain place, but my mind is free to think."
7. He Still Has A Good Relationship With His Band Mates
Making the decision to no longer identify as a Christian is obviously not in line with what Hawk Nelson stands for. However, his fellow bandmates have addressed the situation in a recent Instagram post, and it appeared that there is no love lost between Jon and the rest of the group.
8. He Now Identifies As Agnostic
Shortly after expressing his change of faith, Jon went on to clarify further. Although he admits that he's not a huge fan of labels, he said that he now identifies as agnostic. People who consider themselves agnostic believe that whether or not God exists is something that is impossible to understand or know.
9. He Is Happily Married
Through all of the ups and downs he's been experiencing lately, Jon is lucky to have a strong support system at home. He and his wife, Jessica Hubbard, have been happily married since 2007. The couple also has two young children together: a son and a daughter.
10. He Believes Radio Still Matters
Technology has made it easier than ever for people to record and release music. While this is great in a lot of ways, it can also result in listeners feeling overwhelmed by the amount of new music constantly being released. For that reason, Jon says that he believes radio is still important. He adds, "The average listener doesn't go DIGGING for music; they listen to what they stumble across."
Tell us what's wrong with this post? How could we improve it? :)
Let us improve this post!