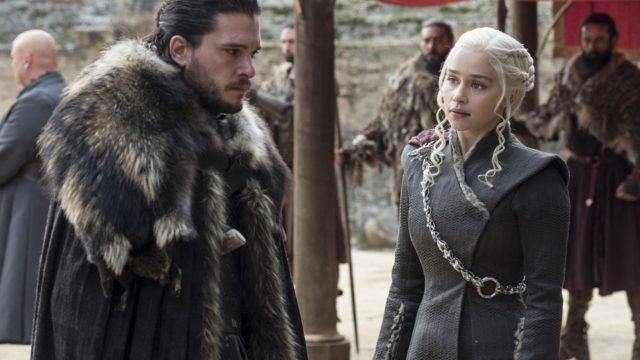 From the start L+R=J was the theory everyone was pulling for. Last season, we more or less got half the story. Earlier this season more tidbits were revealed that Jon Snow might not be a bastard at all. All of that was officially confirmed last night via Bran as he looked upon Rhaegar and Lyanna's wedding. Jon Snow isn't a snow at all. He's Aegon Targaryn, the rightful heir to the Iron Throne. Robert's rebellion was based off a lie. The Throne should have stayed with the Targaryns.
Of course all of this is revealed during the most anticipated love making session all season. After a shit ton of foreshadowing, Daenerys telling Jon she can't have children. Jon telling her the witch was probably lying, with an undertone saying I'll prove she was lying. The looks these two have given each other all season since meeting. The banter, the eye sex. This was inevitable. Not to mention the writers said these two would have a romantic relationship at some point. So naturally they would play it off in such a way that as Bran said he loved her, Jon showed up outside of Dany's door; she loved him, Dany opened the door and let him in. Poetic. Nothing short of what these writers are capable of.
This scene, however, left you feeling confused about what to feel. On the one hand, the chemistry between Jon and Dany and the moments that they've shared has led to this union. A powerful one at that, these two can rule the 7 kingdoms and then some. But while this was happening, Bran's commentary on Jon's true lineage, revealing that not only is Rhaegar his father, he's the legitimate son of Rhaegar and Lyanna. He's the heir to the throne, he bumps Dany from her spot in line – similarly to how Prince George bumped Prince Harry for the English throne. But not only that, he's more or less saying, this is incest.
This scene was hot. Who hasn't wanted ice and fire to finally mix? Okay, yes, there are some of you that didn't want this… regardless, this was hot. Not to mention we got visual of Kit Harrington's perfect derriere, yet again; however, the commentary left you feeling guilty almost for wanting this so bad. Because she's his aunt. In Game of Thrones world that isn't necessarily a deal breaker though, so more power to them.
Meanwhile, the white walkers with the help of their wight dragon managed to tear down that wall and are coming. The wait begins for season 8, see you again in 84 years. Kidding, I hope not. Hopefully sometime in 2018 although 2019 might be more realistic. Happy waiting.
Save
Tell us what's wrong with this post? How could we improve it? :)
Let us improve this post!