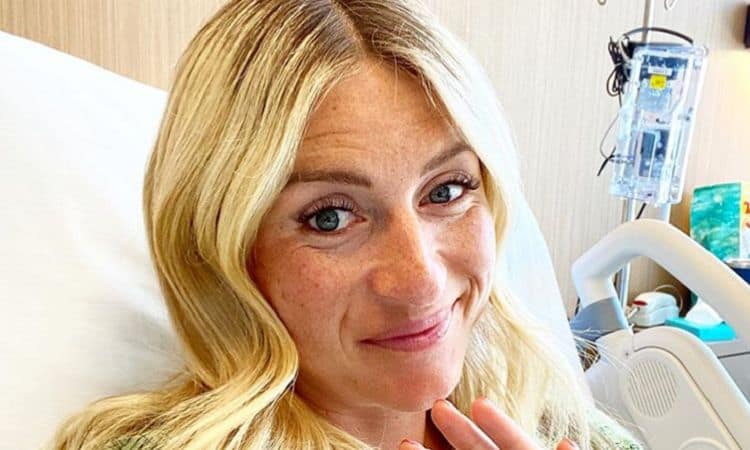 Jasmine Roth is the host of the HGTV series "Hidden Potential.' She is a skilled homebuilder who knows how to transform ordinary spaces into masterpieces. Roth has gained a lot of followers and admirers since she first made her appearance on HGTV, and for those of you who would like to get to know her better, here are 10 things that you didn't know about Jasmine Roth that you might find highly interesting.
1. Several shows
Fans who first became acquainted with Jasmine on her breakout show "Hidden Potential" will be happy to know that she is also involved in two other television shows on HGTV. These include "A Very Brady Renovation" which was a limited series and her new show recently premiered with the title "Rock the Block."
2. She began as a fitness instructor
Jasmine Roth didn't have plans to be a home builder when she was just starting out in her adult life. Instead, she trained to be a fitness instructor. She worked at the local Curves Fitness center in rural Virginia where she lived. She was a professional instructor at the gym, teaching them about the equipment and machines, how to use them and how to measure a Body Mass Index.
3. She met her husband at college
Jasmine met her husband when they were both students at Northeastern University in Boston. They were roommates at the college. Both were majoring in entrepreneurship. At the time that the two moved in together, they were not in a romantic relationship. they started out as friends. It took nearly an entire semester before they acknowledged that there was something special between them. After the realization hit them, they began dating. The two were married and recently celebrated their fifth wedding anniversary after a 13-year relationship because they waited to tie the knot.
4. She stumbled onto her career as a homebuilder
Jasmine and Brett had talked about building their own home together and they wanted to construct it in Huntington Beach, California, but they didn't know much about building a home. After they got started on the construction, she realized how much she loved the work. What was initially a project turned into a life passion. She quit her job to dedicate all of her time to building the house, and this led to her new career as a home builder.
5. Jasmine founded her own company
After realizing that she loved homebuilding, she created her own construction company. She called it Built Custom Homes. She went into the business not knowing anything, but she worked with a team of skilled construction workers and learned on the job so to speak. Jasmine learned a lot from watching, asking questions, and working with the construction team.
6. Her social media account led to discovery for television
Jasmine is big on social media and she chronicled everything about her home building business on her Instagram account. This was a habit that she formed with her personal life and it carried over into her business life as well. HGTV producers came across some of her work on the site and this is when they decided to approach her about doing a show with them. The rest is history as they say.
7. She's worked full-time since she was just 15
Jasmine got her first job when she was just 15 years old. Because of child labor laws, she had to get her mother to agree to allow her to apply for a work permit. Her mom agreed and she's had a job ever since, although not the same one. She's done a lot of different kinds of jobs including working for clothing retailers and flipping burgers. She's an enterprising and energetic lady who doesn't have a lazy bone in her body. The first job that she worked was as a fitness instructor for the Curves Fitness Center.
8. She made a dog cave for her pet
We've all heard about man caves and some homes have some really cool ones, but have you ever heard of a dog cave? Jasmine Roth built one into her private residence just for the comfort and security of her beloved pet. The space is so incredible that it's something that even humans can enjoy. She shared that it was originally built for her three pups, but a friend who was staying the night actually stayed in the cave. That must be some habitat.
9. Jasmine is a humble person
Jasmine Roth is a very dynamic and talented entrepreneur, but she didn't learn the home building business overnight. She knew very little when she started out in construction. She learned as she went and she did so by watching and interacting with professionals. She didn't pretend to know what she was doing and she was honest about that. She made her share of mistakes but kept trying and she eventually learned what she needed to know, and gained the experience to call herself a professional home builder.
10. Jasmine is an avid traveler and she's charitable
Jasmine Roth is a busy woman and she's either designing or building dream homes, but she makes the time to travel throughout the world with her husband Brett. She has traveled to a variety of different countries with the Habitat for Humanity organization to build homes for people who are in need. She loves to travel and meeting new people, but even more, when she's overseas with the group, she's helping to build homes. She is a part of a big outreach movement and she doesn't mind giving of her time and energy to do so. She's helped to build homes in Switzerland, Japan, Chile, Romania and throughout the United States as well. Jasmine Roth is a very kind and giving humanitarian, and she's an excellent designer and home builder.
Tell us what's wrong with this post? How could we improve it? :)
Let us improve this post!