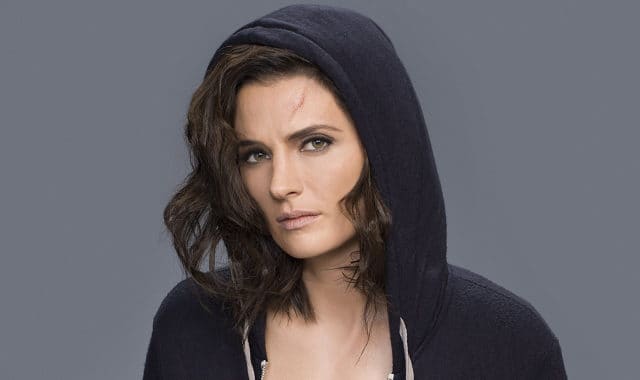 Absentia, the Sony Pictures Television (SPT) 10 episode thriller starring Stana Katic as FBI Agent Emily Byrne, has proven to be a hit overseas. The show is now a bonafide American hit as well! Deadline is reporting that Amazon is on the verge of signing up for an Absentia season 2 – and a season 3!
Was There Ever a Doubt About Absentia Season 2?
Even before this scoop from Deadline, SPT clearly had been going full speed ahead with Absentia season 2. In Absentia, Neil Jackson plays Jack, Emily's brother. During a podcast interview for his film short Off Ramp, he mentions heading back to Bulgaria in August to film the second season of Absentia. It's how Absentia fans knew there was a season 2 being filmed.
However, being filmed is not the same as being distributed. The show's American home (as well as for several other countries) is Amazon, not AXN. Therefore, news about what Amazon is thinking is what we've all been waiting for!
The Writing Was on The Wall
Granted, there have been signs that Amazon would likely go for an Absentia season 2. One hint has been the ton of positive internet buzz for the show, and for Katic's role in it. For instance, the Huffington Post has Absentia listed as its number four pick of must-watch Amazon shows for March.
Also in March, People – both in print and online – ran a lovely article on Katic and Absentia. It covers her previous role on ABC's Castle and the "abrupt exiting" from the show before discussing Katic's role as an actress and executive producer for Absentia. It's a piece best summed up by this quote from it.
Despite the parting of ways with the series, Katic doesn't carry a grudge.
However, the biggest indicator of where Amazon was leaning was its online Prime newsletter. They've recently stated that Absentia is one of the top ten streamed films and TV shows in February. With news like that, it's not surprising that Amazon would want more seasons of Absentia!
Changes For Absentia Season 2: There's A New Showrunner!
2018 is the new Hollywood era of the "Me Too" and "Time's Up" movement. One sign of these things is having more women taking the reins in storytelling. It's an empowering thing to have a woman's voice in control of narratives about women. In that vein, the second announcement in the Deadline article was just as exciting as the fact of an Absentia season 2 and 3. Absentia has a new showrunner: Samantha Corbin-Miller!
This switch isn't about faulting season one's showrunner, Absentia creator Matthew Cirulnick. He did a good job setting up the story. With her extensive experience working on shows with complex female characters, intense relationships, and procedural elements, Corbin-Miller is the perfect person to run with that setup. (Don't know Corbin-Miller's work? Check out her out on IMDb.) If you've seen Absentia season 1, you know it has a ton of possibilities to play within all of those realms.
The Wrap Up
It's great news that Absentia is set to go forward with Amazon for a season 2 and 3. Adding Corbin-Miller as showrunner – including her running the writer's room – is a bonus. With her at the helm, we can expect a whole new layer of interesting for Absentia season 2 and Emily Byrne. Here's just one of them.
What makes a woman strong? ❤👁💪👁 We're proud to feature strong women in non-traditional roles in #Absentia. @Stana_Katic & @CaraTheobold's characters are different, but in some ways the same. 👁 Tell us how you think they are similar & what makes a #strongwoman? #girlpower pic.twitter.com/1yZNqoEk56

– Absentia (@AbsentiaSeries) March 10, 2018
Are you pumped for an Absentia season 2 and 3? Let's hear what you think about all of this in the comments!
Tell us what's wrong with this post? How could we improve it? :)
Let us improve this post!