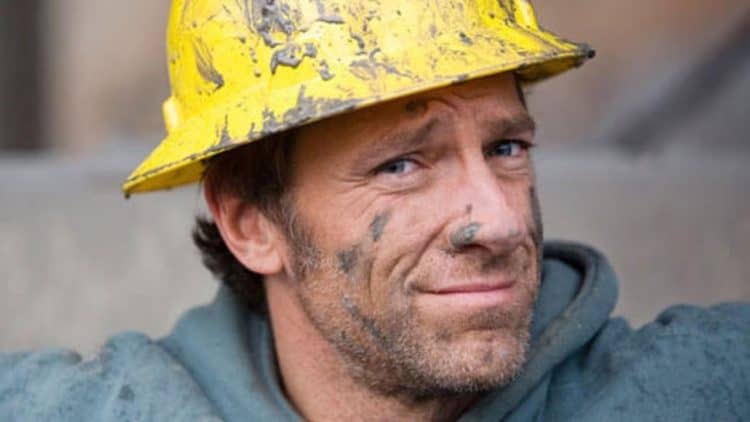 For years, Dirty Jobs kept us entertained by showing us the ins and outs of some of the most bizarre, dangerous, and disgusting jobs in the world. The show's host, Mike Rowe, has always been a good sport about having to get down and dirty – literally. Not only was the show educational in terms of showing the world the wide variety of jobs that are out there, but it also provided insight into just how difficult some people's jobs are. The show was a huge hit, mainly because of its authenticity. Still, some viewers have wondered if it's actually as real as it seems. After all, we know that reality TV can sometimes blur the lines between fiction and reality. So, is the show Dirty Jobs fake? Let's find out.
How Dirty Jobs Came About
Many times, the host of a show is brought in after the concept has already been ironed out. That wasn't the case with Dirty Jobs, though. The idea for the show was actually created by Mike Rowe. According to an old post by Rowe, "The idea for Dirty Jobs took shape in 2002, over a beer in a waterfront bar called "Grumpy's" in San Francisco, where I was brainstorming with a TV producer named James Reid. James worked for Evening Magazine, a local TV show on CBS that I had recently been hired to host. On that particular afternoon, we were drinking because our boss was demanding something "different" in the way of a new segment."
After creating several segments and shopping the idea around, Mike struggled to find a network. However, he refused to give up. He said, "Eventually, I approached some people I had worked with years earlier at The Discovery Channel. They didn't say "no," exactly, but suggested instead that if I was serious, I should quit my real job at CBS, find a production company with an established name, attach myself as host and co-producer, and let the production company present the idea to the network." Eventually, Mike was able to refine the idea and the show as we know it was born.
Dirty Jobs aired its pilot on The Discovery Channel in 2003. The first season of the show debuted in 2005, and the show ran on the network until 2012. After the show ended its fun, Mike made it clear that he wanted to keep it going. He moved over to CNN and became the host of Somebody's Gotta Do It which had a similar premise to Dirty Jobs. After one season, Somebody's Gotta Do It moved to a new network.
Is Dirty Jobs Fake?
When Mike initially came up with the idea for the show, it was as real as it gets. However, it's no secret that once a network and production team get involved, things can change. That seems to have been the case with Dirty Jobs. Although the show isn't necessarily fake, it wasn't as off the cuff as things may have seemed. In 2014, Mike did an Ask Me Anything (AMA) on Reddit where he answered a serious of questions from fans.
While he didn't directly address Dirty Jobs specifically, he did say that it's not uncommon for reality shows to have writers' rooms. He said, "I felt like I was in a place where nonfiction TV doesn't mean what I thought it meant. Unscripted no longer means without a script." However, he did hint that his experience with The Discovery Channel may have reached a point where the network was taking things in a direction he didn't like. He added, "The truth is, it's become very difficult to produce a show with no second takes, and no script, because the people in charge of putting them on the air would prefer to control them…It occurred to me that networks like FOX and CNN were not just news outlets, but fundamentally, nonfiction outlets. CNN, in particular, was very interested in exploring alternative forms of programming, very similar to Dirty Jobs."
What To Expect From Dirty Jobs: Rowe'd Trip
Even though there was clearly some tension in Mike and The Discovery Channel's relationship, it looks like things are better now. He has made a brief return to the network for Dirty Jobs: Rowe'd Trip which features the show's original crew as they travel across the country in an RV and re-live some of their favorite moments from the original series. The show will only be four episodes, but it's great to see everyone from the show get together again. If you were a fan of Dirty Jobs, Rowe'd Trip will definitely give you some nostalgia.
Tell us what's wrong with this post? How could we improve it? :)
Let us improve this post!