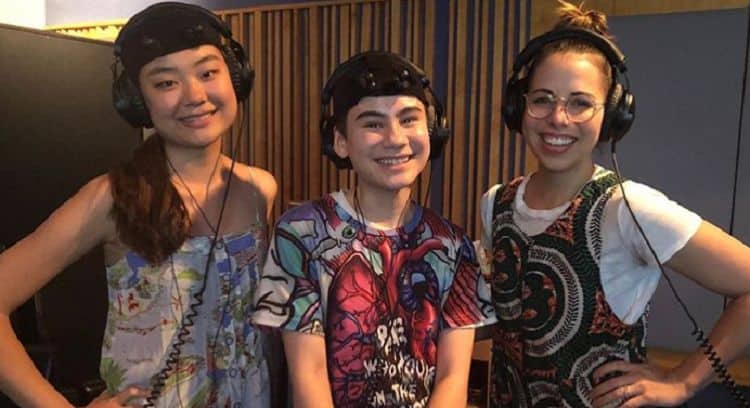 The last few years have been very good to Ian Alexander. The young actor hit the scene in 2016 with a role in the Netflix series, The OA. Ian's hard work and talent haven't gone unnoticed by fans or people in the industry. Recently, Ian just got the opportunity of a lifetime when he was cast as a character named Gray in Star Trek: Discovery. Not only is this opportunity a huge success for Ian on a personal level, but it also marks the first time a trans character has been included in the franchise. Ian, who is trans himself, has officially become part of the representation that was missing from the entertainment industry when he was growing up. Continue reading for 10 things you didn't know about Ian Alexander.
1. He Was Raised In A Mormon Household
Ian is originally from Salt Lake City, UT and was raised in a traditional Mormon household. The Mormon faith doesn't have a reputation for being the most accepting of the LGBT community and Ian has since decided that he no longer wants to be a part of the church.
2. He Is Half Vietnamese
Ian has a diverse racial and ethnic background. His mother is Vietnamese and was born in Vietnam while his father is a white American. Ian's father worked for the Department of Defense which means the family had to move around quite a bit when Ian was younger. He lived in places like Hawaii and Japan.
3. He Doesn't Believe That Masculinity Has To Look A Certain Way
There are lots of people who believe that in order to be considered a 'real' man, men must look and act a certain way. Ian is here to let the world know that masculinity can be anything people want it to be. He said, " I want masculinity to be dissociated from its typical perception via toxic masculinity. I believe that everyone has a certain personal association with masculinity and it's important to develop a healthy relationship with it."
4. He's An Activist
Ian may be young, but he's already developed a strong sense of self and he isn't afraid to stand up for himself and others. He consistently uses his platform to support the causes he believes in and speaks out whenever he can. He is especially passionate about LGBT rights as well as the fight to end racism.
5. He Wrote a Short Film
Most of the work he's done in his career so far has been in front of the camera, but he also has some experience with writing. In 2017, he wrote and started in a short film called Deja Vu. According to the project's IMDB page, it's about a teen who "gets trapped in an alternate dimension by a time controlling monster that has taken the form of his friend."
6. Being On The OA Helped Him Find Acceptance
Finding acceptance from his family wasn't always easy for Ian, however, he says that being on The OA really helped his parents understand him better. During an interview he shared, "Being on set for 'The OA'was the first time I heard my mom use my correct name and pronouns, so that made my heart soar and made me realize they can accept this and other people can accept this and I can be just fully accepted for who I am in this environment."
7. He Is Pansexual
It's important to note that gender identity and sexual orientation are two different thing. The term 'trans' refers to Ian's gender identity while the term 'pansexual' refers to his sexual orientation. Pansexual people are simply attracted to people based on who they are regardless of the other person's gender or biological sex.
8. He Believes That ACAB
When I said Ian is the type of person who always stands up for what he believes in, I wasn't joking at all. He is a firm believer in the ACAB movement which stands for 'All Cops Are Bastards'. He is strongly opposed violent crimes committed by the police and has often spoken out against police brutality.
9. He Likes To Take Pictures
Ian definitely knows how to do his thing in front of the camera, and apparently he's got some skills behind it as well. His Instagram is full of photos that he's taken himself and he appears to have a natural talent for turning even the most mundane moments into something beautiful.
10. He Loves Interacting With His Fans
Ian is very active on social media. He often uses the platforms to communicate with his fans and he loves to get the chance to interact with them. He is especially active with his fan base on Twitter where he often retweets and replies to their messages. Ian also retweets posts from other members of the LGBT community to help raise awareness.
Tell us what's wrong with this post? How could we improve it? :)
Let us improve this post!