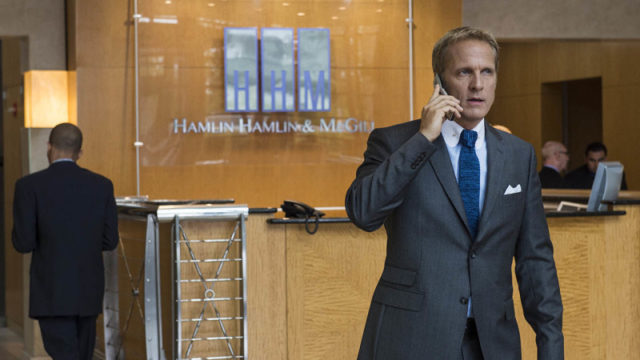 For those who are unfamiliar with Better Call Saul, Howard Hamlin is a name partner in the law firm Hamlin, Hamlin, and McGill, with the other two name partners being his father George Hamlin and the other co-founder Charles "Chuck" McGill Jr. Since his father is unmentioned in the TV show while Chuck is out on what is called an extended leave of absence because of his electromagnetic hypersensitivity, Howard is the leader of the law firm by default, thus putting him in opposition to the TV show's titular character Jimmy McGill. However, it is interesting to note that Howard listens to Chuck for most of the first three seasons, meaning that it is more accurate to call him a secondary antagonist rather than the main antagonist that the TV show had made him out to be until a surprise revelation in the first season.
Why Do Viewers Hate Howard Hamlin?
With that said, Howard is one of the more hated characters on Better Call Saul. This is unsurprising because Better Call Saul has a flawed but nonetheless sympathetic protagonist, meaning that viewers tend to see events from their particular point of view. Since Howard is hostile towards Jimmy, this means that sympathetic viewers are inclined to see him as a hostile and thus unlikable character, meaning that they are likelier to overlook his better characteristics while focusing on his worse characteristics at the same time so as to confirm their pre-established opinions. This is nothing new when it comes to media. In fact, Vince Gilligan and the rest of the people behind Breaking Bad and Better Call Saul encountered much the same situation with their previous TV show Breaking Bad when significant swathes of the fandom would judge characters based on their response towards its protagonist Walter White.
Of course, it should be noted that the viewers are primed to see Howard as a hostile and unlikable figure from the start. This started with Jimmy calling him "Lord Vader" in the first episode, which served to establish viewer expectations. However, it continued with most of the first three season as Howard continued to oppose Jimmy, with a brief pause towards the end of the first season when it was revealed that his personal opinion of Jimmy was nowhere near as bad as that of Jimmy's own brother Chuck and that he was pushing for Jimmy to get a job at a place where he would not be under the influence of his brother Chuck.
Is This a Fair Outcome?
Ultimately, while there are reasons to dislike Howard, the extent of that dislike might be a bit unfair. After all, Howard has consistently shown himself to be one of the better characters on Better Call Saul. This can be seen in how it took three seasons until he chooses to remove Chuck from the law firm, which was remarkable because Chuck's mental issues as well as his personal vendetta against Jimmy had been causing serious damage to its reputation.
Even then, Howard chose to do so in perfect accordance with the partnership agreement by buying out Chuck using a combination of his personal funds and personal loans, thus ensuring that the law firm would not be hurt by the buy-out. Something that was all the more remarkable because Chuck had sued the law firm for breach of contract over Howard's request for him to retire in a dignified manner. Summed up, Howard has treated Chuck in a fair, honorable, and respectful manner throughout Better Call Saul, which is impressive considering what Chuck had been up to over that same period of time.
Save
Tell us what's wrong with this post? How could we improve it? :)
Let us improve this post!