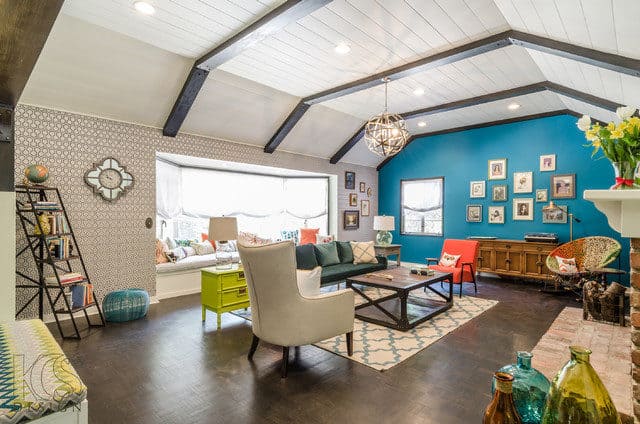 There has been a question as to whether or not "House Hunters Renovation" is real or a fake. The answer depends on what you consider reality. There may be some truth to fact that they purchase properties and that renovations are done on the places, but we all know that it is impossible to accomplish everything shown in the time frame of the show. This series is a spinoff of "Househunters" which has been proven to be a fake.
Here is why we believe that "Househunters Renovation" is completely fake.
Realtor negotiations are scripted
The next time you watch the show, time how long it takes to broker the deal for the property. The purchase of a property isn't something that you do in a few minutes with friendly banter. It is a time consuming process that involves negotiations. Offers are thrown out, counter offers are made and there is a back and forth before the final price is settled on. Not every place you discuss buying ends in a sale. Sometimes the deal is not something that both parties can live with. Anyone who has bought a place knows that in real life it doesn't go this smoothly or as quickly. There is a lot that is done behind the scenes in order to make the fast dramatization that leads to the revelation of "you got the house." It takes time for the paperwork to be processed when a house is sold. Thirty days is generally a fast turn around and 10 is a little less believable.
Featured guest spilled the beans
In 2012, one of the women who appeared on an episode of the HGTV series "House Hunters" told everything about her experience on the show. She revealed that everything was completely staged. She and her spouse had already made the purchase of their home prior to being accepted on the show. They faked looking at properties that weren't even for sale. The whole thing was made up for the sake of the cameras and the entertainment of the viewers. Many of the scenes were shot in multiple takes so they could achieve the right effect. So in other words, what was cited as reality as it happens, was actually a dramatization that was heavily scripted. If that isn't fake we don't know what is.
The spinoff is no better
The "House Hunters Renovation" crew sent a real estate agent to the condo of Laura Crimaldi in 2013. She they were interested in featuring her home on the show. She declined the offer because of the negative press she had heard about the show. She knew in advance that prospective buyers already had their homes in the purchasing process or officially owned them and she was not interested in being part of a fake show.
"House Hunters Renovation" goes one step beyond purchasing the home in actually completing renovations and redecorating. Her condo had already been completely renovated so why would they have an interest in home that needed no repairs? This is yet another disappointment that reveals this show as a fake. It may offer some entertainment value but the dramatizations are not educational because they are not realistic. In fact, it may lead some viewers to have a wrong impression about how home purchases and renovations are accomplished. It sets them up for disappointment.