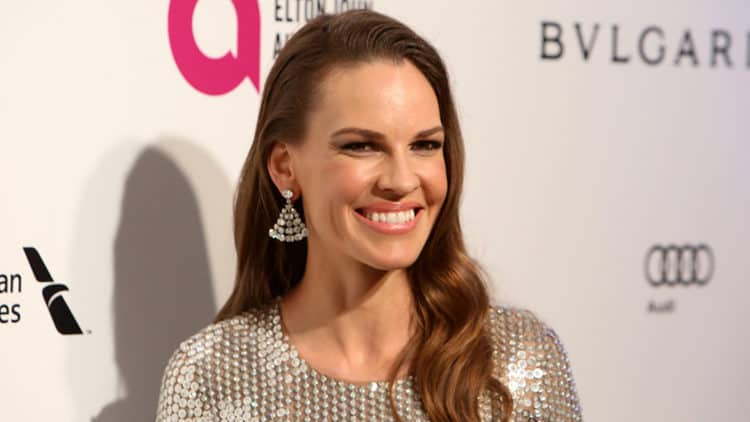 Sometimes, the world around us, instead of saluting and embracing those that are stronger than the rest, become wary of them and avert their eyes. For some inexplicable reason, we strongly believe that this is what has happened with Hilary Swank! For an actor par brilliance who has never failed to leave us in awe with every performance she has pulled off in the little more than three decades she has spent in the industry, Hilary hardly ever receives the love, the commendations, and the attention she deserves. And more than anything else, the work she deserves! Now, why would an actor whose list of accolades in the form of nominations and wins looks longer than her filmography would have such a small list of films to her name? And why would the name of the winner of two Academy Awards not pop up more often in conversations each time the world spoke of brilliance in cinema? Well, while we cannot really fathom some of the things that happen in the world of entertainment, what we can do is bring you a list that tells you, our reader, why Hilary Swank is awesome and deserves more love, and work!
Hilary Had a Jumpy Start to Her Life, Embraced Acting as the Answer, and Fought It Out!
One look at a celebrity's apparent lifestyle after they taste success often makes us think that this is how it has always been for them. Well, that's really not the case all the time and we know for a fact that most actors out there had to toughen it out before being able to write their success stories. And it was the same with Hilary. Born in Lincoln, Nebraska, and living a troubled teenage life after the separation of her parents, it was Hilary's mom who recognized her yearning for acting and supported it wholeheartedly. In fact, knowing that Los Angeles was the town to be in for anyone who wishes to make it big in Hollywood, Hilary's mom Judy took the decision to come to LA, even when she knew that the other-daughter duo would have to live out of their car. And that's exactly what Hilary and Judy did! And while Hilary took on one audition after another, her mom worked hard to save up enough money to rent out an apartment. It was this time in California, especially her time at the South Pasadena High School, that defined Hilary's calling to become an actor. Feeling like a complete outsider at the school, the only things that gave her the escape she needed were movies and books. And this is where Hilary decided that she wanted to be an actor. Never failing to offer her mom the credit for her determination and support, and always mentioning how she was her inspiration both in life and acting, Hilary indeed toughened it out during those initial days, and we all know the story after!
Hilary Believes in Sharing Her Learnings and Experiences
Hilary is a motivator all the way! Every conversation she has, whether it is a quick stop at a talk show or a detailed one with loads of insights, Hilary never fails to share her own experiences in life or give away from the lessons she has learned based on what she has seen of the lives of others. Whether it is her personal life or her professional pursuits, she never steps back from sharing her challenges or even her shortcomings, only because she realizes that someone somewhere is sure to learn a few lessons or find that all-important component of motivation. For example, Hilary's own early life was greatly influenced by her dedication toward sports — mainly swimming and gymnastics. Gathering quite a few laurels in both sports, Hilary has often wholeheartedly proclaimed how sports are a great way to build discipline and strength and that no one should ever give up an opportunity to learn life's best lessons by indulging in sports. And there are many out there who after learning how her early tryst with sports managed to shape her attitude towards life, chose to accept this as a worthy lesson and in all probability, even took her word for it and gave it a go! Apart from her motivational anecdotes, Hilary's life itself is filled with noteworthy lessons on how one can even turn life's challenges into wins, and no matter which way you look at it, she's one of the best to learn from!
Hilary Never Turns Down an Opportunity to Represent
When Hilary played the role of Brandon Teena in the movie Boys Don't Cry, she didn't just carry off the portrayal in a deeply emotional and committed manner, but also left no stone unturned in voicing her support for the transgender community. While playing the role of a transgender man who is going through life and all the challenges it throws, Hilary didn't just imbibe the role but also opened her heart to the challenges of the community. Every interview she had in relation to the movie had her bringing out some nuance or the other related to this aspect of the film and the tragedy that lay behind her work. While it is always difficult to shoulder a role that is based on a real-life tragedy, we can only imagine how nerve-racking it must have been for Hilary to portray a role that ends in the gruesome killing of her character. Speaking about how there needed to be more talk of the life and emotional lessons behind it all instead of just the crime itself, her research and subsequent immersion into the role carried on way beyond the movie. And anyone who has watched the film or has even heard Hilary talking about it will know that she completely deserved the Academy Award and other accolades that came her way.
Hilary Fights for Her Films
"No one's seen the film. You can't really have a conversation about it without understanding what it's about," Hilary had famously said when speaking about The Hunt. And this goes on to show that Hilary just doesn't act in a film and forget about it. She even puts up a fight and lends her support if the film needs it. Even before its release, The Hunt brought the wrong kind of attention to itself, and as a project, was teetering on the verge of being brought down even before it made its way to the audience. And Hilary was among those who put up a brave front and fought for the film.
Hilary Speaks Against What She Thinks is Wrong
Remember how an episode of The Office proved to be cringeworthy — and the list is indeed a long one there — because it played out the rather objectifying and misogynistic debate of whether or not Hilary Swank could be considered hot? Well, Hilary sure remembers it and made sure that she spoke her mind when she heard of it. Not one to mince her words, although we are yet to hear of Hilary Swank being rude to someone, the actor did speak her mind in an interview. When asked if she had watched the episode in question, Hilary pointed out that she wasn't known to be a "big television watcher" but had heard of it from others. Speaking of how it is indeed flattering to have any other work include her mention, she also firmly put it down that she did not "think of myself in terms of that". Later, when the questions veered towards the way Hollywood saw women actors, Hilary had this to say – "There is so much emphasis put on the way we look, which is interesting, going back to The Office question. Are you hot, or are you not? It really does a disservice. There's so much more to life than looking a certain way". And boy, do we agree!
Hilary Heads a Foundation, Hilaroo, and It's All About Dogs and Love!
Hilary loves dogs! And for that alone, we love her more! It all began when Hilary was on the sets of a film in South Africa and found Karoo, a stray dog she happened to chance upon. In need of urgent medical care, Karoo was adopted by Hilary and when the Oscar-winning actor called it a wrap on her schedule in the country, she also wrapped up Karoo carefully and lovingly in her arms to bring her home and thus began Hilary's tryst with rescuing dogs. "She literally became the love of my life. I can't explain it. It's just what a dog does. A dog goes into those places and loves you in a way that's healing. Dogs also teach you about curiosity, jubilance, how to be in the moment, and trust your instincts. The dog made me think bigger and live in more joy," says Hilary of her experience, and we couldn't agree more. After Karoo's early death, Hilary knew she had to do more to honor the legacy of a loving soul who gave her so much in so little time. And from there sprung the idea of Hilaroo. Today, The Hilaroo Foundation is an organization that follows the beautiful path of pairing rescue dogs with youth and other souls who need a companion in life the most, knowing that both animal and human will find a beautiful friend and a shoulder to lean on. In speaking of Karoon, Hilary says, "I don't know who rescued who," and this line probably defines everything that Hilaroo has set out to do.
Hilary's Looooooooong List of Accolades and Wins
If you ever happen to chance upon a list of movies Hilary has worked in alongside the list of accolades, nominations, and awards, she has received for them, you will be surprised to see that the latter is several times longer than the former. And that's because almost all of Hilary's works have gained recognition in some form, and therein lays the brilliance of the actor that is Hilary Swank. Apart from her two Academy Award wins that came her way for Million Dollar Baby and Boys Don't Cry, there are several other works that have brought home trophies and honors for Hilary. While these two movies easily top the list and take up the most space, others like Camp Wilder, The Gift, Insomnia, Iron Jawed Angels, The Black Dahlia, P.S. I Love You, Freedom Writers, Amelia, The Resident, Conviction, New Year's Eve, The Homesman, You're Not You, I Am Mother, The Hunt, and Away prove to be equally impressive in terms of performance and impact.
Hilary's Portrayals are Heartbreaking and That's Why She Never Fails to Win Our Hearts
Every movie that has Hilary Swank in it has been a heart-touching one and while this shows her amazing talent and hard work that enables every role of her's to come to life before our eyes, it also catches our attention for the brilliance she shows in picking out the right stories in the first place. While Million Dollar Baby had her fighting her way through a life of struggle, with her eventual promising act as a winning boxer abruptly brought to an end and seeing her breathe her last on a hospital bed, Boys Don't Cry saw her struggle against society and its outdated and shameful beliefs that drive people to such shows of hatred that they don't even remain humans anymore. And both these award-winning films are easily not her only works in this direction either. From P.S. I Love You to Freedom Writers, there are several titles on Hilary's list of works that break our hearts and win them too!
Hilary Took a Break From Movies to Take Care of Her Ailing Father
While Hilary's love and admiration for her mother is an open book, with the award-winning actor never losing a single chance to sing her mom's praises and inspiring us to learn from the hardworking duo too, her love and dedication towards her father is an inspiring story too. When Hilary could have been out there making the most of her success and popularity and working even more to add to her list of accolades, she went right ahead and decided to care for her ailing father instead, and all this while taking a break of a whopping three years from the film industry! In a cutthroat world where every actor knows that even being unable to answer a phone call in time could lead to losing work and credibility, Hilary put it all aside only because she believed that her father needed her. Now there's a life lesson we can all learn from!
Hilary Gives Her Best, Irrespective of the Pay
Did you know Hilary Swank, an actor who has won two Academy Awards, not to mention dozens of others, only took home a measly three thousand dollars for her role in Boys Don't Cry, one of the movies that went on to win her an Oscar? Well, as unbelievable as it may sound, this is indeed the truth. While speaking at the Hawai'i International Film Festival, Hilary revealed that she had indeed been paid only $3000 for her role in one of the most heartwrenching yet hard-hitting movies of all time. And this goes on to show that when Hilary believes in a project, pay and profits surely take a backseat for her. And in a world where celebrity status is often measured in line with how much an artist charges for his or her work, we are indeed proud to mention that Hilary is one of those people who believes in her work more than her paycheck. And one only needs to see the film to know why this decision of Hilary is particularly noteworthy for so many reasons.
And That's Why We Believe Hilary Swank Deserves More Love… and Work!
We really don't know what it is. Whether it is Hilary's inclination to stay away from the spotlight except when she is expected to show up and represent her work, or whether it is her way of life that probably has no room for fake friendships and faker smiles, we are indeed surprised that there's no real reason as to why we do not see more of Hilary Swank and why we do not get more chances to show her our love! For one that this list and everything else you know about her will tell you this — she deserves more of both!