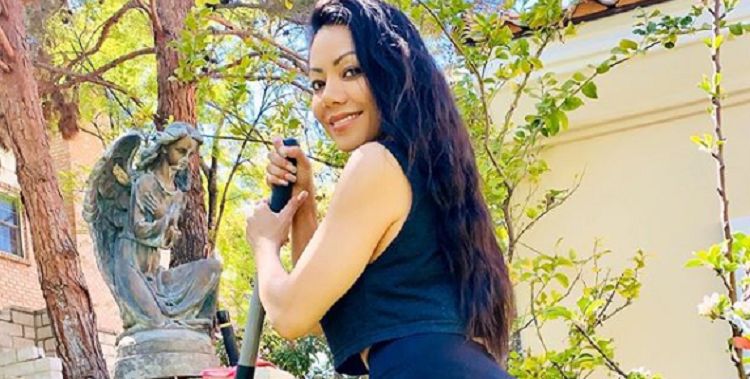 Finding love seems to be quite a difficult prospect. I don't know, maybe we are wrong. Love is a very subjective concept, and it is very relative, as well. I wish we could tell what exactly love is because it could help us to understand Gentille Chhun better. Quite frankly, it may be very difficult to describe her, and Americans may need more time to see her on TV before judging her. If you don't know who she is, maybe you should catch up with Marrying Millions. It is a show that covers the interactions between couples that include a super-rich spouse who's dating or is married to one who isn't as financially well-off. It airs every Wednesday. After you do, here are ten things you didn't know about Gentille Chhun that could help you understand her better.
1. Gentille Chhun is in amazing shape
Gentille Chhun is an attractive woman, and she is in quite a great shape. Even at her current age, 44 years old, she has that swimsuit body. This is not an exaggeration; Gentille is in such great shape that she looks more attractive than most 20-year olds.
2. Gentille Chhun works out regularly.
Did I forget to mention that Gentille is a swimsuit model? Well, she has modeled for commercial swimsuits pretty much all through her adult life. It isn't an easy job; swimsuit models must work out and eat healthy food to stay in great shape. That is what this gorgeous woman does. Funny enough, despite her long and successful career as a swimsuit model, she never got as famous before as she is today. It must have something to do with the show.
3. She never really wanted to be on the show.
Okay, that is what Gentille Chhun claims, but is it really true? She claims that it was Brian who came up with the idea. However, we like to take everything entertainers tell us with a pinch of salt. From the look of things on the show, Gentille is the one who calls most of the shots. Since the show began, everything seems to revolve around her and her friends. I wonder how comes Brian wanted the show anyway. Isn't she the one who has something to benefit from the show: her swimsuit career?
4. She bought her first house at only 19 years of age.
Gentille took an interview with All about the Tea. In the Interview, she explains just how much of a hard worker she was. She still is a hard worker to date. She recalls how hard she worked after attaining 16 years. She worked three jobs a day for three years and saved frugally. By the time she was 19, she could afford to buy her first house. It goes without saying that she didn't do it just to have a roof under her head to lazy around for the rest of her life. For her, it was just her first asset investment.
5. She was born into riches.
Something about Gentille always told her that she was built for the high life of luxury. It was her mother, and Gentille's mom wanted her to lead the life her family once had. Gentille's dad was a high ranking military officer for the Cambodian government. According to her, he was highly educated, and less successful Cambodians were jealous of her family.
6. Majority of her family was murdered when she was a child.
Gentille and her mom came to the United States as refugees. Her father was a military officer, and he was executed during the Khmer Rouge revolution. Unfortunately, he was killed along with his sons and one daughter. Fortunately, Gentille's mom managed to sneak away with her. They concealed the expensive jewelry that they managed to get away with it and used it to get to refuge. Even though the sexy swimsuit model was born in pomp and luxury, she grew up modestly and had to work her way up the financial ladders.
7. She is wealthy
Gentille Chhun is worth $15 million, and she made it all on her own. If she worked hard enough to buy her first house at 19 years of age, doesn't it only make sense? She got into the real estate business and worked hard enough to make a fortune from it. As a person who speaks three languages, we can say her fourth language is business. Her real estate portfolio is quite impressive. You can tell that the lady is always grinding, and she doesn't shy away from an extra gig. She still does swimsuit modeling to rack up those extra dollars despite her success in real estate investments.
8. She is Brian's girlfriend.
Brian is a handy man working a blue collar job in construction. He is broke, and he lives with his parents. Since Gentille is into the real estate business, it kind of makes sense that they had to meet. The irony, however, is that he made away with her heart. Now, Gentille doesn't mind showing him off on national television even though her friends don't like him. Brian is a pretty likable guy despite his dismal financial situation.
9. She doesn't mind her friends disrespecting her man.
We all adore how money doesn't mean anything to her. That is why she is dating Brian, right? Well, something is off nonetheless. For starters, she never stands up for her man when her friends disrespect him. She expects him to play nice with them although they don't play nice with him. Her double standards are quite annoying, really. It is a great thing that Brian knows how to stand for himself. He is never afraid to tell them off, and it is quite pleasant to see that.
10. She speaks Cambodian, English, and French.
Gentille Chhun is Chinese, French, and Cambodian by descent. Yes, her genes are quite the cocktail, and the phenotypic manifestation is that of a gorgeous swimsuit model. However, she doesn't speak Mandarin. She speaks French, English, and Cambodian.
Tell us what's wrong with this post? How could we improve it? :)
Let us improve this post!