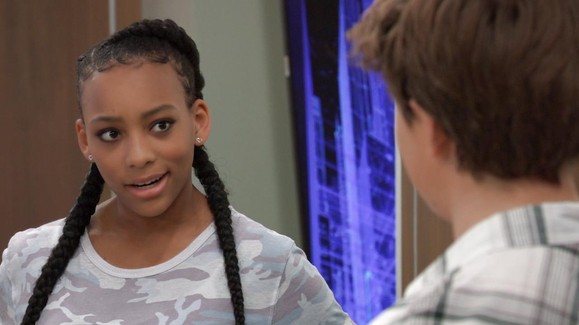 General Hospital fans are well aware that Molly is annoyed, and we get it. She cheated on TJ and she's got to figure that out. She did sleep with Brando, and now her sister is all up in her business about it. Her other sister doesn't want her to tell anyone what happened and how it all went down. Kristina is not happy about Molly's idea of confessing and trying to move on and forward with TJ. She does not think he will hear it or that it will work out for them at all, and we don't think that she is wrong at all about this. We are sure he will not forgive her, even if he does have a heart about it. She did something awful, and most people cannot and will not forgive that, so we don't blame him if he decides to bail if she decides to tell.
Brando blames Sam for the problems he has in his life. He was not aware that Molly was not single, and now her sister is making life very miserable for him. He likes Molly and he's not sure why Sam is causing so many issues for him and their situation. She's not overly amused by him, either, and she's not entirely certain why he doesn't seem to get what is going on with this. Julian is not happy with Neil, but he's never happy with anyone, so we get that. He's having some big issues with this man, and he's making it known. He has more than a few reasons not to like Neil at the moment, but we feel that his anger is really over the line right now. He's angry for what appears to be a reason we cannot decide is related to what he's talking about.
What's Happening on General Hospital
In honor of #FlashbackFriday, here's a little fun from one of our location shoots. Enjoy! @LiptonWilliam @SydneyMikayla @RealEdenMccoy @ashton_arbab #BehindTheScenes #GH pic.twitter.com/WJMZkmEVEp

— General Hospital (@GeneralHospital) May 1, 2020
We love a flashback!
What's Next on General Hospital
"You start by getting rid of Jason Morgan." #GH pic.twitter.com/wzFsEuqLyG

— General Hospital (@GeneralHospital) April 27, 2020
So much is going on right now. You see, Alexis has a secret. She's not really doing herself any favors about anything at the moment, but she's got this situation to come clean about. To whom, though? And which of the many things that she's been not-very-honest about is she planning on coming clean about? We cannot be sure, but we do suspect that she has something in her mind that is not working out for someone, and she's got to keep this secret to herself. She's a mess, and that's all there is to it. Nina and Carly are about to argue, and we have little doubt this has to do with anything other than Nelle. Nelle is a very big problem for both of them. We get that. We see that. We feel that.
But, their argument is not one that we feel is going to do them any good. You see, we know that Nina is not sure if Nelle is her daughter, but she's learning as much as she can about her right now. Then there's Carly, who will do anything in her power to take this girl down as far as she can and make sure she's never able to come back from it. Her son and grandson are in question here, and she's not going to let this go. Martin and Nelle have a meet-up planned, and we cannot decide if this is one of those things that's going to turn into a mess so big we cannot even handle it, but we assume anything related to Nelle will do just that. So, at least it will be exciting.
Stay tuned for more General Hospital and be sure to check out TVOvermind daily for the latest General Hospital spoilers, news, and updates.
Tell us what's wrong with this post? How could we improve it? :)
Let us improve this post!