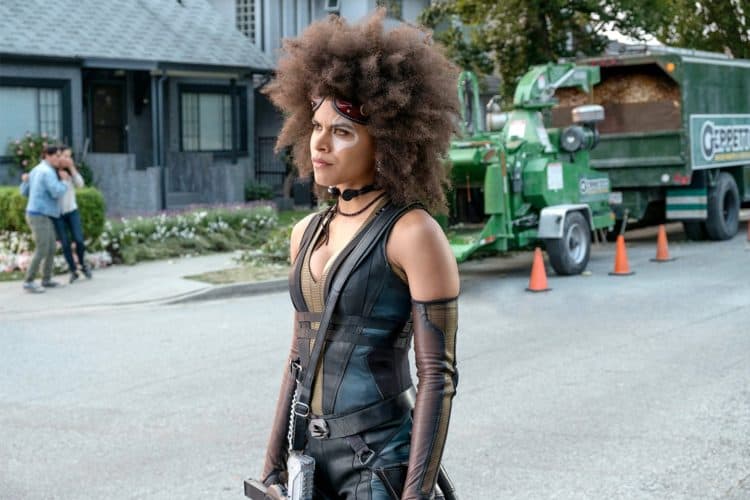 It's hard to imagine that Zazie Beetz thought of herself as ugly when she was a child. When interviewed for In Style by Shalayne Pulia, that's what Zazie said. But Zazie is a stunning young woman whose role as Donald Glover's significant other Van, in Atlanta, the hot FX show, has brought her kudos. Though Zazie knows that Vanessa's natural look has become popular, Zazie also believes the show has become noted for truth telling the stories of the many kinds of people that live in the world.
Zazie has recently been cast as Domino in Deadpool 2. Her character is one member of the X-Force team, which is made up of mutants. Domino has the power to alter probability and is a superior marksman. Zazie will be taking on a very different kind of story with this role. Deadpool 2 already began filming in British Columbia and has a scheduled release date of June 1, 2018.
Fans of the Deadpool universe have been surprised that a relative newcomer will portray one of its strongest characters. But Ryan Reynolds released a drop-dead stunner of a photo of Zazie dressed as Domino and it said it all.
Zazie would like to tackle a biopic one day.
During an interview with Donald Glover for Interview Magazine she discussed how her childhood shaped her. While growing up she was influenced by Billie Holiday, Nina Simone and Josephine Baker. When Glover mentioned that he thought she would do a great job portraying Josephine Baker, Zazie responded by telling him that she considered that "the highest compliment".
Zazie never relaxed her hair.
Her mother never allowed her to do it, even though straightening hair has been part of her culture. She sat down with a group of actressesto discuss for Allure how it is to live in the world with natural hair. Zazie said that the real world is filled with women with brown skin and curly hair. Some of the women participating in the Allure discussion did not know their hair was curly until they were adults. Their mothers kept their hair straightened all through their childhood. Zazie said that she received pressure within and from without her community to not wear her hair as it is. She said that the first time she saw a Victoria Secret model walk the runway with natural hair, it brought her to tears.
Zazie thought she bombed her Atlanta audition.
She said everything about the audition came up so quickly, that she didn't really know what she was auditioning for because she had been on so many auditions within such a short period of time. She thought she had a bad audition. She put it behind her, and then received a call to do a screen test just three weeks later. She researched and put in a lot of preparation for the screen test. She learned the same night that she had been booked for the show.
Zazie really wants to be a mom.
It's one of the things she really likes about playing the role of Van on Atlanta. Van is a mom, and Zazie feels that she has a connection to her role, even though she understands that it is a superficial one. She views Van as a "full person", and that helps her to allow her character to be grounded. She doesn't identify with being a comedian herself, even though the show has been promoted as such. So, she keeps Van's character grounded rather than humorous. She said the money she earned growing up was from babysitting, and that makes her very comfortable around them, and in the role she has on the show.
She says that connecting with people is her favorite part of being an actress.
Atlanta premiered with an after-party and she had the chance to tell Donald Glover that she felt truly fortunate for the opportunity to work with him. She believes that the creative energy which he had was "fruitful" and "calming" for her. She said that she cried while she told him because it was much more for her than simply thanking him; it was the opportunity to connect with his creative spirit that meant so much to her.