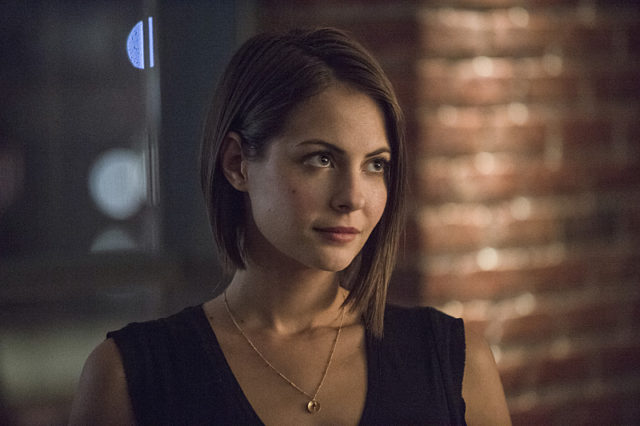 While the silver screen is considered the gem of the filmmaking industry, the truth is that TV generates a consistent and hefty stream of revenue night in and night out. Actors and actresses that find a consistent place on TV can build long-lasting careers and the fame equal to most box office heroes. One show that has definitely built momentum and provided stable work for a number of talented actors and actresses is Arrow, and Willa Holland is a gorgeous young actress that has a great deal to do with the success of the show.
On the show, Willa plays the role of a rebellious, yet kind-hearted girl named Thea Queen – better known as Speedy. While the show's fans have become immensely familiar with Willa's character on the show, it is likely that there is much about the actress that they know.
Here are five things that you didn't know about Willa Holland.
1. Brian De Palma is Her Ex-Stepfather
While Brian De Palma has an extensive resume, he will always be remembered for his work on the classic, Scarface. What most people don't know is that De Palma used to be married to Willa's mother. In fact, it was a conversation with Steven Spielberg that convinced De Palma that Willa needed to be in front of a camera, and the rest is history.
2. Willa Modeled as a Child
It seems that acting was not Willa's first major accomplishment as a celebrity. According to sources, she was a very well-accomplished child model in the United States. In fact, she is still under contract with Ford Models, an agency out of Los Angeles. Her modeling resume is extensive, having worked for Abercrombie & Fitch, Gap and Ralph Lauren – to name a few.
3. She Desires to Work with Some of the Greats
Although Willa has definitely raised her stock in Hollywood, like any aspiring actress, she has some stars who she adamantly admires, and her desire is to work alongside of them at some point in her career. Included among this group of greats are Julia Roberts, Johnny Depp and Dick Van Dyke. She said that she was absolutely obsessed with Marry Poppins.
4. Her Major Motion Picture Debut Was in 2010
Willa has obviously made a significant impact on the small screen, she has not avoided the challenges of performing on the big screen. She made her feature film debut in 2010 as the a highly rebellious daughter of Howard and Sandra Anderson. It seems that Willa is extremely refined when it comes to playing those rebellious roles.
5. She Literally Learned to Play the Piano for a Role
Willa literally took the concept of getting into character to an entirely new height, when she took the role in A Summer in Genoa. When she took the role, she did not have the ability to play the piano, but she committed to learning how to play, and this commitment to excellence helped her nail the role. Her connections to some of Hollywood's power hitters, like De Palma, have definitely served her well in understanding the importance of proper preparation.
Save