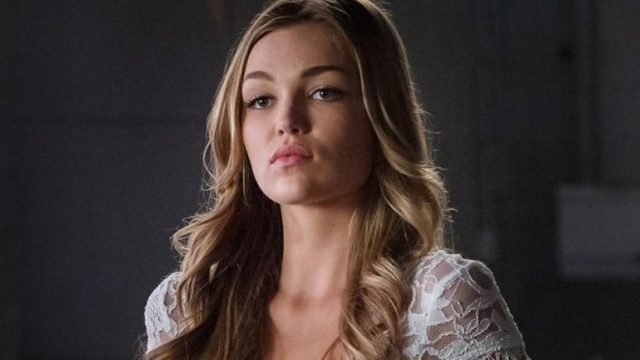 Lili Simmons has that kind of face that you look at and say "I know I've seen her somewhere". She has a modest acting career thus far and has the looks and at least some of the talent that it will take to make that career blossom further as time goes on. To date she's created a few memorable roles and is worth considering as someone important in the film and TV industries. Whether she will continue to push forth a working career is anyone's guess but at this point it seems more than likely that she will remain poised for something big down the road.
Here are a few things you might not have known about Lili.
5. She was discovered by a talent manager at age 15.
Actors are being discovered earlier in life it seems, but this could just be a trend that comes and goes. After all there's no real set time to discover this kind of talent nor a real date on when a person can become famous. Sometimes the earlier the better is the feeling that one gets when stepping into the public eye, but for some it might come later on it life.
4. She was ranked 97th on Maxim's 100 Hottest Women list.
This seems almost unfair to be honest. It makes a person think that the women ahead of her must have possessed some unearthly beauty that had the effect of turning men's heads even if they weren't looking. Of course given that Maxim only ever takes the absolutely most beautiful women for its pages this could be a big vote in her favor too.
3. She started her career as a Ford model.
Everyone's got to get their start somewhere. Lili was a Ford model before becoming an actress and to be honest it probably allowed her the time she needed to get used to standing in front of people as they were staring at her. It's unknown if she's ever had the jitters while performing, but the truth is that many actors have had stage fright at some point in their careers, and this seems like it would be a good way to banish those nerves.
2. She has a modest number of films and TV shows on her resume.
So far she hasn't done a whole lot, but she's definitely on her way to building an impressive film and TV resume. It generally takes time to become known and gain a real following unless you do something that makes people remember you for years on end. To date she hasn't done anything that great yet, but she's still relatively young, so anything could happen.
1. Her acting career was started by a web series that she starred in.
Lili starred in Hollywood Is Like High School With Money, a web-based series that saw her play a recurring role. This allowed her the kind of exposure she needed and eventually elevated her to the current status that she now has.
Lili Simmons has a lot of career left, there's no doubt she'll do something great with it.
Save
Tell us what's wrong with this post? How could we improve it? :)
Let us improve this post!