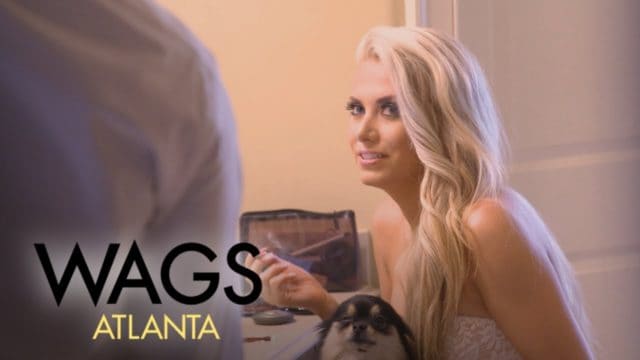 Kaylin Jurrjens is one of the ladies of WAGS Atlanta on E! In 2011, she was Miss Georgia in the Miss USA pageant, and she's a former NBA Cheerleader, a model, an actress and married to Jair (JJ) Jurrjens. The couple have been married for over two and a half years. She met JJ when she was just 19 years old. He's a free agent, professional baseball pitcher from Curaçao. Kaylin and JJ are living the high life of Wives and Girlfriends of Sports Stars amidst Atlanta's glamorous lifestyle. Kaylin is from Atlanta, and she exudes all the confidence one would expect from a former Miss Georgia. Here are a few things about Kaylin you might find interesting.
Kaylin and JJ were married at the St. Regis, Atlanta.
According to Kaylin, long with the venue, the couple was featured in Bride's Magazine as "one of the top, most chic couples in Atlanta". She said that the St. Regis is one of the most exclusive locations and the most beautiful hotel in Atlanta. She also mentioned that having her wedding publicized was one of her most important goals, because "you want people to see your wedding". JJ said that the wedding was "too expensive".
Kaylin's dog is named Bella Sophia.
JJ referred to the two of them as "two divas together". Bella is an adorable black and white tiny dog, who gets her dog treats delivered from Chewy. Bella was featured on Kaylin's Instagram recently, with all her favorite treats and soft toys displayed around her. Kaylin asked how many thought that Bella should have her own Instagram account. Kaylin also posted that Bella doesn't play fetch, but rather "She is fetch.".
Kaylin had a meltdown at a party the day JJ was suspended from 80 games.
Kaylin was very public about her need to keep her "pageant face" on. She attended the party to acknowledge the time and effort Kiera put into the event. She was trying to keep things normal. She also wanted to enjoy what was possible by not missing Kiera's party. Kaylin was heartbroken by JJ's suspension because she knows that baseball is his life. Her love for her husband is the primary reason she was so emotional. But, she also said that she wants to live and "be Kaylin". She ended up crying and hiding in the bathroom at the party. Then, she made a hasty exit.
Kaylin says that she and JJ really do live in Athlete Heaven.
She says she is totally obsessed with their house. When interviewed on E! she stated that it was more than 6,000 square feet, and then admitted that she really didn't know. She decided to Google it. She read the Google statistics about her house for the camera. It is more than 9,000 square feet of mansion, including 11 bathrooms. She thought there were 9, but JJ corrected her.
Kaylin rappelled from a 34-foot structure at the Fort Campbell Air Assault School.
She was dressed in a helmet and camo jacket to manage the rope descent. She had a slow time climbing up, and then was strapped in. She felt terrified as her legs shook. She thought about not following through, but her instructor told her that nothing would happen, as they would make sure to take care of her. She jumped over the edge, and felt "accomplished and proud". She felt that the instructor's words included the deeper meaning of service to everyone, and she finished her Instagram post with a huge thank you to all who have served to protect freedom. She asked everyone to "never forget those who paid the ultimate sacrifice".