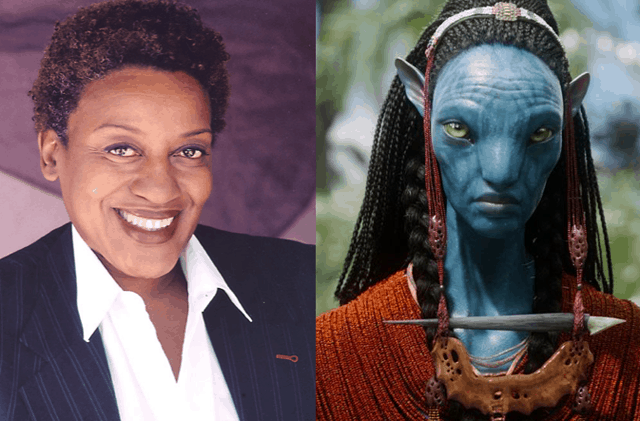 You might not know her by name but you will most likely know her by reputation. She is one of the many actors that takes on parts you recognize immediately but don't always take into consideration the first time around. Her roles are often those of authority figures and calm, almost maternal characters that are essentially there to bring a bit of order to the scene and instill a sense of rightness to the movie or show. Even if she plays a villain she's bound to be memorable because of her strong sense of character.
Here are a few things you might not know about C.C.H Pounder.
5. She played the part of Moat in Avatar
If you hadn't guessed this by now then it might come as a surprise that she was the spiritual leader of the N'avi in the hit film Avatar. Her part was fairly extensive and will be returning in the upcoming sequel. As Moat she is kind of a scary figure at first considering that she looks a little displeased at most times and carries a great deal of authority within the clan. But once it comes down to the wire she is one of the first to depend upon Jake Sully to save her people.
4. Her first three initials stand for Carol Christine Hilaria.
Her first three names are all family names that she was given upon her birth. Not a lot of people have this many names to go by but she's done well by simply relegating her credited name to her initials and surname as it saves wear and tear on the tongue and in making a bigger impact with fans that can easily recognize her in the credits.
3. She was born in Guyana.
Despite her lack of any real accent Pounder was born in Guyana where she was raised on a sugar cane plantation. When her parents moved she and her sister were then sent to a convent boarding school in Britain. It was there that they both learned about the classics and the arts. From that point Pounder's exposure to the arts started her interest in the acting world.
2. Her most prominent roles are those of calm authority figures.
No matter if she plays a hero or a villain she is the calm, reasonable authority figure that doesn't shout or lose her cool unless the scene happens to call for it. If you can recall she was in End of Days with Arnold Schwarzenegger, playing a detective that eventually was found to be working with the cult of the devil. Even then she was calm, collected, and composed. As the voice behind Moat she only lost her cool once, and it was during the moment that the Home Tree was destroyed, which was obviously a time in which intense emotions were called for.
1. Her acting talents were discovered when she attended Ithaca in New York.
She attended Ithaca right after high school and was discovered not long after. Her talents placed her besides the likes of Morgan Freeman to start with and allowed her to continue on with her craft as she continued to land roles that helped to increase her fame. Eventually in the 1970's she moved to Hollywood in search of a warmer climate.
C.C.H. Pounder is a wonderful actress that's enjoyed many an influential role and is still very active to this day.
Save
Tell us what's wrong with this post? How could we improve it? :)
Let us improve this post!