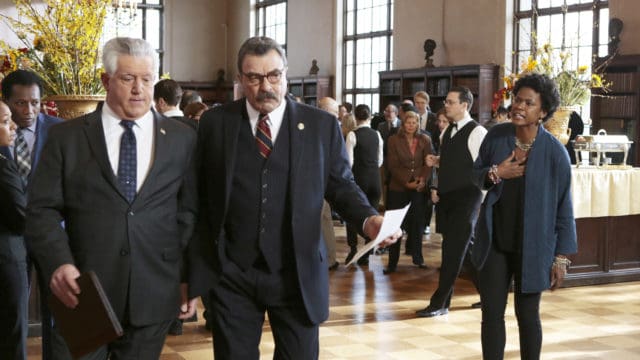 Blue Bloods is one of the best police dramas on TV and that's thanks mostly to its epic casting. Who doesn't love Tom Selleck? And, Mark Wahlberg's hunky real-life brother, Donnie, is not only a member of the hit group "New Kids on the Block" but an amazing actor to boot. In addition, Bridget Moynahan is much too gorgeous to be a prosecutor but she's all business when it comes to the law. And, Will Estes and Vanessa Ray as police partners are a hot couple even when they're in uniform. The supporting cast is superb, as well, and the writers are super-talented, with the end result being a well-crafted show from beginning to end.
So, that being said, it's a tough task to choose the five saddest moments of season 7 because they're are usually quite a few in every season. The cops on Blue Bloods are always dealing with some serious issues and many of them turn out to be very sad. So, here are our top five choices:
1. "Love Lost"- Episode 19
This episode involves assisted suicide. This is a hot-button issue in many states and only legal in a few. One is Vermont. Episode 19 finds Danny dealing with the death of a young woman who is smothered in her own bed. She has a small child, which makes it even more heartbreaking. It turns out that she had terminal cancer and she and her husband had consulted a doctor in Vermont who gave them a drug so that he could help put her out of her misery and pain. Unfortunately, the breaking point happened while they were at home in New York, rather than in Vermont, and the drug didn't do the job. So, the husband, who loved his wife very much and couldn't stand to see her suffer, finished the job with a pillow and then tried to make it look like a murder. Of course, in the end, Danny figures it out via some great police work and ends up having to send the husband to prison. And, that was the saddest part of all.
2. "A Deep Blue Goodbye"- Episode 18
This episode involves something that sadly many people in our society have to face and often way too soon. In it, an officer named Travis is being forced into retirement before he's ready. He goes to Frank and tries to get him to change the retirement age. As Travis points out to Frank, a cop's experience and contribution should be more important than his or her age. So, of course, it involves a lawsuit against the execs at 1PP but, in the end, Travis retires and Frank surprises him with a hero's send-off as all the cops line up the hallway and salute him on his way out. Apparently, the saga of the lawsuit is forgotten and forgiven and he gets the respect he deserves, albeit on his way out the door.
3. "The Greater Good"- Episode 1
In this, the first episode of the season, Frank has to deal with the widow of a cop who was killed in the line of duty. His very bright son wants to become a cop as well but his mother secretly goes to Frank and asks him to do her a favor. She wants him to make sure that her son doesn't graduate from the police academy and become a police officer like her late husband. She's afraid that he might be killed in the line of duty, too. It's so sad because she is so frightened that she is trying to torpedo his career behind his back. It's understandable but a good sentiment with a bad execution.
4. "The Road to Hell"- Episode 14
https://www.youtube.com/watch?v=yQegat1OY4c
Frank has to go head-to-head with his parish priest in this episode. They seriously disagree about what they should do about a boy from the neighborhood who has been stealing from his church. It's sad because Frank is a devout catholic but also has to uphold the law and that puts him in quite a quandary about following his heart or his head.
5. "Cursed"- Episode 10
This episode is a sad reminder about how Joe Reagan died years earlier in the line of duty as an NYPD officer. He was Frank's son and Erin, Danny, and Jamie's brother. Frank has a difficult decision to make when one of his NYPD officers requests Joe's old shield number. This one is especially sad since the entire Reagann family has been affected in such a profound way by Joe's untimely death.
Tell us what's wrong with this post? How could we improve it? :)
Let us improve this post!