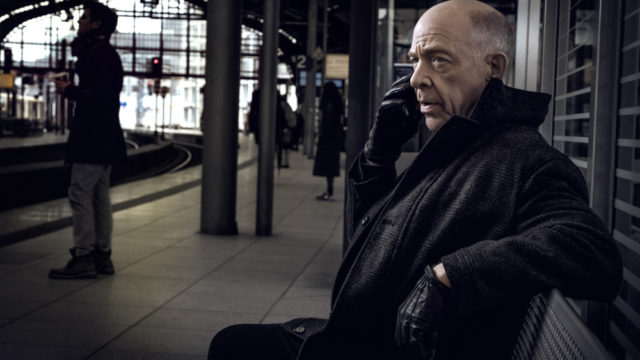 Okay, for all of you sci-fi freaks out there, get ready for "Counterpart," a new sci-fi thriller on STARZ that will not disappoint in the area of outlandish possibilities and range. As the world of television continues to attempt to adjust to the revolution that is underway, networks are scrambling to find programming that will help them remain relevant in an industry that now allows its viewers to watch an entire series in one sitting. Damn that Netflix. Binge-watching has a completely new meaning and the demand for content that will be appealing enough to binge watch is at extraordinary heights. Instead of saying repeatedly that you should definitely be watching "Counterpart," we decided to list five reasons and let you make up your own mind.
1. J.K. Simmons Stars in the Series
This one reason alone should be enough to watch the show at least one time. Simmons has an unbelievable range in the area of diversity. He has played Peter Parker's boss in Spider-Man, and mean band teacher in Whiplash and so much more. He has the ability move from good guy to bad guy with relative ease, and with this show, his range definitely comes in handy. Two parallels identities and gets to play both roles.
2. It Has Parallel Universes and Identities
Another appealing aspect of this series is the fact that it recognizes the existence of parallel universes in which people exist in counterparts to themselves. This is where Simmons' range comes into play. Simmons plays Howard Silk times two. That is right, two different men name Howard Silk and parallel universes. Can you imagine the possibilities that exist with this concept alone? There are so many different directions that this can be taken in over the arc of the series.
3. It Involves the Spy Angle
Okay, be honest, who does not like a good spy movie. At some point, almost everyone imagines being a spy. Or maybe it is just me. Anyway, imagine merging the sci-fi world with the world of spying and espionage. Now, you are getting warm. This show has so much to offer in the way of possibilities and angles that it makes it unpredictable, and that is what I love about it most. Too many shows are predictable, making them boring.
4. The Contrast Offers Significant Undertones
While one Howard is your normal, everyday, corporate employee that does exactly what he is told – accepting the status quo – the other Howard is a remarkable inter-dimensional spy who is literally brimming with attitude and confidence. The contrast between these two characters are dramatic and yet, the similarities are also apparent. It really reveals how many possibilities exist in life based on what we choose to engage and accept.
5. It Challenges You to See the Importance of the Decisions We Make
Based on the plot of the show, these two characters spit into carbon copies of one another approximately 30 years ago, and they became the completely different characters we see solely based on the decision they made along the way – revealing that our choices play immensely powerful roles in determining our destiny.
Tell us what's wrong with this post? How could we improve it? :)
Let us improve this post!