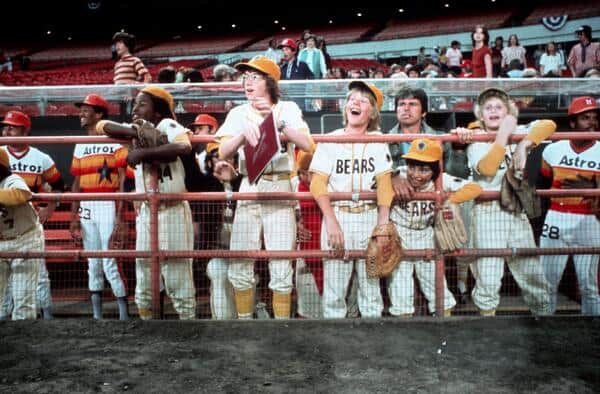 The Houston Astros are like any other team in that you simply don't badmouth them unless you've got something to back up your trash talk. Even then it's wise to be on the other side of the stadium or better yet, far, far away if you want to badmouth a team from Houston. There are just some towns where you don't go running your mouth about their sports teams and expect nothing to happen. That usually goes the same for displaying their teams in a movie, but often times it's fun just to see your favorite team being represented on film so you tend to be a little more forgiving.
Here are a few that Astros fans might like.
5. Bad News Bears 2
The one reason that fans might like to see this film is that it takes place in the old Astrodome, which might bring back a lot of good memories for fans that want to relive the glory days and be reminded of what it was like back then. Plus it brought back the Bad News Bears for another run that might not have been quite as good but was still memorable all the same.
4. Night Game
This has to do with the Astros in a very odd way as three women are killed the night that their pitcher does particularly well. The killer is able to stymie the police for a while but the whole baseball angle is a little tough to really get into. The mere fact that the Astros are featured at all is something pretty cool for fans and should at least be able to get a mention.
3. Mr. 3000
Who's the final game against? The Astros. And who almost takes Stan Ross' head off with a well-placed pitch? The Astros' fictional pitcher. No pitcher wants to be the one that gets teed off on so that a batter can make their way into the Hall of Fame, since obviously that's akin to being a stepping stone for someone else's legend. But the cool part about this is that once the game is over and the Brewer's win, the pitcher gives Stan the game ball and congratulates him on the hit. That's all class.
2. Trouble With the Curve
This doesn't really have anything to do with the Astros but it's a great baseball movie and deserves to be mentioned. It speaks of the game in a way that a lot of movies about baseball don't seem to cover all that much. In essence it gives a bit more insight into how the players react, act, and are looked at by the scouts in terms of how good they'll be and what kind of talent they really have.
1. The Sandlot
In my humble opinion you cannot have a baseball list without at least mentioning or bringing to light this film. For anyone and everyone that has ever loved the sport of baseball, regardless of the team, this film is just awesome and deserves it's own place in history.
Astros fans, I do hope you like these picks.
Tell us what's wrong with this post? How could we improve it? :)
Let us improve this post!