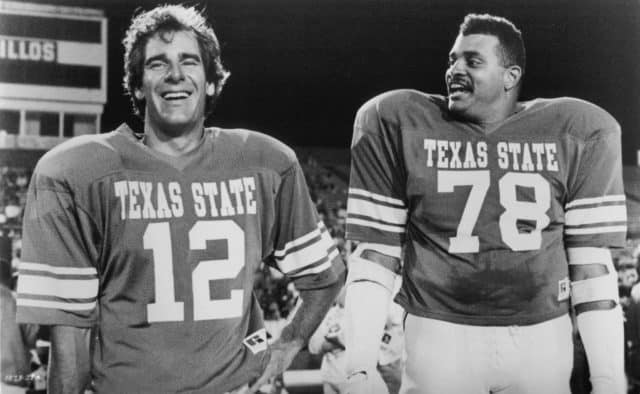 The hustle, the blood, the sweat, the tears, and everything else that goes into making it to the endzone are all great when it comes to the game of football, but there's nothing like that feeling you get when you cross that goal line and realize you've just scored the winning touchdown for your team. That's when the real memory is born and you can tell of the glory for years to come. That's when teams erupt with thunder as they rush the field and embrace the individual responsible for that timely win, calling them a hero and hoisting them up on their shoulders, well at least sometimes. Whatever the reaction there are times when touchdowns are so memorable that the rest of the movie just seems to fade away.
Here are some of the more memorable touchdowns from various football movies.
5. Invincible
Based upon the true story of Vince Papale, this movie does take some liberties as is normal but for the most part it tells his tale fairly accurately and shows the struggle he went through the make the team. Vince didn't play very many seasons for the Eagles but this tackle and fumble recover that led to a touchdown was so epic that it's been a cornerstone of football lore ever since.
4. Necessary Roughness
Talk about a high-risk, small chance of victory play. This kind of reminds me of the scramble that Russel Wilson had to do against the Green Bay Packers in the NFC Championships a couple years ago. The difference is that the Seahawks were going for the extra 2 points and Wilson didn't have a massive lineman watching his back before he lobbed the ball skyward.
3. The Replacements
You won't see this very often and for good reason. Not only did Nigel break his arm when he landed, but Shane Falco was shrugging people off like he was a size or two larger than what he actually was. The feeling desperation and determination aside, most quarterbacks couldn't possibly throw guys off like this and still hold onto the ball. It was a cool touchdown though, until the Sentinels got called for a holding penalty.
2. Gridiron Gang
A bunch of former gang members and hoodlums aren't really much until you give them a purpose. Once they have that then there isn't any stopping them. Willie was so scared of getting hit that he would lock up and get pummeled into the ground, at least up until he was given a reason to fight back. After that he managed to put his shoulder down and run right through the defender. That was an impressive sight.
1. The Best of Times
"You drop that thing again Jack your life is over." Not exactly words of inspiration and confidence, but it would certainly fire you up if you were in need. Jack wasn't good, and he wasn't lucky, he was due. After a lifetime spent being the guy that was made fun of and was made to be miserable he was due a bit of glory, and thankfully he got it.
The love for the game is awesome, but the feel of the touchdown is the ultimate feel good moment in any game.
Save